| | |
| --- | --- |
| Name: | Ayatollah Ali Khamenei, Supreme Leader, Islamic Republic of Iran |
| Twitter handle: | @khamenei_ir |
| On Twitter since: | 2009 |
| Twitter follower count as of April 2022: | 894,000 |
| Notable because: | Iran is one of three nations designated as a state sponsor of international terrorism by the US government (1984), and other Western nations |
---
Summary
Khamenei claims Iran has a divine order from God to wipe America and Israel off the face of the Earth, as part of its global jihad to cleanse the world of "infidels."
Since its fundamentalist religious revolution in 1979, and driven by its leaders' belief in the same divine order, Iran has been engaged in terrorism against America and her allies, particularly Israel. This is why there are so many international sanctions against Iran, and the free world is striving to prevent it from getting nuclear weapons. Iran is also one of only three nations that the US has declared state sponsor of terrorism.
Given these facts, and Twitter's stated rules and policies, it is jarring to know that Khameni has had an active Twitter account since 2009, that he has amassed nearly 1 million followers. Twitter also allows Khamanei's government underlings to also enjoy Twitter accounts.
---
Screencap taken April 13, 2022 of account @khamenei_ir, archived here.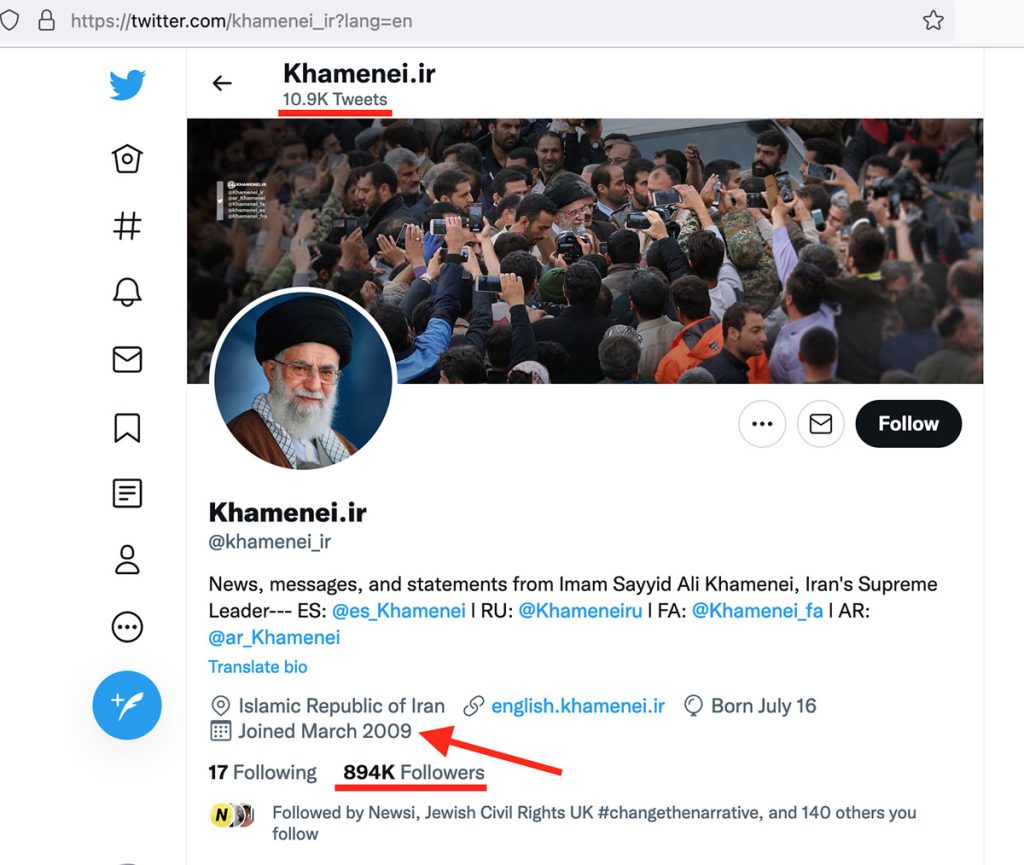 ---
Khamenei activities on Twitter
---
About Iran, and why the US designated it as a state sponsor of terrorism
U.S. Report: Iran's Support for Terrorism: The Iran Primer – US Institute of Peace, December 18, 2021.
U.S. State Department: Iran Remains 'World's Worst State Sponsor Of Terrorism' – Radio Free Europe/Radio Liberty, November 2, 2019.
Country Reports on Terrorism 2013 State Sponsors of Terrorism Overview – US State Department; 2019 update here.
Iran as #1 State Sponsor of Terrorism – United Against A Nuclear Iran.
Iran's Khamenei hails his people for demanding death to America and Israel – Times of Israel, July 18, 2015.
Amid nuke talks, Ayatollah says 'death to America' – CNN Video
Iranian Terror Operations on American Soil – Testimony before a joint hearing of the US House Homeland Security Committee, October 26, 2011.
---
Also see
The Iranian Revolutionary Guard Corps
Hamas
Hezbollah