Nonfiction
The following books, identified by SaveTheWest.com founder & president Kenneth Abramowitz, are vital to understanding the threats facing Western civilization, and ideas for how we can better protect ourselves – both in the physical battlefield, and in the intellectual one.
Through an arrangement with Amazon.com (coming), you can click on any of the titles and purchase these books, and a small portion of the price will go to help SaveTheWest keep running – at no additional cost to you. (Also included here are some governmental publications that are available for download at no cost.)
Notes: (1) Books are listed in alphabetical order; (2) All descriptions are copied from Amazon.com, to ensure that each book is presented in a way that has already been approved by the author.
.
.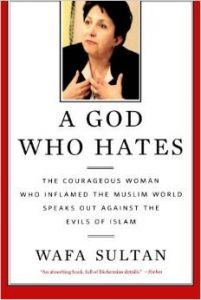 On Feb. 21, 2006, the Syrian-born and raised Wafa Sultan gave one of the most provocative interviews ever given by a Muslim woman on the Al Jazeera network.  In the middle of the interview she told her male Muslim interviewer that it was her turn to speak.  And, she did.  She told him to "shut up". This simple, yet radical, act of a Muslim woman asserting herself in the face of a Muslim man, catapulted her to fame.
Now, for the first time, Wafa Sultan tells her story and airs her provocative views in a book that pulls no punches in looking clearly at Islam and the threat it poses for the rest of the world.  Her viewpoint and opinions were hard won: As an intelligent young girl who would someday become a psychiatrist, she grew up in Syria under the thumb of a culture ruled by a god who hates women and all they represent.
It is from this kernel of female hatred at the heart of Islam that Wafa Sultan builds her case against the mullahs and their followers bent on destroying the West. A God Who Hates is a fiery book that will remind readers why, even at a time when we are reaching out to others, we must be ever-vigilant about the threat Islam poses towards the West.
.
.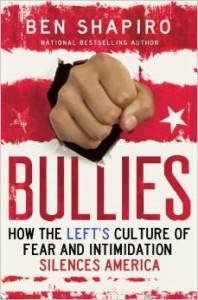 From the editor-at-large of Breitbart.com comes a galvanizing and alarming look at the strategy and tactics of leftist thuggery.
While President Obama and the left like to pretend that they oppose bullying with all their hearts and souls, the truth is far darker: the left is the greatest purveyor of bullying in modern American history. Bullying has morphed into the left's go-to tactic, as they attempt to quash their opponents through fear, threat of force, violence, and rhetorical intimidation on every major issue facing America today.
Ben Shapiro uncovers the simple strategy used by liberals and their friends in the media: bully the living hell out of conservatives. Play the race card, the class card, the sexism card. Use any and every means at your disposal to demonize your opposition—to shut them up. Then pretend that such bullying is justified, because, after all, conservatives are the true bullies, and need to be taught a lesson for their intolerance. Hidden beneath the left's supposed hatred of bullying lies a passionate love of its vulgar tactics.
[Continue]
.
.
(Copy from commission web page) The EMP Commission was established pursuant to title XIV of the Floyd D. Spence National Defense Authorization Act for Fiscal Year 2001 (as enacted into law by Public Law 106-398; 114 Stat. 1654A-345). Duties of the EMP Commission include assessing:
The nature and magnitude of potential high-altitude EMP threats to the United States from all potentially hostile states or non-state actors that have or could acquire nuclear weapons and ballistic missiles enabling them to perform a high-altitude EMP attack against the United States within the next 15 years;
The vulnerability of United States military and especially civilian systems to an EMP attack, giving special attention to vulnerability of the civilian infrastructure as a matter of emergency preparedness;
The capability of the United States to repair and recover from damage inflicted on United States military and civilian systems by an EMP attack; and
The feasibility and cost of hardening select military and civilian systems against EMP attack.
The Commission is charged with identifying any steps it believes should be taken by the United States to better protect its military and civilian systems from EMP attack. (continue)
Reports
Executive Report (PDF, 578KB)
Critical National Infrastructures Report – High Resolution (PDF, 53MB)
Critical National Infrastructures Report (PDF, 7MB)
Also, see a detailed analysis of the report, and the EMP threat, from the Heritage Foundation's James Carafano, PhD, here.
.
.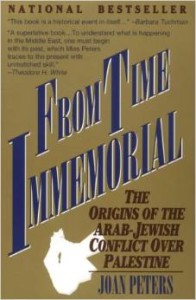 This monumental and fascinating book, the product of seven years of original research, will forever change the terms of the debate about the conflicting claims of the Arabs and the Jews in the Middle East.
The weight of the comprehensive evidence found and brilliantly analyzed by historian and journalist Joan Peters answers many crucial questions, among them: Why are the Arab refugees from Israel seen in a different light from all the other, far more numerous peoples who were displaced after World War II? Why, indeed, are they seen differently from the Jewish refugees who were forced, in 1948 and after, to leave the Arab countries to find a haven in Israel? Who, in fact, are the Arabs who were living within the borders of present-day Israel, and where did they come from?
Joan Peters's highly readable and moving development of the answers to these and related questions will appear startling, even to those on both sides of the argument who have considered themselves to be in command of the facts.
.
Funding Evil, by Dr. Rachel Ehrenfeld
.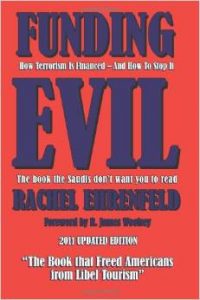 This is the book that led to strengthening Americans' free speech rights. In this updated edition of Funding Evil, Dr. Ehrenfeld describes what it took to successfully stop "Libel Tourism," from the silencing of American writers and publishers. It details how a single Saudi billionaire financier of al- Qaeda, managed to silence more than 45 writers and publishers – many Americans included – from exposing him and his ilk. He used British laws and courts that allow "libel tourism" to conduct his "lawfare", until he sued Dr. Ehrenfeld.
She alone challenged him and the British courts. Her initiative led to the passage New York' State's anti-libel terrorism law, aka "Rachel's Law, " and to the national SPEECH Act, signed into law in August 2010. These laws protect American writers and publishers in print and on the Internet from the enforcement of foreign libel judgements in the US. "Funding Evil" identifies who funds terrorism and how they do it, and why the Saudis don't want you to read this book.
Funding Evil draws a roadmap illustrating how terrorist organizations -especially Islamist terror organizations are funded. It exposes the most vital and venomous sources of terror organizations. "Funding Evil … is a crucially important book–really a milestone–in the history of the struggle for freedom of expression….Ehrenfeld achieved what the New York Times rightly called "A Victory for Writing."  Anyone interested in freedom of the mind should read this book and its intrepid author's new Afterword describing her successful legal adventures."
.
.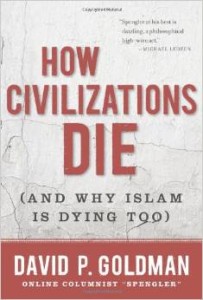 Thanks to collapsing birthrates, much of Europe is on a path of willed self-extinction. The untold story is that birthrates in Muslim nations are declining faster than anywhere else—at a rate never before documented. Europe, even in its decline, may have the resources to support an aging population, if at a terrible economic and cultural cost. But in the impoverished Islamic world, an aging population means a civilization on the brink of total collapse— something Islamic terrorists know and fear.
Muslim decline poses new threats to America, challenges we cannot even understand, much less face effectively, without a wholly new kind of political analysis that explains how desperate peoples and nations behave.
In How Civilizations Die, David P. Goldman—author of the celebrated "Spengler" column read by intelligence organizations worldwide—reveals how, almost unnoticed, massive shifts in global power are remaking our future.
Goldman reveals:
[Continue]
.
.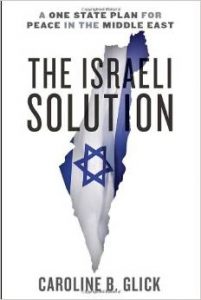 Summary: A manifesto that exposes the flaws in the two-state policy of the United States toward Israel and the Palestinians and offers a direct and powerful call for Israeli sovereignty in the region.
The reigning consensus in elite and academic circles is that the United States must seek to resolve the Palestinians' conflict with Israel by implementing the so-called two-state solution. Establishing a Palestinian state, so the thinking goes, would be a panacea for all the region's ills. It would end the Arab world's conflict with Israel, because the reason the Arab world is anti-Israel is that there is no Palestinian state. It would also nearly erase the principal cause of the violent extremism in the rest of the Middle East.
In a time when American politics are marked by partisan gridlock, the two-state solution stands out for its ability to attract supporters from both sides of the ideological divide. But the great irony is that it is one of the most irrational and failed policies the United States has ever adopted.
Between 1970 and 2013, the United States presented nine different peace plans for Israel and the Palestinians, and for the past twenty years, the two state solution has been the centerpiece of U.S. Middle East policy. But despite this laser focus, American efforts to implement a two-state peace deal have failed—and with each new attempt, the Middle East has become less stable, more violent, more radicalized, and more inimical to democratic values and interests.
In The Israeli Solution, Caroline Glick, senior contributing editor to the Jerusalem Post, examines the history and misconceptions behind the two-state policy, most notably:
[Continue]
.
.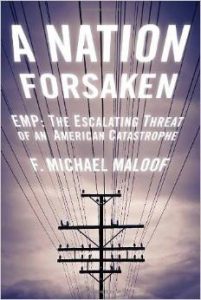 There have been warnings from scientists and other experts for years that the Nation's electrical grid system and other critical infrastructures that have almost complete dependency on electricity and electronic components are highly vulnerable to an electromagnetic pulse (EMP) event either from natural or man-made causes.
However, Congress and the administrations of previous and current presidents largely have ignored those warnings. Events such as the September 11, 2001, terrorist attack on the United States and then the devastating Hurricane Katrina that revealed vulnerabilities to those infrastructures heightened that concern. Due to the lapse of time and a relatively calm period since those disasters, policymakers have been lulled back into complacency rather than take preventative action against what could be the biggest threat to US national and economic security in our lifetime.
The threat from an EMP attack on our critical infrastructures either from an impending solar storm of serious intensity – expected between 2012 and 2014 – or a high-altitude nuclear explosion are threats that could have long-term catastrophic consequences for our society and our way of life.
.
.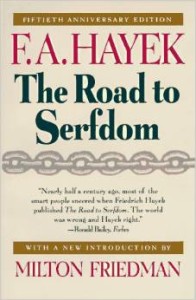 A classic work in political philosophy, intellectual and cultural history, and economics, The Road to Serfdom has inspired and infuriated politicians, scholars, and general readers for half a century. Originally published in England in the spring of 1944–when Eleanor Roosevelt supported the efforts of Stalin, and Albert Einstein subscribed lock, stock, and barrel to the socialist program — The Road to Serfdom was seen as heretical for its passionate warning against the dangers of state control over the means of production. For F. A. Hayek, the collectivist idea of empowering government with increasing economic control would inevitably lead not to a utopia but to the horrors of nazi Germany and fascist Italy.
First published by the University of Chicago Press on September 18, 1944, The Road to Serfdom garnered immediate attention from the public, politicians, and scholars alike. The first printing of 2,000 copies was exhausted instantly, and within six months more than 30,000 were sold. In April of 1945, Reader's Digest published a condensed version of the book, and soon thereafter the Book-of-the-Month Club distributed this condensation to more than 600,000 readers. A perennial best-seller, the book has sold over a quarter of a million copies in the United States, not including the British edition or the nearly twenty translations into such languages as German, French, Dutch, Swedish, and Japanese, and not to mention the many underground editions produced in Eastern Europe before the fall of the iron curtain.
[Continue]
.
.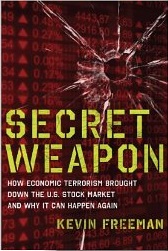 Who's really to blame for America's catastrophic financial meltdown and devastating national recession? Contrary to what the "Occupy Movement" might tell you, it's not just greedy Wall Street executives (though they certainly earned their share of scorn). It's not just failed regulation (even though Washington has failed miserably, both Republicans and Democrats, to protect us). As one of America's top financial professionals reveals in this shocking new book, the failures of Wall Street and Washington have opened us up to economic warfare, with our foreign enemies exploiting our lurking financial weaknesses.
In Secret Weapon, Kevin D. Freeman unveils how all the evidence—including motive, means, and opportunity—points to America's foreign enemies as deliberately pushing our economy over the brink.
In this stunning exposé, Freeman reveals:
The evidence linking Communist China and Islamic finance to economic warfare against the United States
Why initial reports linked the 2008 stock market crash to economic terrorism—and why the Obama administration continues to look the other way
How the financial attack unfolded—and how the perpetrators tried to cover their tracks
Why you should expect another financial attack even more devastating than the last one—and how you can protect yourself from it
In Secret Weapon you'll learn what our enemies know and what the Obama administration has chosen to ignore—that our financial system is profoundly vulnerable to financial terrorism, and that we are being targeted for further and even more destructive attacks by our enemies, who want to cripple America as the world's leading economy. If you want to protect yourself and protect our country, then you need to read Secret Weapon to understand how we have entered a new age of warfare—an age our enemies want to make the Dark Ages of the United States.
.
.
"An alarming but necessary book that reads like a thriller. By raising uncomfortable questions, Ken Timmerman has performed a significant public service."
–Michael Medved, nationally syndicated talk radio host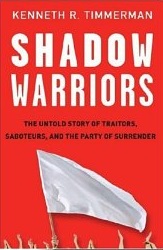 Some have called it the CIA's greatest covert operation of all time.
It is an intelligence war conducted behind the scenes, aimed at confusing, misleading, and ultimately defeating the enemy. The goal is nothing less than toppling the regime in power. A network of agents has been planted at key crossroads of power, stealing secrets, planting disinformation, and cooking intelligence. The plan involves sophisticated political sabotage operations that bring in opposition forces who can challenge the regime openly, in a way the CIA cannot. The scope is breathtaking.
Who is the target of this vast, sophisticated CIA operation? Not the mullahs in Tehran or North Korea's power-mad Kim Jong Il; the target is America's president, George W. Bush.
Drawing on exclusive information from senior government officials, intelligence operatives, and many others, investigative reporter Kenneth Timmerman provides the full, untold story of the sabotage that occurs behind the scenes at key government agencies like the CIA and State Department–and the profound effect it has on America's ability to confront its most dangerous enemies. In Shadow Warriors, Timmerman brings to light the vast underground working to undercut our nation's efforts to win the war on terror–revealing the when, where, how, and who for the first time. He also exposes the Democratic politicians who have sold out America's national security for political gain.
In Shadow Warriors you'll learn:
[Continue]
.
.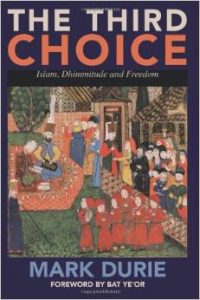 The Third Choice provides a compelling introduction to Islam on the basis of its primary sources, the Qur'an and the life of Muhammad. Topics covered include the sharia; interpretation of the Qur'an; abrogation; women's rights (including female genital mutilation); lawful deception (taqiyya); Muhammad's responses to opposition; Islamic antisemitism; religious freedom; and prospects for reforming Islam.
After this critical introduction of Islam, there follows an explanation and critique of Islam's policy for non-Muslims living under Islamic conditions.  The doctrine of the three choices (conversion, the sword, or the dhimma pact of surrender to Islam) is explained, including an analysis of the meaning of tribute payments (jizya) made by non-Muslims (dhimmis) to their Muslim conquerors.  Durie describes the impact of dhimmitude on the human rights of non-Muslims in Islamic contexts around the world today, in the light of global Islamic resurgence and advancing Islamization, including pressure being exerted through the United Nations for states to conform to sharia restrictions on freedom of speech.
The Third Choice offers indispensable keys for understanding current trends in global politics, including the widening impact of sharia revival, deterioration of human rights in Islamic societies, jihad terrorism, recurring patterns of Western appeasement, interfaith dialogue initiatives, and the increasingly fraught relationship between migrant Muslim communities in the West and their host societies.
.
.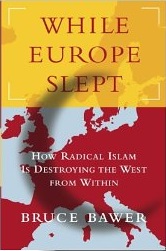 The struggle for the soul of Europe today is every bit as dire and consequential as it was in the 1930s. Then, in Weimar, Germany, the center did not hold, and the light of civilization nearly went out. Today, the continent has entered yet another "Weimar moment." Will Europeans rise to the challenge posed by radical Islam, or will they cave in once again to the extremists?
As an American living in Europe since 1998, Bruce Bawer has seen this problem up close. Across the continent—in Amsterdam, Oslo, Copenhagen, Paris, Berlin, Madrid, and Stockholm—he encountered large, rapidly expanding Muslim enclaves in which women were oppressed and abused, homosexuals persecuted and killed, "infidels" threatened and vilified, Jews demonized and attacked, barbaric traditions (such as honor killing and forced marriage) widely practiced, and freedom of speech and religion firmly repudiated.
The European political and media establishment turned a blind eye to all this, selling out women, Jews, gays, and democratic principles generally—even criminalizing free speech—in order to pacify the radical Islamists and preserve the illusion of multicultural harmony. The few heroic figures who dared to criticize Muslim extremists and speak up for true liberal values were systematically slandered as fascist bigots. Witnessing the disgraceful reaction of Europe's elites to 9/11, to the terrorist attacks on Madrid, Beslan, and London, and to the wars in Afghanistan and Iraq, Bawer concluded that Europe was heading inexorably down a path to cultural suicide.
[Continue]
.
.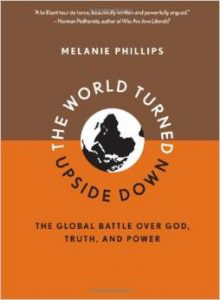 In what we tell ourselves is an age of reason, we are behaving increasingly irrationally. An astonishing number of people subscribe to celebrity endorsed cults, Mayan armageddon prophecies, scientism, and other varieties of new age, anti-enlightenment philosophies. Millions more advance popular conspiracy theories: AIDS was created in a CIA laboratory, Princess Diana was assassinated, and the 9/11 attacks were an inside job.
In The World Turned Upside Down, Melanie Phillips explains that the basic cause of this explosion of irrationality is the slow but steady marginalization of religion. We tell ourselves that faith and reason are incompatible, but the opposite is the case. It was Christianity and the Hebrew Bible, Phillips asserts, that gave us our concepts of reason, progress, and an orderly world on which science and modernity are based.
Without its religious traditions, the West has drifted into mass derangement where truth and lies, right and wrong, victim and aggressor are all turned upside down. Scientists skeptical of global warming are hounded from their posts, Israel is demonized, and the US is vilified over the war on terror—all on the basis of blatant falsehoods and obscene propaganda.
Worst of all, asserts Phillips, this abandonment of rationality leaves the West vulnerable to its legitimate threats. Faced with the very real challenges of spiraling demographics and violent, confrontational Islamism, the West is no longer willing or able to defend the modernity and rationalism that it once brought into being.
================
Fiction
The Manchurian Candidate