(2) The Iranian Revolutionary Guard Corps
Summary
---
Screencap taken April 13, 2022 of account @Sepah_FA, archived here: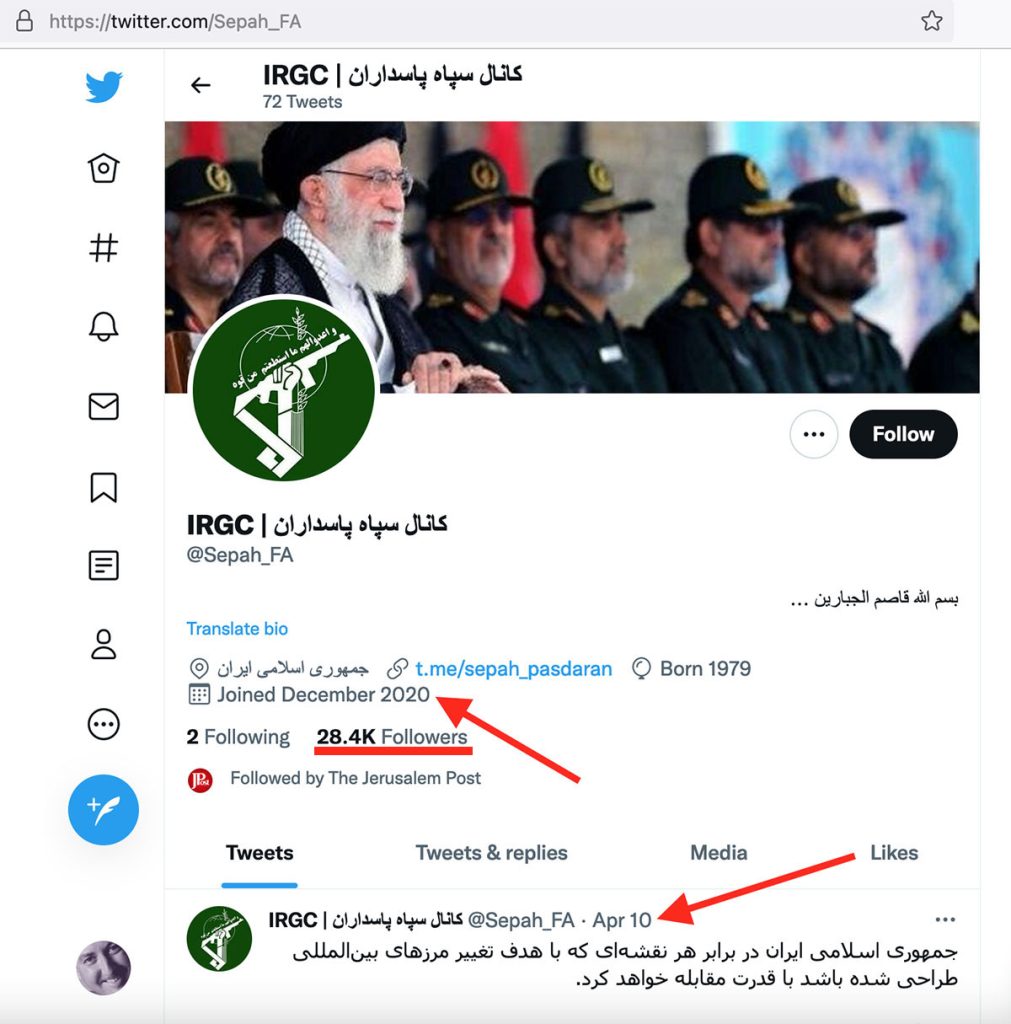 On April 10, 2022, UN Watch executive director Hillel Neuer publicized the fact that Iran's domestic terror militia, the IRGC, has an active Twitter account:
Unbelievable: Iran's Islamic Revolutionary Guard Corps— a designated Foreign Terrorist Organization that slaughters dissidents in Iran, fuels terrorism in Syria, Lebanon, Iraq, Bahrain, Gaza and Yemen, and plots kidnap and assassination attempts on U.S. soil—is on @Twitter. https://t.co/PK9GmCx01A pic.twitter.com/KbGVynmOzi

— Hillel Neuer (@HillelNeuer) April 10, 2022
---
Here is an Archive link to the IRGC's Twitter page, taken April 11, 2022.
---
Here is the Google translate version of the IRGC's April 10, 2022 Tweet:
"The Islamic Republic of Iran will strongly oppose any plan designed to change international borders."
جمهوری اسلامی ایران در برابر هر نقشه‌ای که با هدف تغییر مرزهای بین‌المللی طراحی شده باشد با قدرت مقابله خواهد کرد.#خط_قرمز pic.twitter.com/u9uhaToDag

— کانال سپاه پاسداران | IRGC (@Sepah_FA) April 10, 2022
---
About the IRGC
Profile: Iran's Revolutionary Guards – BBC, January 3, 2020
What is Iran's Islamic Revolutionary Guard Corps and Why is it Designated a Terror Group by the United States? – American Jewish Committee, March 23, 2022.
Don't Drop Iran's Revolutionary Guards from FTO List – Washington Institute for Near East Policy, March 21, 2022.
Is the US Pretending That Iran's IRGC, "Mother of All Terrorist Groups", Is Not a Terrorist Group? – Gatestone Institute, March 29, 2022.
Washington Finally Designates Iran's Revolutionary Guard Corps – The Investigative Project on Terrorism, February 3, 2017.
Iran's elite Guard 'runs global crime network pushing heroin to West' – The Times (UK), November 17 2011.
Iranian Terror Operations on American Soil – Testimony before a joint hearing of the US House Homeland Security Committee, October 26, 2011.
A Theoretical Analysis of the Capability of the Islamic Revolutionary Guards Corps and Its Surrogates to Conduct Covert or Terrorist Operations in the Western Hemisphere – Master's thesis by Harvard University student William F. Prince, May 2018.