In an expansive video interview with The Daily Caller's Ginni Thomas, former CIA operations officer and counter-terrorism consultant Clare Lopez explains that for the first time in history, the US actually armed Al Qaeda, in the lead-up to and after the Benghazi attack on the American consulate.  And in doing so, Lopez alleges, the U.S. effectively switched sides in the war on terrorism:
Excerpt: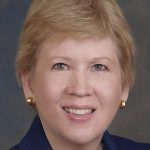 To (Lopez), the American decision to overthrow the head of a sovereign government, Muammar al-Gaddafi, and to instead support al-Qaida and the Muslim Brotherhood laid the important framework for a resurgence of global jihad.  Lopez says when we supported the local Islamic forces, America flipped in the global war on terror and we, the U.S. government, turned on our erstwhile ally and provided funding, backing, intelligence, our participation in a NATO effort and weapons for rebel forces.
"We facilitated the flow of weapons to the Gaddafi opposition, and we knew the opposition was dominated by al-Qaida. It was led by the Muslim Brotherhood and the fighting militia was dominated by al-Qaida. That's who we helped," she explained.
Later in the interview, Lopez discusses the important, unanswered questions on Benghazi before, during and after the 2012 attack. She discusses the weapons transfers happening in Benghazi that were at the heart of the controversial change in American policy, and the significance of the capture and prosecution of Ahmed Abu Khattala.
Read the rest here.
Part 1 of the video:
 .
.
.
.