(1.1) Iran has been the #1 largest state sponsor of global terrorism
(1.2) Iran's involvement in the 9/11 attacks, and its long-term support for Al Qaeda
(1.3) Iran's campaign of murder against U.S. soldiers
(1.4) Background on sanctions imposed on Iran by the U.S. and allies
(1.5) The false claim that Hassan Rouhani is a "moderate"
(1.6) Iran's chronic violations of the "interim nuclear deal," before mid-2015
(1.7) Iran's threats against the U.S. and Israel
---
(1.1) Iran has been the #1 largest state sponsor of global terrorism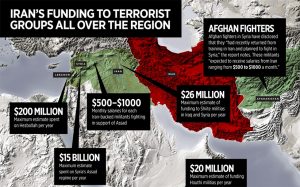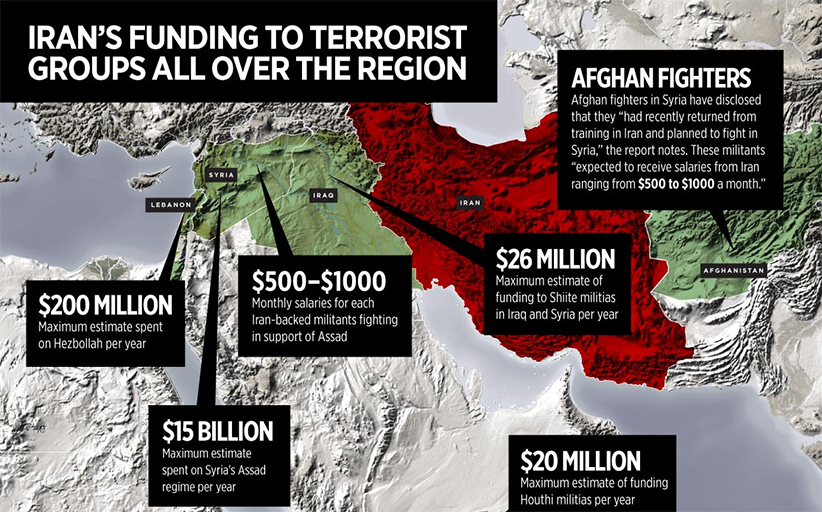 Since 1979, the U.S. government and its allies have listed Iran as the world's most dangerous state sponsor of terrorism, and government officials from across the political spectrum have been firmly opposed to any kind of normalized diplomatic or financial relations with the terror state until and unless it ceases these activities.  Here is a sampling of articles and reports that present the background of Iran's involvement in global terror, and why so many officials were opposed to the deal to lift sanctions, release $100 billion in cash, and provide Iran with a path to nuclear weapons.
[2016] State Department report finds Iran is top state sponsor of terror, by Ryan Browne, CNN, June 2, 2016. Excerpt:
[T]he report said that [Iran] "remained the foremost state sponsor of terrorism in 2015, providing a range of support, including financial, training, and equipment, to groups around the world." The report also said that Iran was continuing to provide arms and cash to terrorist groups like Hezbollah and Iraqi Shia terrorist groups, including Kata'ib Hizballah (KH). Both groups are designated Foreign Terrorist Organizations in the report.
.
Bipartisan Agreement: Iran is Leading State Sponsor of International Terrorism, by Zachary Leshin, CNSNews, December 8, 2015.
State sponsor of terror: The global threat of Iran, by Daniel L. Byman, The Brookings Institution, February 11, 2015.
Iran: The Most Active State Sponsor of Terrorism, by United Against Nuclear Iran.
Private Government Report: Iran Spending Billions to Pay Terrorist Salaries, by Adam Kredo, Washington Free Beacon, September 4, 2015.
Iran spending billions on terrorists' salaries: report, By Kellan Howell, The Washington Times, Saturday, September 5, 2015.
U.S. Taxpayers Are Funding Iran's Military Expansion, by Eli Lake, Bloomberg, June 9, 2016.
---
(1.2) Iran's involvement in the 9/11 attacks, and its long-term support for Al Qaeda
Although it is not widely known, in 2011 and again in 2016, U.S. federal courts ruled that Iran played a direct, material role in the 9/11 attacks, and in providing ongoing support for Al Qaeda:
Judge: Iran, Taliban, al Qaeda liable for 9/11, CBS News, December 23, 2011 (at right).
9/11 Lawsuit: Federal Court Awards $7 billion in final judgment against Iran and Hezbollah, Winder and Counsel, PC.
Iran loses Manhattan skyscraper to terror victims, by Daniel Beekman, New York Daily News, March 31, 2014.
A special report about dramatic revelations that could change everything we knew about 9/11, by Ronen Bergman, YNet News, September 11, 2011.
The court ruling and related documents
Complete resources, exhibits, legal notes: http://iran911case.com/
Court's Order of Judgment in Havlish v. bin Laden, et al, United States District Court, December 22, 2011.
Havlish v. bin Laden, et al, Findings of Fact and Conclusions of Law, United States District Court, December 22, 2011.
Continuation – more rulings in 2016 and beyond

Iran Told to Pay $10.5 Billion to Sept. 11 Kin, Insurers, by Bob Van Voris, Bloomberg, March 9, 2016.
Iran ordered to pay billions to relatives of 9/11 victims, by Aaron Katersky, ABC News, May 1, 2018.
Background – The evidence of Iran's long-term, deep relationship with Al Qaeda, for the purpose of perpetrating war against America and its interests, before, after, and on 9/11
Iran's Link to Al-Qaeda: The 9-11 Commission's Evidence; Middle East Quarterly, Fall 2004, Volume 12: Number 1, September 1, 2004.
Unlikely Alliance: Iran's Secretive Relationship with Al-Qaeda, by Daniel L. Byman, IHS Defense, Risk and Security Consulting (via Brookings Institution), July 31, 2012.
Remember Iran's Role in 9/11; Forgetful officials should not be rewarding Tehran for its deadly actions with gifts like sanctions relief, by Joseph I. Lieberman, The Wall St. Journal, September 7, 2016.
Iran's Secret Funding For al-Qaeda In Exchange For Attacks On U.S. Targets Exposed in Bin Laden Files, by Callum Paton, Newsweek, November 2, 2017.
Notes found in Osama bin Laden's compound appear to bolster US claims of Iranian link to al-Qaeda; Supposed al-Qaeda document released by CIA depicts history of terror group's relationship with Iran – but Tehran derides it as fake news, by the Associated Press (via the South China Morning Post), November 3, 2017.
CIA documents 'conclusive proof of Al-Qaeda-Iran ties,' by Siraj Wahab, Agency Press-France (via Arab News), November 3, 2017.
Al-Qaeda Has Rebuilt Itself—With Iran's Help; Interviews with al-Qaeda members and bin Laden's family reveal a pact that allowed the group to prepare for its next phase, by Adrian Levy and Cathy Scott-Clark, The Atlantic, November 11, 2017.
---
(1.3) Iran's campaign of murder against U.S. soldiers
Iran Is Responsible for More Than 1,000 American Military Deaths Since 9/11, by David French, National Review, July 14, 2015.
Nuke Deal or Not, Iran Has Already Declared War on Us, by Lawrence A. Franklin, The Gatestone Institute, August 20, 2015.
Report: Iran pays $1,000 for each U.S. soldier killed by the Taliban, NBC News, September 5, 2010 (The New York Daily News also covered this story, here).
Nuke Deal Helps Qasem Soleimani, The Top Iranian General With 'American Blood on His Hands', by Shane Harris, The Daily Beast, July 14, 2015.
Killing Americans and their Allies: Iran's Continuing War Against the U.S. and the West, By Colonel (ret.) Richard Kemp and Major (ret.) Chris Driver-Williams, Jerusalem Center for Public Affairs, March 2015.
Private Government Report: Iran Spending Billions to Pay Terrorist Salaries, by Adam Kredo, Washington Free Beacon, September 4, 2015.
Iraqi Shi'ite cleric tells followers to target U.S. troops fighting Islamic State, by Stephen Kalin and Peter Cooney, Reuters, July 19, 2016. Excerpt:
Powerful Shi'ite Muslim cleric Moqtada al-Sadr instructed his followers on Sunday to target U.S. troops deploying to Iraq as part of the military campaign against Islamic State.
U.S. Defense Secretary Ash Carter said on Monday the Pentagon would dispatch 560 additional troops to help Iraqi forces retake the northern city of Mosul in an offensive planned for later this year.
Sadr, who rose to prominence when his Mahdi Army battled U.S. troops after the 2003 invasion, posted the comments on his official website after a follower asked for his response to the announcement.
"They are a target for us," Sadr said, without offering details.
Iran Deal Was Worse Than We Thought, by Jonathan S. Tobin, Commentary, July 20, 2016.
German intelligence revealed earlier this month that Iran is not only violating, as the administration concedes, the spirit of the agreement but also its letter, too, by seeking to illicitly purchase nuclear material that can be used to build a weapon.
---
(1.4) Background on sanctions imposed on Iran by the U.S. and allies
---
(1.7) Iran's threats against the U.S. and Israel
Quotes by Iran's leaders, during these "negotiations," that indicate they will only ramp up anti-American terrorism if the deal passes:
Iran's Khamenei hails his people for demanding death to America and Israel: In vicious speech, leader says he hopes God will answer these prayers; vows nuclear deal won't change Iran's support for Palestine, opposition to America, by Times of Israel staff and AFP, July 18, 2015.
Iran's supreme leader screams 'Death to America' amid ongoing nuclear talks, by Joe Tacopino, New York Post, March 23, 2015. Video below:
"Saying 'Death to America' is easy. We need to express 'Death to America' with action. Saying it is easy." – "Moderate" president Hassan Rouhani, May 8, 2013
Iran endorses nuclear EMP attack on United States, by Paul Bedard, The Washington Examiner, March 19, 2015.
Iran publishes book on how to outwit US and destroy Israel, by Amir Taheri, New York Post, August 1, 2015.
Iran Funding Hamas Preparations for War, by Jonathan S. Tobin, Commentary, August 11, 2015.
2016 updates – Iran's continued threats, and funding of terrorism:
Iranian army: In 25 years Israel will no longer be on the map, by Elad Benari, Arutz Sheva, July 1, 2016.
WATCH: Iranians Demand "Death to Israel"; Rouhani Calls for "Liberating Palestine," by TheTower.org Staff, July 1, 2016.
Iran pledges thousands of dollars for Palestinian terrorists, by Raoul Wootliff, Times of Israel, February 24, 2016.
Iran pledges $70 million to Palestinian Islamic Jihad: As Iran deal critics warned, Tehran continues to up its support for terrorism with sanctions relief money; Move seen as snub to Hamas, by Ari Soffer, Israel National News, May 26, 2016.
---
(1.8) Articles and reports in opposition to the Iran deal, mid-2015
A 90-second video by the Heritage Foundation lays out the basics:
Improving the Joint Comprehensive Plan of Action, by Mark Dubowitz and Annie Fixler, the Foundation for Defense of Democracies, August 2015.
Biden: 'Totally Legitimate Argument' That Iran Can Use Sanctions Relief to Fund Terror, by David Rutz, The Washington Free Beacon, September 3, 2015. Key quote (video below):
"Well, Joe, even if I believed you were able to stop Iran from getting a nuclear weapon, you're going to give them a whole lot of money, Joe Boy!" Biden said with a laugh. "And they're going to go out and do more of the bad things they're doing now, do it more efficiently and threaten our friends in an existential way because they'll have so much more money and capacity. Totally legitimate argument and concern."
Iran: Obama Admin Lying About Nuclear Deal for 'Domestic Consumption': U.S. downplays Iranian victory to 'soothe' fear over deal, by Adam Kredo, Washington Free Beacon, July 30, 2015.
We've been dealing with the consequences of an Iranian regime that was poor. Get ready for an Iranian regime armed with an economic boom, by Ryan Mauro, the Clarion Project, August 2, 2015.
Expert Tells Congress, Iran Deal May 'Neuter U.S. Ability' to Sanction Iran for Its Support of Terrorism, by Patrick Goodenough, CNSNews, July 31, 2015
UN-Iran deal will let Tehran inspect site where it allegedly worked on nukes, by the Associated Press (via Fox News), August 19, 2015.
Op-Ed: 20 Threats Made by Iran Against Israel in 2013: Rhetoric in the Rouhani era: Could the message be any clearer?, by Daniel Ruinstein, Arutz Sheva, January 3, 2014.
All Nuke Inspectors Require Approval From Iran's Intelligence Agency, by Adam Kredo, Washington Free Beacon, August 17, 2015.
Obama's Disastrous Iran Deal, by Richard A. Epstein, The Hoover Institution, July 20, 2015.
The Case for Deadline -Triggered Sanctions on Iran, by Mark Dubowitz and Annie Fixler, the Foundation for Defense of Democracies, January 2015.
---
(1.10) Articles that document the unraveling of the Iran deal (September 2015 onward; latest articles first)
"White House Partner Asked Soros for $750K to Fund Pro-Iran Deal 'Echo Chamber': Ploughshares Fund needed cash to spin media, pay off 'validators'," by Adam Kredo, Washington Free Beacon, August 18, 2016.  Excerpt:

The money would be used to facilitate "mainstream and social media outreach by validators along with other public and private efforts to shape the debate in support of an agreement and continued diplomacy," the request states. Ploughshares also hoped to "increase outreach by coalition members and validators to policymakers with focus on long-term impact of the deal on regional and global security issues where potential cooperation with Iran could be beneficial."
[Ed.: The use of the term "validators" is important, in general, and because HuffPost refers to its ability to attract and inform "influencers."]
Congress was right: The Iran deal is a travesty — and Obama is to blame
The terrible Iran deal, complete with a $400M payment, is proving to be the disaster Republicans predicted, by Carrie Sheffield, Salon, August 4, 2016. Excerpt:
Onlookers concerned about a nuclear Iran shouldn't be surprised by a report from The Wall Street Journal that the Obama administration secretly apparently airdropped $400 million in foreign currency in exchange for the release of four Americans, a move that breaches U.S. protocol and amounts to ransom. Even more troubling, yet not surprising: new reports that Iran's Ayatollah Ali Khamenei is publicly backpedalling from President Obama's prized nuclear deal.
On state-affiliated media, Khamenei reportedly blasted "the futility of negotiations with the Americans" and said the United States wasn't keeping its promises under the nuclear agreement. The deal itself was signed under constitutionally questionable circumstances — it essentially amounted to a treaty, which would have required congressional approval–over the protests of Congress, including many Democrats like Sen. Chuck Schumer.
These latest developments undoubtedly confirm what conservatives and other pro-Israel activists have been arguing throughout this entire episode. They're yet another reason why people who don't like flawed GOP nominee Donald Trump will still have a hard time voting for Hillary Clinton, given her prominent role in helping usher in this flawed deal. They also tarnish President Obama's legacy, despite his brag last week at the Democratic National Convention in Philadelphia that he'd "shut down Iran's nuclear weapons program."
More proof Iran Nuke Deal not about stopping a nuclear weapon, by David Gerstman, Legal Insurrection, July 25, 2016. Excerpt:
Emily Landau, head of the Arms Control and Regional Security Program at the Tel Aviv-based Institute for National Security Studies, told the The Jerusalem Post earlier this week, the document "proves that Iran's enrichment program has been totally legitimized by this deal."
This is an important point. Iran had multiple UN Security Council resolutions  condemning it and sanctions imposed on it for failing to suspend its enrichment program. So the deal ensures that same activity that was duly punished by the UN and the international community is now allowed even without Iran coming into compliance with its responsibilities. For future proliferators this is a dangerous precedent. If you refuse long enough, your violations may be forgiven.
Obama Withheld from Congress Another Secret Side Deal with the Iranians, by Fred Fleitz, Family Security Matters, July 21, 2016.  Excerpt:
What is news is that the Obama administration is a party to another secret side deal to the JCPOA that explicitly recognizes Iran's plan to greatly expand its uranium-enrichment program. Other secret side deals include one that allows Iran to inspect itself on possible nuclear-weapons-related work and another that possibly weakened IAEA reporting on Iran's nuclear program.
As with the previous secret agreements, withholding this deal from Congress probably violated the Corker-Cardin Act, which required the administration to provide all JCPOA documents – including side deals – to Congress before it voted on the deal last September.
According to Jahn's report, "U.S. officials say members of Congress who expressed interest [in the document] were briefed on its substance." Translation: The administration did not provide this side-deal document to Congress or mention it in committee briefings. Instead, the substance of this document was briefed only to members of Congress who asked about this issue.
So why haven't we heard about this before now? Why didn't representatives who were briefed on this secret side deal cry foul and demand that it be released before Congress voted on the nuclear deal last fall? I suspect the reason is that the administration briefed a handful of congressmen on the contents of this side deal without revealing the side deal's existence. Also, this discovery forces us to ask: Are there more secret side deals to the CPOA that have not been made public or disclosed to Congress?
Surprise! The Government Lied About the Iran Deal: A trusty guide to the deal's contradictions, by Liel Leibovitz, The Tablet, July 21, 2016. Excerpts:
— Surprise! Many of al-Qaeda's senior leadership live in Iran and openly liaise with the Islamic Republic's leadership.
— Surprise! After ten years, Iran would be able to install centrifuges up to five times as efficient as the 5,060 machines it can now use, which even the government's go-to resource on Iran's nuclear program, the Washington-based Institute for Science and International Security, says "will create a great deal of instability and possibly even lead to war."
— Surprise! We're totally fine with the Russians selling advanced weapons to Iran, including long-range S-300 missiles.
— Surprise! The International Atomic Energy Agency (IAEA) will not be allowed to complete its investigation into just what kind of nuclear weapons work Iran did in its military complex in Parachin.
Iran Preparing to Reopen Prohibited Nuclear Sites; Leader: 'Iran has no other option but to retaliate', by Adam Kredo, Washington Free Beacon, July 21, 2016. Excerpt:
Top Iranian leaders have instructed the country's atomic energy organization to prepare for the reopening of multiple nuclear sites that had been shuttered as part of last summer's nuclear agreement.
Ali Larijani, the leader of Iran's parliament, requested this week that the Iranian Atomic Energy Organization prepare a plan to reopen nuclear enrichment facilitates that had been shutdown as part of the effort to limit Tehran's research into nuclear weapons technology, according to comments carried in Iran's state-controlled media.
Iranian leaders are displeased with a recent United Nations report chastising the Islamic Republic for violating international agreements prohibiting the country's work on ballistic missiles.
The U.N. described these repeated test launches as not consistent with international accords. Iranian leaders dismissed the report as "biased."
Iran Deal Was Worse Than We Thought, by Jonathan S. Tobin, Commentary, July 20, 2016. Excerpt:
[G]erman intelligence revealed earlier this month that Iran is not only violating, as the administration concedes, the spirit of the agreement but also its letter, too, by seeking to illicitly purchase nuclear material that can be used to build a weapon.
That latter revelation apparently wasn't enough to make it into the New York Times' article on the anniversary of the deal. But for those who are actually paying attention to reality rather than administration spin, it turns out the pact was even worse than we thought.
Obama Admin Kept Lawmakers in Dark About Secret Iran Side Deals; Congressman: Disclosures invalidate entire nuclear deal, by Adam Kredo, Washington Free Beacon, July 20, 2016. Excerpt:
The Obama administration hid from Congress key information about a secret deal with Iran permitting it to maintain critical aspects of its nuclear program, according to a leading member of Congress, who exclusively told the Washington Free Beacon that these disclosures invalidate the entirety of last summer's nuclear agreement with Iran.
The revelation of the secret deal is being described by congressional insiders as further proof the Obama administration misled lawmakers and the American public about the terms of last summer's nuclear agreement, which was framed by top U.S. officials as the only way to stop Iran's march toward a nuclear weapon. There "will be hell to pay" as a result of the disclosure, according to one senior congressional source apprised of the situation.
Newly obtained documents show the Obama administration negotiated a secret side agreement with Iran that removes key restrictions on its nuclear procurement efforts after a decade, paving the way for Tehran to build functional nuclear weapons within six months of the restrictions being lifted.
Iran's FM extolls country's ability to restore nuke program, Associated Press, July 19, 2016.
AP Exclusive: Document shows less limits on Iran nuke work, by George Jahn, Associated Press, July 18, 2016. Excerpt:
Key restrictions on Iran's nuclear program imposed under an internationally negotiated deal will start to ease years before the 15-year accord expires, advancing Tehran's ability to build a bomb even before the end of the pact, according to a document obtained Monday by The Associated Press.
The confidential document is the only text linked to last year's deal between Iran and six foreign powers that hasn't been made public, although U.S. officials say members of Congress who expressed interest were briefed on its substance. It was given to the AP by a diplomat whose work has focused on Iran's nuclear program for more than a decade, and its authenticity was confirmed by another diplomat who possesses the same document.
Iran can fully restore nuclear program if JCPOA violated: Rouhani, PressTV.com (Iran's official propaganda organ) July 13, 2016. Excerpt:
Iran can fully restore nuclear program if JCPOA violated: Rouhani, PressTV.com (Iran's official propaganda organ) July 13, 2016.  President Hassan Rouhani says Iran can restore all those aspects of its nuclear program that it has agreed to limit under a deal with six world powers if the agreement is violated by those countries.
Speaking at a ceremony in Tehran Wednesday to mark the first anniversary of the deal, Rouhani said Iran will remain committed to the accord but will also be able to quickly return the nuclear program to any desired level if the agreement is violated. […]
"If, some day, the P5+1 refuses [to fulfill] its commitments, we will be completely prepared, and, in terms of nuclear capabilities, we are at such a level so as to be able to reach our desired stage in a short period of time," Rouhani said.
Truth Catches the Iran Deal: Obama trumpets an agreement that Tehran violates at every turn, by Bret Stephens, Wall St. Journal, July 11, 2016. Excerpt:
For the past year [the Obama administration] has developed a narrative—spoon-fed to the reporters and editorial writers Ben Rhodes publicly mocks as dopes and dupes—that Iran has met all its obligations under the deal, and now deserves extra cookies in the form of access to U.S. dollars, Boeing jets, U.S. purchases of Iranian heavy water (thereby subsidizing its nuclear program), and other concessions the administration last year promised Congress it would never grant.
"We still have sanctions on Iran for its violations of human rights, for its support for terrorism, and for its ballistic-missile program, and we will continue to enforce those sanctions vigorously," Mr. Obama said in January. Whatever.
The administration is now weighing whether to support Iran's membership in the World Trade Organization. That would neutralize a future president's ability to impose sanctions on Iran, since WTO rules would allow Tehran to sue Washington for interfering with trade.
German Intelligence Report: Iran Stepping Up Efforts to Obtain Nuclear Technology Since Signing Deal With World Powers Last Year, by Ruthie Blum, The Algemeiner, July 7, 2016. Excerpt:
Iran has increased its efforts to obtain materials used for nuclear weapons since it signed the Joint Comprehensive Plan of Action (JCPOA) with world powers on July 14 last year, Germany's domestic intelligence agency warned last week, Israel's i24 News reported on Thursday.
According to the report, the annual findings released by the German Federal Office for the Protection of the Constitution (BfV) revealed that Tehran has been attempting to acquire illicit materials in Germany, "especially goods that can be used in the field of nuclear technology."
The BfV also pointed to "a further increase in the already considerable procurement efforts in connection with Iran's ambitious missile technology program which could, among other things, potentially serve to deliver nuclear weapons.
"Against this backdrop it is safe to expect that Iran will continue its sensitive procurement activities in Germany using clandestine methods to achieve its objectives."
Not even Secretary Kerry can make sense of the Iran deal anymore, by Benjamin Weingarten, Conservative Review, July 6, 2016. Excerpt:
Jeffrey Goldberg, The Atlantic's frequently Obama-friendly muse on all things Middle East in general and Israel in particular, asked an admittedly difficult question of Sec. Kerry.
Paraphrasing him, Goldberg asked how Sec. Kerry could reconcile two seemingly contradictory positions: On the one hand backing the $25 billion sale of Boeing commercial aircrafts to Iran, while on the other recently reaffirming that Iran is the world's primary state sponsor of terror, and one that has previously supplied the Assad regime — to which Sec. Kerry is particularly hostile — and Hezbollah with the very commercial aircrafts Iran stands to receive under the Boeing deal.
Sec. Kerry's response was stunning in a sort of rambling, incoherent way.
The Iran deal at one year: Reality vs. the promises, NY Post Editorial Board, July 2, 2016. Excerpt:
To mark the first anniversary of President Obama's deal with Iran, the folks at the Foreign Policy Initiative have just published a comprehensive compilation of promises vs. results. It's a devastating roundup.
FPI's Tzvi Kahn notes what Obama, Secretary of State John Kerry and other top officials promised at the time would happen if the deal went through — in contrast with what we know now.
The level of willful deceit from Team Obama is horrifying. For example:
* Under the deal, Obama said, "We will, for the first time, be in a position to verify all of [Iran's] commitments." A year later, we have less information about Iran's nuclear activities than we did before the pact.
* Washington will get full access to any military and "suspicious" location; Iran's failure to allow it would result in a "snap back" of sanctions, said Kerry. Huh: The deal turns out to include an unprecedented arrangement that relies on Iran to "self-inspect" its Parchin military complex. Iran continues to deny access to Parchin and other key sites, citing the agreement to let it self-inspect.
* Kerry insisted the deal contained "the exact same language" as UN resolutions prohibiting ballistic-missile development. Iran has since revealed a loophole that allows such development — which it's been exploiting, while Team Obama now says it isn't a violation. Kerry says he wants a "new arrangement" on the issue but agrees Washington is "powerless" to stop the missile program.
(Continue)
Read the entire FPI report here:
FPI Analysis: What They Said Then, What We Know Now about the Iran Nuclear Deal, by Tzvi Kahn, Foreign Policy Initiative, June 30, 2016.
Benghazi Report Shows Ben Rhodes Pushed False Video Narrative After Attack, by Helle Dale, The Daily Signal, June 30, 2016. Excerpt:
For the first time we know that U.N. Ambassador Susan Rice was briefed by Ben Rhodes, deputy national security adviser for strategic communications, and David Plouffe, President Barack Obama's senior political adviser, which gave her statements the desired political spin:
Susan Rice's comments on the Sunday talk shows were met with shock and disbelief by State Department employees in Washington. The Senior Libya Desk Officer, Bureau of Near Eastern Affairs, State Department, wrote: 'I think Rice was off the reservation on this one.' The Deputy Director, Office of Press and Public Diplomacy, Bureau of Near Eastern Affairs, State Department, responded: 'Off the reservation on five networks!' The Senior Advisor for Strategic Communications, Bureau of Near East Affairs, State Department, wrote: 'WH [White House] very worried about the politics. This was all their doing.' [pg. 132]
In Bed With a Terrorist State, by Jonathan S. Tobin, Commentary, June 29, 2016. Excerpt:
Several months into the implementation of the Iran nuclear deal, the arrangement seems to be working perfectly—for both Iran and the Western companies that joined the Tehran gold rush, that is. Iranian oil is being shipped again to European ports while Western firms are going all out to meet the needs of the Islamist regime and hoping to make a mint from the transactions.