.
The following is a sampling of items from SaveTheWest.com research into the sympathetic, prominent, and often sustained coverage that the Huffington Post provides to Palestinian terrorists and their loved ones. As shown in our Chronology of Palestinian attacks during the Third Intifada, this stands in stark contrast to how HuffPost ignores the Jews who are murdered and maimed by Palestinian terrorists, and the suffering of their loved ones.
Contents
(1) How HuffPost sympathizes with, and whitewashes the stories of Palestinian terrorists
(2) How HuffPost sympathizes with Palestinians in general
---
(1) How HuffPost sympathizes with, and whitewashes the stories of Palestinian terrorists
(1.1) Video "The Huffington Post: Bias In Pictures"
This video was produced in 2011 by Huffington Post Monitor, a watchdog site that is apparently now in hiatus. Their video documents example after example of cases in which HuffPost made editorial decisions that either whitewashed or gave top, sympathetic coverage to Palestinian terrorists, while ignoring or dehumanizing their Jewish victims.
---
(1.2) HuffPost severely whitewashed a source AP story to turn one of the most notorious, murderous Palestinian terrorists into a "jailed leader"
In summary, as documented at the Huff-Watch watchdog site, also apparently in hiatus: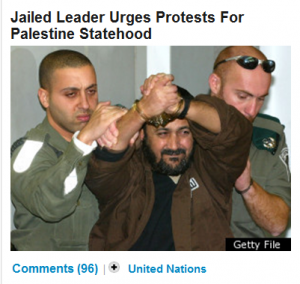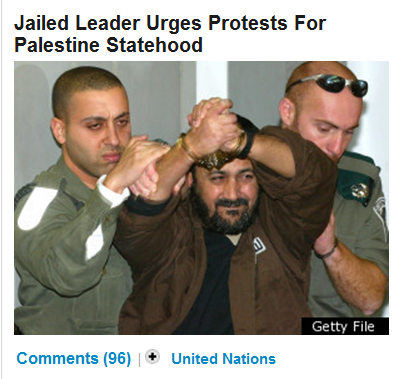 On July 20, 2011, HuffPost severely edited a fairly accurate AP source story about a notorious Palestinian terrorist, Marwan Barghouti, and depicted him as shown at right.
The only copy in HuffPost's version of the article that would give any indication of how many Jews he's murdered and maimed, was (emphasis added):
Barghouti, who's 51, is widely admired among Palestinians for leading an armed Palestinian uprising against Israel in the early years of the last decade.  He is serving five life sentences in Israel for his role in the conflict.
In reality, the AP article that HuffPost accessed told a different story about Barghouti:
Barghouti, 51, was a leader of a Palestinian uprising that began in 2000, during which a wave of suicide bombings rocked Israeli cities and killed more than 1,000 civilians. About 4,000 Palestinians were killed in clashes with Israeli forces during the violence, which lasted several years.
The Jerusalem Center for Public Affairs and the State of Israel have detailed archives of the mass murders that Barghouti perpetrated. And as the Investigative Project on Terrorism noted:
In the negotiations for (Gilad) Shalit's freedom, Hamas officials are demanding that Israel release leading terrorists including… Marwan Barghouti, a senior Fatah member.
Apparently soon after Huff-Watch published its analysis, HuffPost published the entire, unmolested AP story.
---
(1.3) HuffPost showers graphic sympathy on the family of a Hamas terrorist who was hiding among his children, during a retaliatory Israeli airstrike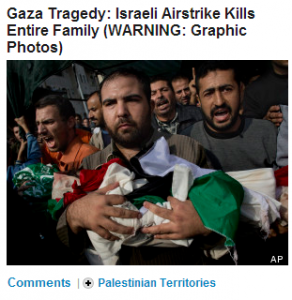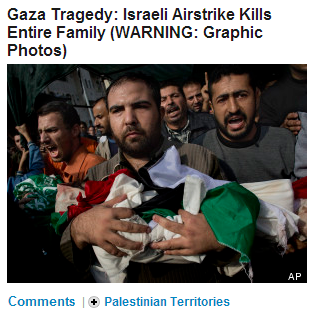 As documented at HuffPostMonitor, on November 19, 2012, after relentless rocket fire at its cities, from civilian areas in Gaza by the terrorist group Hamas, the Israeli Air Force (IAF) targeted and destroyed the home owned by Mohammed Jamal al-Dalu, a senior Hamas rocket technician.  The IAF insists it provided telephone and other forms of advance notice to residents in the house was going to be destroyed, to give them adequate time to get away from it.    Hamas and various "human rights" groups dispute this, and claim the IAF acted irresponsibly.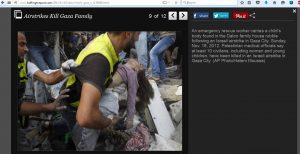 Regardless, while HuffPost consistently ignores pictures of Jewish victims of Palestinian terrorism, it rushes to its front page "news" stories filled with graphic, heart-wrenching images of Palestinian victims.  In this case, HuffPost published on its front page these pictures of the children of a Hamas terrorist who suffered because of its strategy of firing its rockets against Israeli cities from within civilian population areas – then refusing warnings to evacuate buildings that the IAF advises are going to be destroyed.
Contrast this graphic coverage to the way in which HuffPost presented the news that Palestinian terrorists had hacked to death an entire Jewish family to death one year earlier – including an eight-month-old baby.  HuffPost presented not even one picture of the Fogel family, before or after the murder, even though as Huff-Watch documented, they were readily available. In fact, HuffPost's story page does not even mention the "Fogel" name – and a search of the term "Fogel family" at HuffPost produces only editorials in which they were mentioned.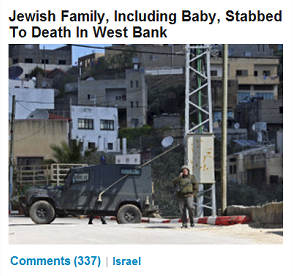 (1.4)
---
(2) How HuffPost sympathizes with Palestinians in general
As HuffPost decided that this was so shocking,
.
.
.