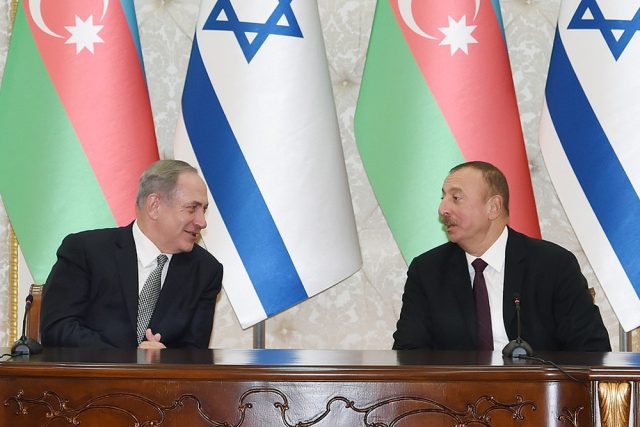 .
By Rachel Avraham
---
As I write, protesters in Iran are chanting "death to the dictator" and are seeking to topple the mullah's corrupt regime. They are angry about how the Iranian government mismanaged the collapse of a building in May that led to the death of 34 Iranians, and how the Iranian government shot down a foreign civilian aircraft by mistake. And they are sick and tired of wearing the chador, and suffering under sanctions with no end in sight, due to Iran's support for terror groups that do nothing for the average Iranian. Simply put, the people seek a better future for their children under a new government
One of the ways that this regime can be toppled more quickly is if the US were to support a union between North and South Azerbaijan. Such a reunion, if it is accompanied by other ethnic minorities being granted independence, will have a domino effect, thus leading to the weakening of the regime, which will lead to greater peace and stability in the Middle East.  By encouraging the freedom of South Azerbaijanis, the modern state of Azerbaijan can greatly assist Israel in its struggle against the mullahs.
Justice is on the side of the South Azerbaijanis. Historically, there was no division between North and South Azerbaijan. From the Sassanid Empire in the 3rd century through the 18th century, both North and South Azerbaijan were considered part of the same nation. Although Azerbaijan was occupied by Persians, Mongols, Arabs, and others during this period, both South and North Azerbaijan were considered part of the same territorial unit.  This only changed following the Russo-Iranian Wars of 1804-1813 and 1826-1828, when Iranian and Russian colonists essentially decided to cut Azerbaijan in half, giving half to Russia and half to Iran.
Furthermore, Article 15 of the Treaty of Turkmenchay, signed on February 10, 1828, stipulated for the settlement of Armenians "in a, region called Azerbaijan."  In other words, Iran and Russia arranged for Armenians to be settled in Azerbaijan, without taxes or tariffs being imposed upon them, leading to about 40,000 to 50,000 Armenians being moved from Iran to Azerbaijan. Later on, another 90,000 would join them from Iran, Turkey, and other Eastern countries, thus providing the conditions for the future Armenian territorial claims against Azerbaijan.
According to the Harvard Kennedy School's Belfer Center, "The Azerbaijani Turks in Iran constitute a significant part of the population of that country, comprising 40% of the population, but are deprived of their national rights. The Azerbaijani Turkish language is not allowed to be used in any official use in all fields, including schools, courts, government structures, and army. Some forms of Azerbaijani culture are prohibited as well."
The United States Institute of Peace concurred: "Azeri involvement in Iran's government was greatly reduced by the rise of the Pahlavi dynasty in 1925. The Islamic Republic continued to suppress the Azeri population, notably during a brutal 1981 crackdown against an Azeri uprising in Tabriz."
In 2006, South Azerbaijanis protested en masse after a state-run newspaper in Iran proclaimed that the Azerbaijanis were cockroaches. More recently in 2020, South Azerbaijanis protested in solidarity with Azerbaijan and against how their government supported Armenia, which led to many arrests. And at the recent conference in Shusha, many South Azerbaijanis called for the next Azerbaijani Diaspora Conference to be in Tabriz in order to protest Iran's occupation of the area.
In a recent interview published in the media, Iran's Ambassador to Armenia, Abbas Badakhstan Dohouri, indicated that Iran supports Armenia in the conflict and described Armenia, not Azerbaijan, as a friendly country: "The political relations between Iran and Armenia are excellent; there is an atmosphere of consensus, mutual support and mutual trust between the two countries. Of course, joint efforts should be made to preserve and deepen these relations. In the economic sphere, relations between the two countries are growing dynamically. Iran's share in Armenia's foreign trade is about 6%, which is higher than its foreign trade figure with other neighboring countries."
As Azerbaijani activist Tarlan Ahmadov, who is based in the United States, stated, "In the occupied territories of Azerbaijan, Iran played a significant role in supporting Armenia. Everything that they did was against Azerbaijan. During the 44 days of war, we saw how they supported the Armenian Army by transporting Russian weapons to Armenia via Iran.  We were happy to see our Azerbaijani brothers protesting against the Iranian regime for this.   We are very worried how Iran threatens us and interferes in everything."
In fact, during Armenia's thirty-year occupation of Karabakh, Armenia took the remnants of Azerbaijani homes, schools, museums, theaters and cultural centers, and sold the construction material in Iran. They even transformed Azerbaijani mosques into Iranian mosques.
According to Ahmadov, Iran always saw Azerbaijan as a "national security threat" for "the division between South and North Azerbaijan that started centuries ago still continues.  The political game between two empires put us into division.  One side of Azerbaijan is independent.  The other side is trying to be independent but is repressed." He claimed that Azerbaijan's liberation of Karabakh gave inspiration for the South Azerbaijanis to protest, thus Iran will always be "pro-Armenia and anti-Azerbaijani."
Thus, it would behoove Azerbaijan to take concrete actions to support the independence of South Azerbaijan at a time when the mullahs have never  been weaker. If they do so, then their dream of a free South Azerbaijan will come true and the State of Israel will benefit from the downfall of the mullahs, as a free South Azerbaijan will be an ally, not an enemy of the State of Israel.
Should Iran disintegrate into many states following the collapse of the mullahs, the Iranian nuclear program, the Iranian ballistic missile program and Iran's support for terror across the region and the world will be solved on its own, and a series of independent nations including a free South Azerbaijan can rise upon the ashes of the bankrupt Iranian government.
---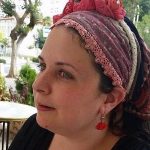 Rachel Avraham is a political analyst working for the Safadi Center for International Diplomacy, Research, Public Relations and Human Rights, which is run by Mendi Safadi, a former Likud Candidate for the Knesset and a former chief of staff of former Israeli Communication Minister Ayoob Kara. Since 2012, she has been working as an Israel-based journalist and writer, covering Iran, Kurdistan, Turkey, Iraq, Syria, the Israeli-Palestinian conflict, and other developments in the greater Islamic world.
Her articles have appeared in the Washington Times, the Hill, Front Page Magazine, the Daily Wire, the Christian Post, the Baltimore Jewish Times, the Jerusalem Post, Israel Hayom, Ahval and many other publications across the globe. She received her MA in Middle Eastern Studies from Ben-Gurion University. She got her BA in Government and Politics with minors in Jewish Studies and Middle Eastern Studies from the University of Maryland at College Park.