.
SaveTheWest's debut documentary, "The Huffington Post's Anti-Semitic Bias and Incitement During the Third Intifada," was released on Monday, March 1. As shown in the video below, the film included several examples of searches we did using HuffPost's own search engine, to demonstrate its bias against, and dehumanization of Jewish victims of Palestinian terrorism:
Also, note that at the bottom of each frame in which we describe the search, we included a TinyURL of its address, so viewers can replicate the search. For further convenience, we also included the links to each search in the master Resource page, which is mentioned in the film, at savethewest.com/HuffPost3i:
Recently, however, we discovered that HuffPost has taken down not just the search box at the top of its front page and World page, it has taken down its search engine altogether.  Note that this is what HuffPost's banner area looks like now (screencap taken March 5) – the search box has been removed, and is nowhere else on its front page: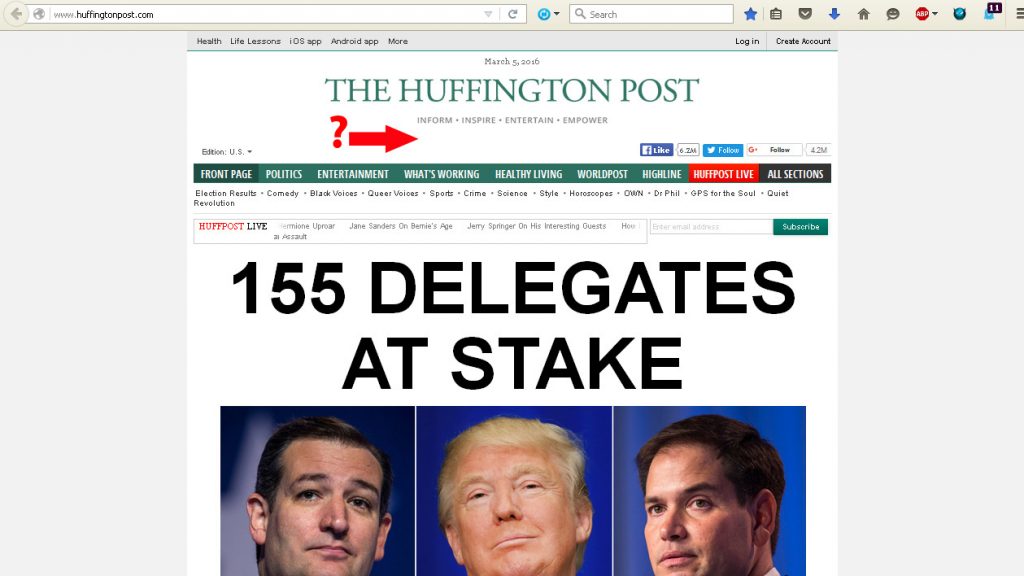 What this means, in the context of our documentary, is that skeptics are now unable to replicate the searches we did, to validate our assertions. For example, when we ran a search of Hadar Buchris at HuffPost's search engine, we found that it had not only never run a single story about a Palestinian terrorist murdering her, there was not even one mention of her name on the entire site, as shown on this screen (screencap taken on December 25, 2015; see lower right time stamp):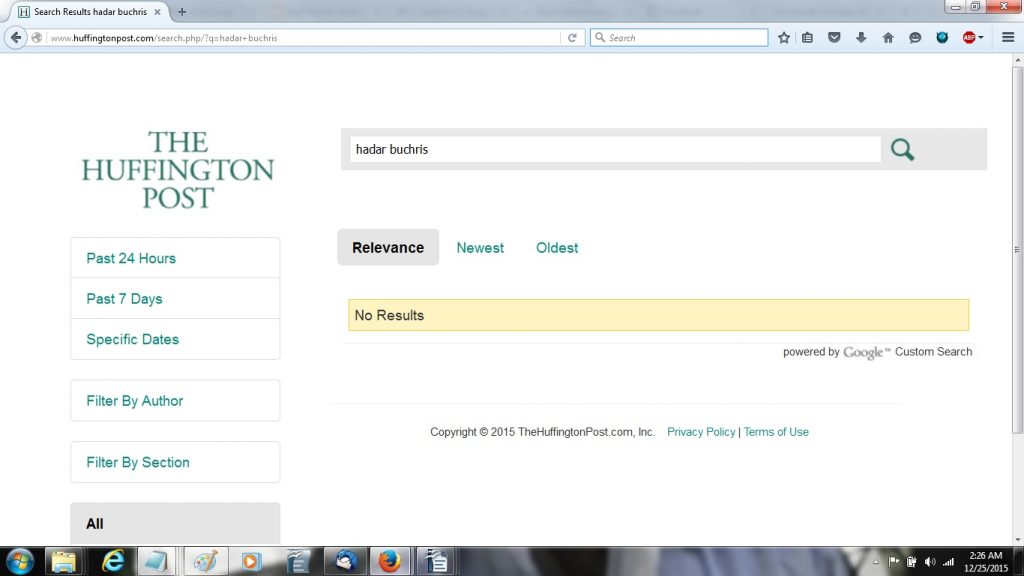 Note the search string in the URL of the above screencap:
http://www.huffingtonpost.com/search.php/?q=hadar+buchris
Today, however, anyone who follows the link we provided to search Hadar's name at HuffPost ends up with this screen (screencap taken March 4, 2016):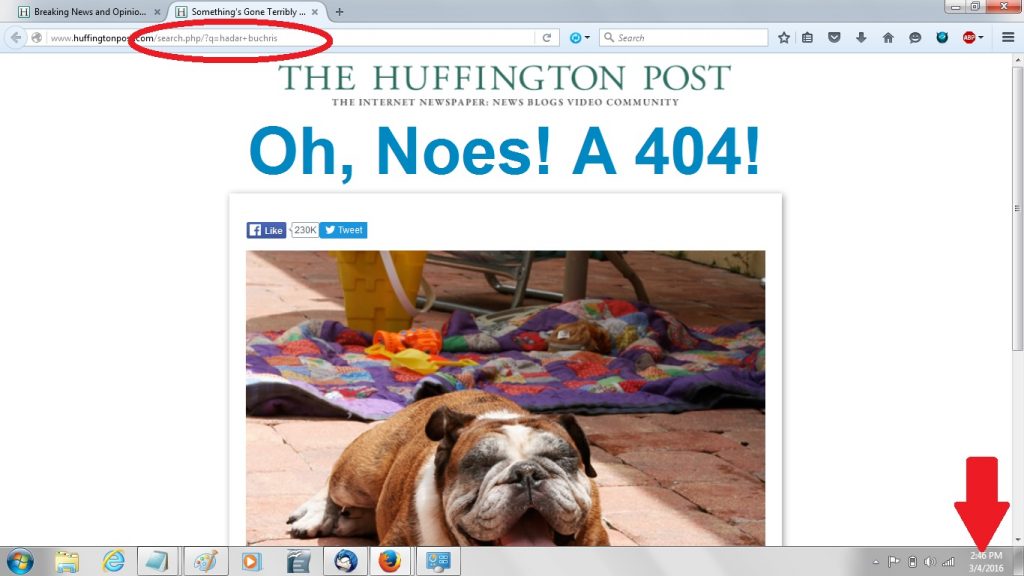 ---
HuffPost has had a search box at the top of its front page since it debuted in 2005
Like practically every other supposedly reputable news website in the world, it had a search box at the top of its front page since its debut, in 2005. This is demonstrated through "The Wayback Machine," aka the Internet Archive (https://archive.org/web/), which automatically captures many of the larger websites in the world, every day, often multiple times a day, as a sort of time capsule.
Here, for instance, is HuffPost's front page from April 13, 2006: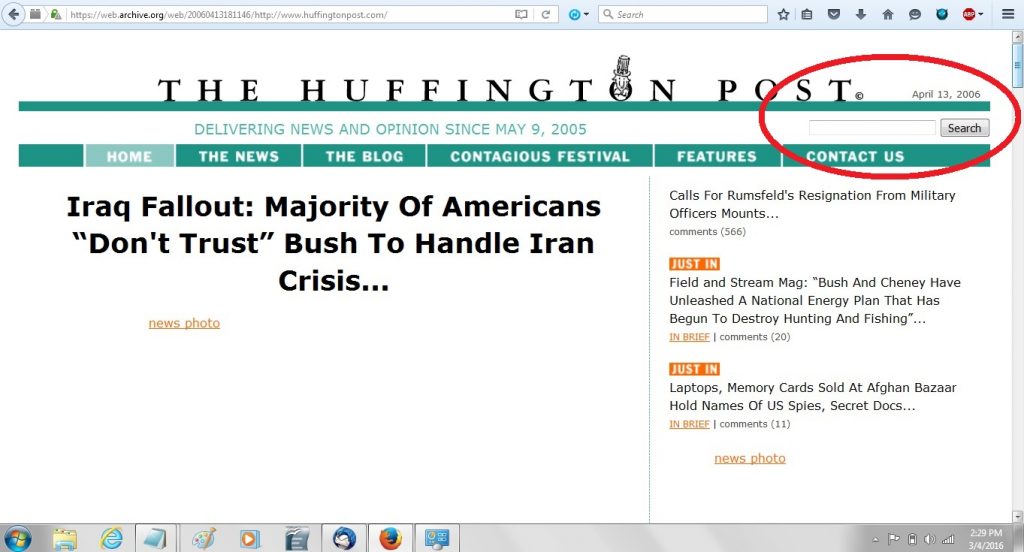 And from November 13, 2011: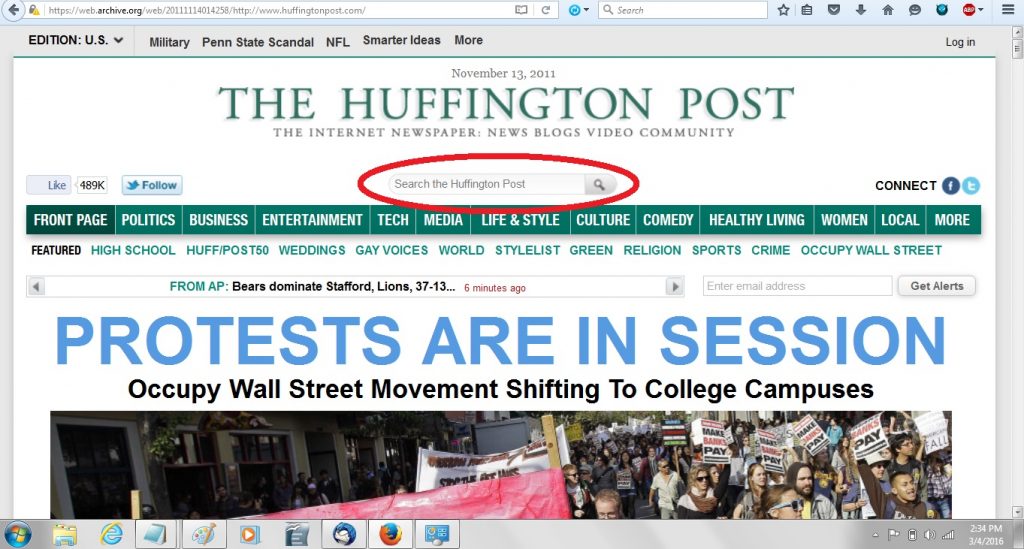 Note that right at the top of the front page is HuffPost's search box. And you can pick pretty much any date in the vast repository of HuffPost archives at The Wayback Machine, to see that HuffPost provided its readers with the ability to search the site for topics, names, and other key words since 2005.
---
So why has HuffPost taken down its search box, and its search engine?
That's a very good question, and one you might consider asking its corporate parent, Verizon:
Verizon Communications, Inc.
1095 Avenue Of The Americas
New York, NY, 10036
212-395-1000
Lowell C. McAdam (bio)
Chairman and Chief Executive Officer
Verizon's Office of Ethics and Business Conduct
844-894-8433
Contact page description: "This website may be used to… ask questions, express concerns or report suspected violations of Verizon's Code of Conduct [or] corporate policies."
While you're at it, you might also ask Verizon if it stands behind HuffPost's anti-Semitic bias and incitement, while claiming to be a nonpartisan newspaper.
.
.
.