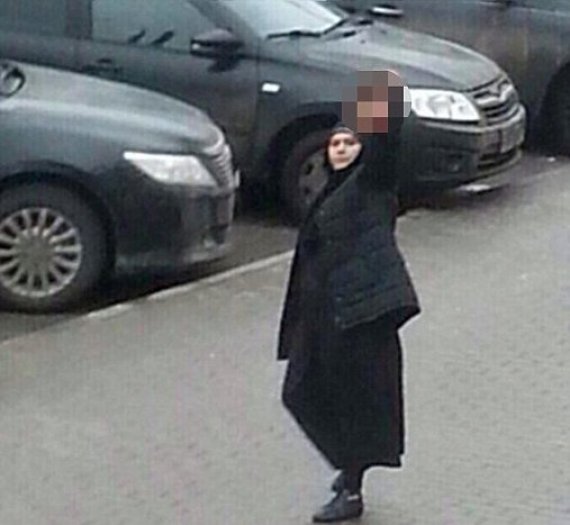 .
SaveTheWest's debut documentary, "The Huffington Post's Anti-Semitic Bias and Incitement During the Third Intifada," exposed myriad instances in which HuffPost rewrote source article headlines from the AP and Reuters, to imply moral equivalence between Palestinian terrorists and their Jewish victims. Now, we have proof positive that HuffPost's efforts to whitewash Islamist terror extends far beyond Israel and the disputed territories.
On March 2, one of the most horrific jihadist attacks in recent memory was perpetrated in Russia.  A Muslim woman beheaded a four-year-old girl in her care, then was captured on video, marching through the Moscow streets displaying the toddler's head, screaming, "Allahu Akbar!!! (God is great!!!) I am a terrorist!!!"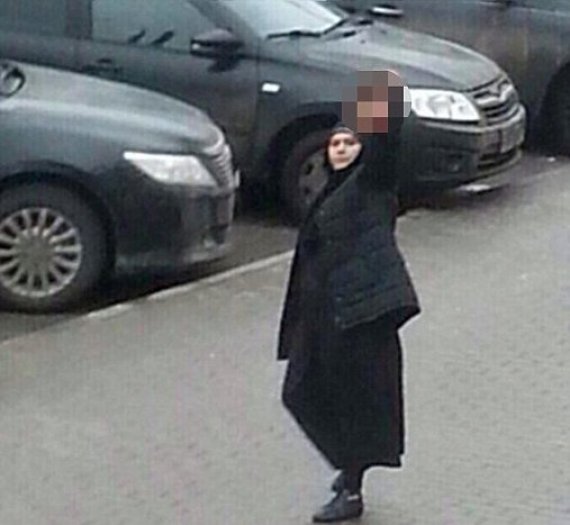 ---
Reuters' article about this incident
On March 2, Reuters published an article describing the incident, which was entitled:
"Woman on trial in Russia says Allah ordered her to behead child"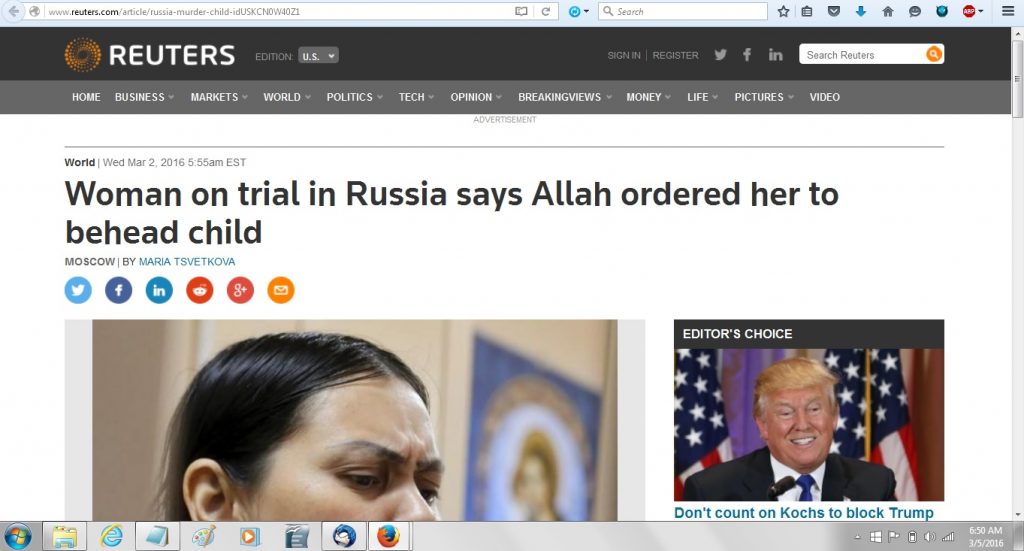 Key excerpts from this article, starting with the opening sentence (emphasis added):
A woman suspected of beheading a child in her care before brandishing the severed head outside a Moscow metro station said on Wednesday Allah had ordered her to commit the crime.
Police on Monday wrestled to the ground Gulchekhra Bobokulova, a 38-year-old divorced mother of three from the Muslim-majority ex-Soviet state of Uzbekistan, after she wandered around a Moscow street holding the infant's severed head in the air and shouting Islamist slogans. […]
Bobokulova told reporters on her way into the courtroom on Wednesday that Allah had ordered her to do what she did but that she had repented and agreed with her arrest.  Sat in the metal cage reserved for defendants in Russian courts, Bobokulova waved and said:
"I am Allah's messenger. Hello everyone."
---
HuffPost rewrote the Reuters headline, to remove all indication that this was a jihad-inspired atrocity
On March 3, HuffPost published the Reuters story on its front page and World page – but with a radically different headline (page screencap here):
Nanny Accused of Beheading Child Says It Was Revenge for Putin's Attacks in Syria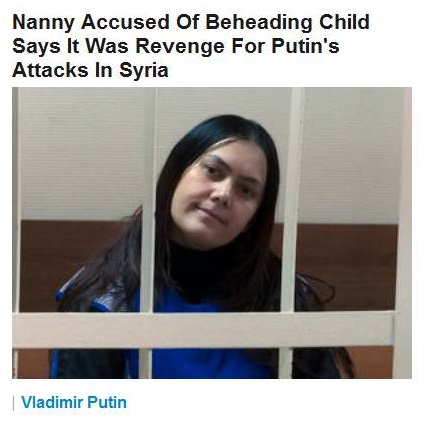 The following is a screencap from HuffPost's own story page, containing its version of the Reuters story, showing that its editor(s) knew exactly what this jihadist said was her motivation (highlighted):
On Wednesday, she told reporters Allah had ordered her to commit the grisly crime.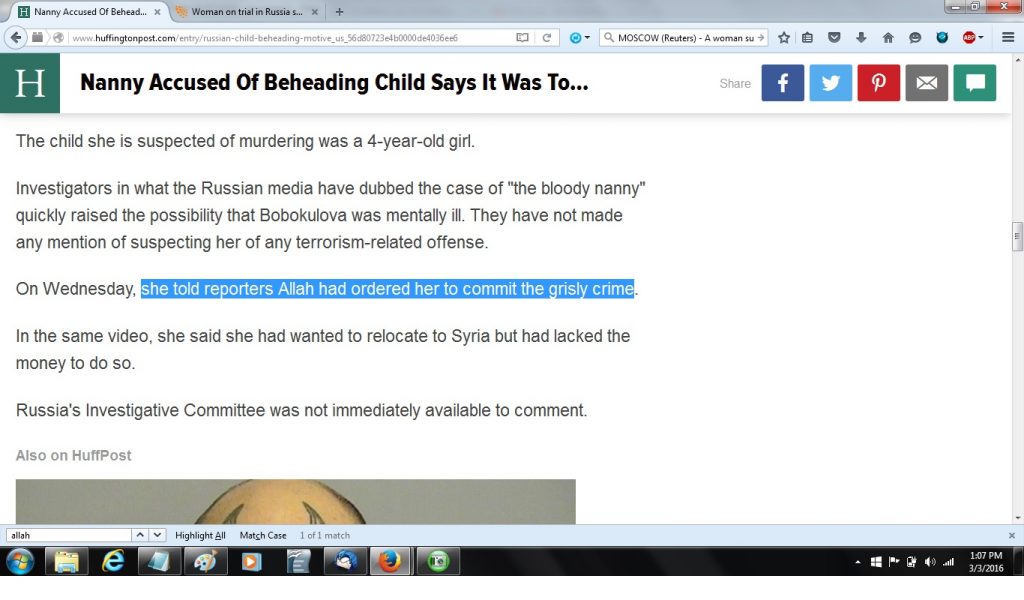 Also, note how HuffPost chose to use the most benevolent-appearing picture of this murderous jihadist for its headline, instead of the one of her holding up the child's head – or the one at the top of the Reuters source article, showing her angrily reacting to questions.
HuffPost fails to report on the ISIS connection discovered
Then, on March 5, the Washington Times provided substantive indications that the jihadist is affiliated with ISIS, as are her husband and son (emphasis added):
Nanny who beheaded 4-year-old Russian girl is linked to ISIS, by L. Todd Wood, The Washington Times, March 5, 2016.
The Uzbek nanny who beheaded a 4-year-old girl in Moscow while the family was away was radicalized by her husband, Suhrob Muminov, who visited Islamic State contacts frequently in the Urgut Mountains in Uzbekistan. […]
Her son, Rakhmatillo Ashurov, 19, is being held in custody in Uzbekistan for being "recruited by the Islamic State," reported the Mirror in the U.K.
HuffPost ignored this development.
Here is a sampling of the "news" stories that HuffPost published on its front page on March 6, instead:
Day 3 of: "Trump's Dick Aside, Here's What Having A Micropenis Is Really Like"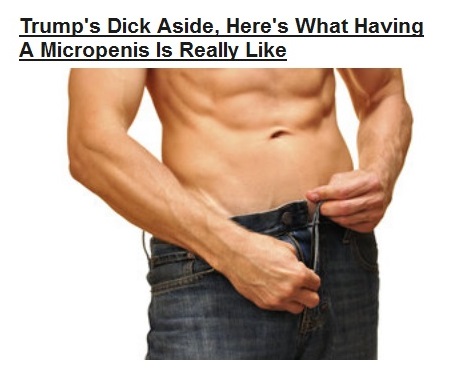 Day 2 of: "Watch Britney Spears Dance In A Bikini 'Til The World Ends"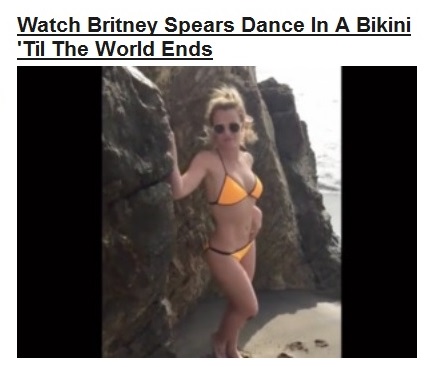 Day 3 of: "The Kardashians Just Started Another Trend"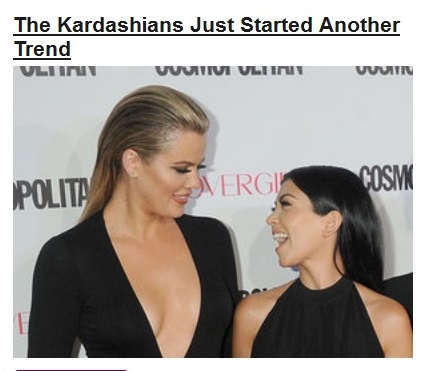 ---
Why did HuffPost whitewash the Reuters headline, when it knew the truth?
Furthermore:
Why did it present such a benevolent visual depiction of this jihadist murderer in its headline?
Why did it ignore the development that she and her family are linked to ISIS?
Those are questions that are best directed to HuffPost's corporate parent, Verizon. Please be polite and concise.
Verizon Communications, Inc.
1095 Avenue Of The Americas
New York, NY, 10036
212-395-1000
Lowell C. McAdam (bio)
Chairman and Chief Executive Officer
Verizon's Office of Ethics and Business Conduct
844-894-8433
Contact page description: "This website may be used to… ask questions, express concerns or report suspected violations of Verizon's Code of Conduct [or] corporate policies."
.
.
.