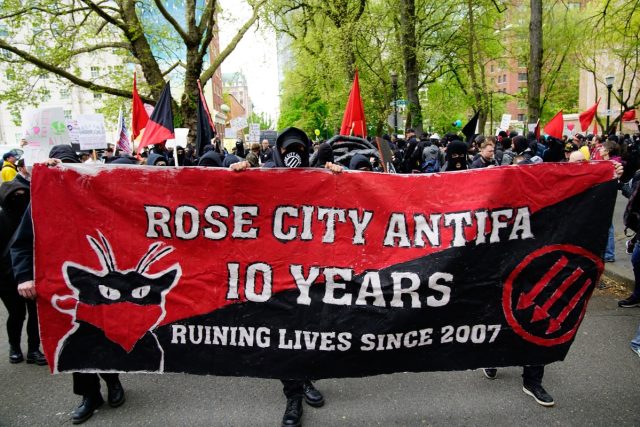 .
By Rachel Avraham
---
Rose City Antifa is the oldest Antifa group in the United States. Founded in Portland, Oregon, in 2007, the radical Marxist group stands behind both the fire set to a Portland courthouse earlier this year and another arson attack outside of the Portland mayor's home in 2020. They are also responsible for assaulting and threatening American journalist Andy Ngo. Although Antifa claims that it opposes anti-Semitism, many of the biggest BDS proponents in the US are also supporters of Antifa. This makes one ponder, is Antifa an inherently anti-Semitic movement even if they deny it?
Unfortunately, Rose City Antifa declined our request for an interview. However, this Israeli American journalist did travel to Portland, Oregon to explore whether the presence of Rose City Antifa is encouraging anti-Semitism in the Northwestern American city. During my visit, I discovered that at least three Israeli restaurants were vandalized with "Free Palestine" graffiti earlier this year.
As a result, the restaurants were forced to stop describing themselves as Israeli. I also learned that a vegan restaurant in the area also hoisted a "Free Palestine" sign outside. Furthermore, I learned from local Jews that discussing Israel is a taboo topic, which they prefer not to discuss with their friends to avoid controversy.
I also learned that most of the synagogues, including the historic Beth Israel Congregation, are still meeting over zoom in Portland and not in-person. Although I found a Sephardic synagogue, Congregation Ahavath Achim, that does still have in-person services, yet they are doing their shabbat services inside an office building and not inside the main ornate synagogue, which is now only opened for prayers on the High Holidays. I also learned from a member of the Portland Ashkelon Sister City Association that the organization has grown inactive during the pandemic due to financial issues.
I also noticed that the quality of challah bread had deteriorated in the city since my last visit, which was before the pandemic. In fact, the pandemic created issues in the supply chain that makes it hard to get decent cucumbers and tomatoes, let alone good quality challah.
In Portland, numerous businesses were forced to close by the pandemic, and the ones that remain open are struggling. Rose City Antifa and their riots only made a bad situation worse. This all leads to the creation of a weakened Jewish community, at a time when anti-Semitism is at an all-time high.
In order to get a deeper look at how Antifa is influencing the local community, I examined how The Oregonian, Portland's local newspaper, covered the State of Israel. I discovered that even though The Oregonian is a local newspaper that mainly covers local news and mostly does not discuss Middle Eastern issues, it did cover both Benny and Jerry's decision to boycott Israel over the green line and Operation Guardian of the Walls earlier this year.
During the height of Operation Guardian of the Walls, when Israeli Arabs were rioting across the Jewish state and Hamas and Islamic Jihad fired close to 4,400 rockets at Israel including some that targeted Jerusalem, Israel's eternal capital city, The Oregonian published a letter to the editor titled: "Enough is enough on funding Israel."
In the article, Cynthia Gilliam, writing on behalf of Jewish Voice for Peace, a militantly anti-Israel organization, stated: "At what point will Americans stand up and say, 'Enough'? The U.S. funds the Israeli Defense Forces at the rate of $3.8 billion a year. That's $10.4 million every day. We are paying for the bombs that are pummeling Gaza, killing Palestinian civilians, including children. The assault by the armed Israeli police on the Aqsa Mosque (during Ramadan) and the continual demolitions of Palestinian homes by the Israeli authorities, plus the potential forced evictions of more Palestinian residents of East Jerusalem, lit the match that started the latest escalation by an already oppressive government.
"We must respond," Gilliam stressed. "Otherwise, we are complicit. Please write to Senators Ron Wyden and Jeff Merkley and Reps. Suzanne Bonamici, Earl Blumenauer, Kurt Schrader, Peter DeFazio and Cliff Bentz. Tell them you do not want your tax dollars used to kill civilians, especially children. Tell them that U.S. aid to Israel must be used for peace and justice, not discrimination, ethnic cleansing, and military occupation. Tell them enough is enough." No pro-Israel letter to the editor was published.
During that period of time, The Oregonian published an article titled: "Israel steps up Gaza offensive, kills senior Hamas figures." It was published on May 12, 2021. When Hamas started the conflict by sending a barrage of rockets towards Israel on May 10, 2021, The Oregonian did not cover it. But when Israel retaliated and eliminated terrorists, The Oregonian covered it and refused to mention that Hamas was a terrorist organization, except in a quote given by a professor at Haifa University. To them, Hamas are mere "military figures," not terrorists.
Furthermore, in the eyes of The Oregonian, the conflict started not because Hamas fired rockets at Israel, but because Israel "fired tear gas and stun grenades" at Palestinians on the Temple Mount and "threatened the eviction of dozens of Palestinian civilians" during the "holy month of Ramadan." In other words, they took the claims of Hamas at face value, without any critical commentary, even though it is well-known in Israel that this was merely the excuse that they gave and was not the real reason.
According to a Palestinian source, who spoke on the condition of anonymity, the Palestinian Uprisings that accompanied Operation Guardian of the Walls began as a protest movement against the Palestinian Authority and then, suddenly, it was transformed into an anti-Israel uprising: "The whole thing began because the Palestinians in the West Bank, Eastern Jerusalem and the Gaza Strip had high hopes that the elections would give hope to the youth and the population at large that there will be a better tomorrow.
"This was the seedling for democracy, yet it was canceled and then, suddenly, there were protests against the PA and then all of the Islamist groups called for jihad over Jerusalem, thus refocusing everything." Nevertheless, none of this was covered in the Oregonian, yet it did mention that the illegitimate ICC was probing Israel for possible "war crimes."
In this article titled "Israel vows to respond aggressively to Ben and Jerry's decision to stop selling ice-cream in the occupied territories," The Oregonian did publish what Minister Erdan and Prime Minister Bennett and some other pro-Israel voices said about Ben and Jerry's decision.
But it also quoted Ben and Jerry's as saying that selling to the "occupied territories" was "not consistent with our values."
According to The Oregonian, "The statement was one of the strongest rebukes by a high-profile company of Israel's settlement policies in the West Bank and east Jerusalem, which it has controlled for more than a half-century after capturing them in the 1967 Mideast war. The Palestinians, with broad international support, claim both areas as parts of a future independent state. Israeli settlements, now home to some 700,000 Israelis, are widely seen as illegal and obstacles to peace."
The Oregonian also quoted Jeremy Ben-Ami of J Street as saying: "Instead of demonizing and attacking companies and individuals for making principled decisions, these leaders would make a greater contribution to the fight against antisemitism by helping to bring the unjust and harmful occupation to a peaceful end."
They also quoted BDS leader Omar Barghouti as saying: "It shows you cannot have business with an apartheid state without being complicit. We expect more socially responsible companies to follow suit, perhaps less publicly."
According to The Oregonian, "BDS organizers say they are protesting what they call Israeli oppression of Palestinians in a campaign modeled on the anti-apartheid movement in South Africa. Its nonviolent message has resonated with audiences around the world, including on many U.S. college campuses."
The Oregonian did not provide any proof that Israel's presence in the West Bank is illegal under international law, that Israel is an apartheid state and that Israel oppresses the Palestinians.
Instead, The Oregonian just took whatever the anti-Israel activists said at face value, adding that Israel is a divisive issue, with Republicans mainly supporting Israel and "Democrats especially younger voters increasingly supporting the Palestinians."
By dictating to readers what to think, they violated all journalistic ethics related to impartiality. With local media coverage like this, is it any wonder that Rose City Antifa and anti-Semitism has taken over Portland's streets?
Unfortunately, there is no supervision from the state's governor or the federal government to criminalize or curb such anti-Semitism.
---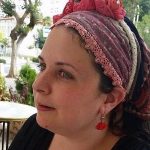 Rachel Avraham is a political analyst working for the Safadi Center for International Diplomacy, Research, Public Relations and Human Rights, which is run by Mendi Safadi, a former Likud Candidate for the Knesset and a former chief of staff of former Israeli Communication Minister Ayoob Kara. Since 2012, she has been working as an Israel-based journalist and writer, covering Iran, Kurdistan, Turkey, Iraq, Syria, the Israeli-Palestinian conflict and other developments in the greater Islamic world.
Her articles have appeared in the Washington Times, the Hill, Front Page Magazine, the Daily Wire, the Christian Post, the Baltimore Jewish Times, the Jerusalem Post, Israel Hayom, Ahval and many other publications across the globe. She received her MA in Middle Eastern Studies from Ben-Gurion University. She got her BA in Government and Politics with minors in Jewish Studies and Middle Eastern Studies from the University of Maryland at College Park.
---
Ken`s new book The Multifront War is now available in 190 countries via Amazon and also on BNs in the US. Buy it now!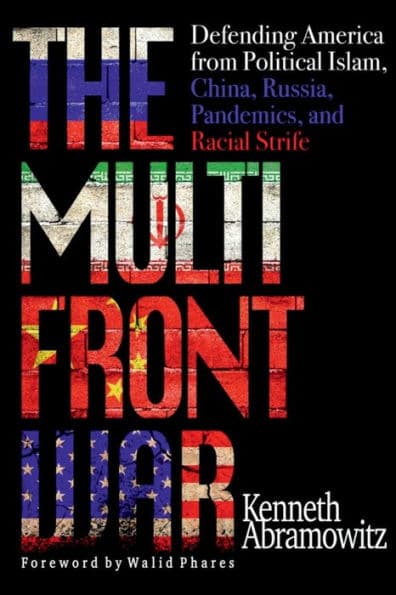 ---
.
.
.