Post title: "HuffPost's use of lies, deception and anti-Semitism to sell the Iran "deal"
Contents:
(1) Summary
(2) Lies
(3) Deception
(4) Anti-Semitism
(5) HuffPost's silence in the wake of Ben Rhodes's admissions and allegations
(6) Questions for HuffPost's parent company, Verizon
---
.
(1) Summary
For the past three years, astute national security and foreign affairs specialists from across the political spectrum have been warning us that the Iran "deal" that was relentlessly promoted by the Obama White House and its allies in Congress may well be the worst miscalculation in world history, and may well trigger – instead of prevent – a nuclear war. SaveTheWest.com's founder and president, Kenneth Abramowitz, spelled out some of the many reasons why this will be the likely outcome, in several editorials and letters to the editor (here, here, here).
For those not familiar with the issue: Since 1979, Iran has been one of the world's top sponsors of Islamist terrorism around the world.  It helped Hezbollah to murder 241 U.S. Marines in Lebanon in 1983, trained and armed terrorists to attack U.S. soldiers in Iraq and Afghanistan, and paid a $1,000 reward for each dead American.  And, its leaders have consistently said that it is their holy duty to wipe Israel off the map, and to bring "death to America."
In response, economic sanctions imposed by the U.S. and other Western nations crippled the Iranian economy, and made it a global pariah. Through five presidential administrations, it was understood that nothing would change until and unless Iran did.  Not only did Iran not change, it got far worse, in regards to its efforts to build nuclear weapons, and the means to deliver them.
Against this backdrop, no U.S. administration would have any cause to pursue better relations with Iran.  Starting in 2013, however, the Obama administration, began trying to "sell" Americans and the world on the narrative that if we didn't capitulate to Iran's demands, in exchange for token gestures that would slow down its pursuit of nuclear weapons, the only alternative was to go to war. No administration, even one as media-savvy as Obama's, could sell such a travesty without the help of an uncritical "news" media.
For years, critics of the "deal" from across the political spectrum were befuddled by how uninterested so-called "journalists" seemed to be, in exposing the reality of the "deal," and giving credible critics a voice in this rigged debate.
Thanks to a stunning admission by Obama's Deputy National Security Adviser, Ben Rhodes, we now know why: because he had constructed several fictional, overlapping narratives about the Iran "deal,"and was able to use utterly uninformed, gullible "journalists" the way a ventriloquist uses puppets.  He and Obama fed them the words to say, and they dutifully repeated them, without criticism or analysis.
There was no other group of "journalists," however, that served as a more influential combination of a rabid-dog attack machine and propaganda vehicle than the Huffington Post.  Its "editor-in-chief," Arianna Huffington and her underlings have insisted since its debut in 2005 that it is not partisan in any way, and that its 130 million readers around the world rely upon it for news and information that conforms to only the highest standards of objective journalism.
SaveTheWest.com's two recent video documentaries about HuffPost expose these claims as outright, provable lies.
This special report demonstrates how HuffPost:
Used lies, deception and anti-Semitism to help "sell" the Iran "deal"
Published nothing about Ben Rhodes's shocking admissions regarding how he and the Obama White House manipulated the "news" media and the general public, about the Iran "deal"
---
.
(2) Lies
2.1: HuffPost falsely accused Senators who were critical of, or opposed to the Iran "deal," of wanting to push America to go to war with Iran
None of these U.S. Senators wanted America to go to war with Iran.  To the contrary, every one of the Senators who expressed criticism of the "deal" being pushed by the Obama administration, whether Democrat or Republican, was trying to help us to prevent a war – or at least delay it for as long as possible.
HuffPost, however, relentlessly pushed above-the-fold splash headlines such as these, that pushed the demonstrable lie that these Senators wanted to push the U.S. into a war with Iran.  And it did this, despite the fact that Arianna Huffington claims she prohibited the use of "inflammatory claims and conspiracy theories" at HuffPost: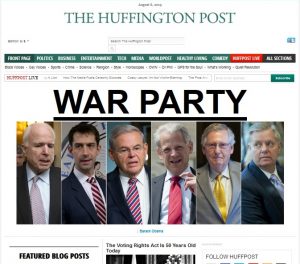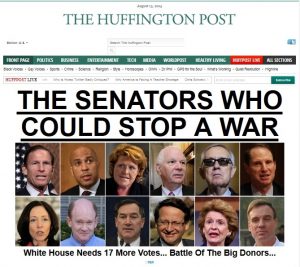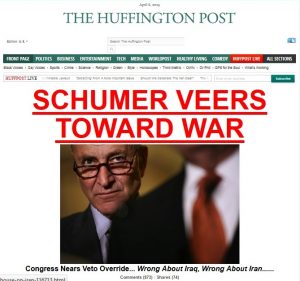 2.2: HuffPost's jihad of lies about, and incitement against Israeli Prime Minister Netanyahu
Since Netanyahu has been Israeli's Prime Minister, HuffPost has been in a veritable journalistic "jihad" against him. The following are just some of the bombastic, lie-filled headlines that it has published to discredit and incite hate against him – especially using the false allegation that he is trying to get the U.S. go to war against Iran: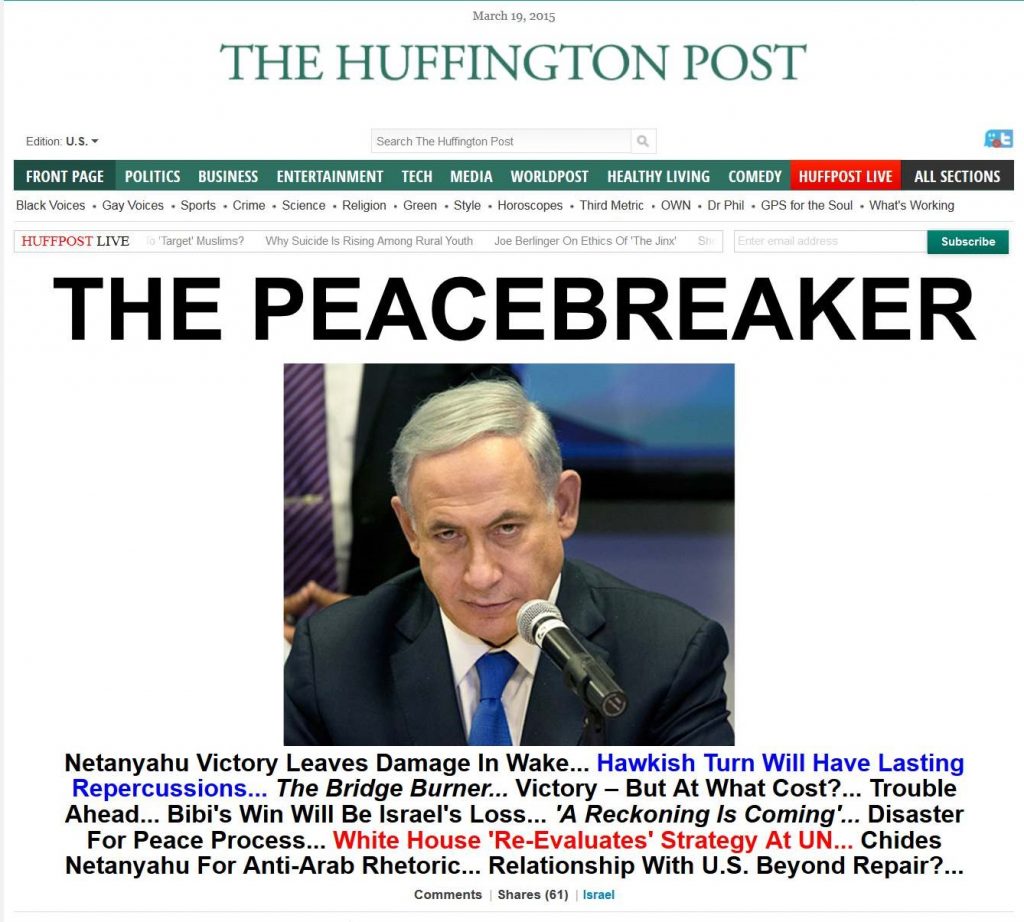 ---
.
(3) Deception
3.1: HuffPost falsely depicted discredited Iranian propagandists as nonpartisan "Iran experts" to launch a scorching, false attack on a critical Senator
One notable incident of HuffPost's effort to deliberately deceive the world public in regards to the Iran "deal" occurred on December 18, 2013, , when it published this splash headline, accusing Sen. Robert Menendez (D-NJ) of being a "saboteur Senator," who is "launching (a) war push" against Iran: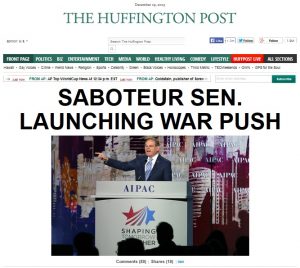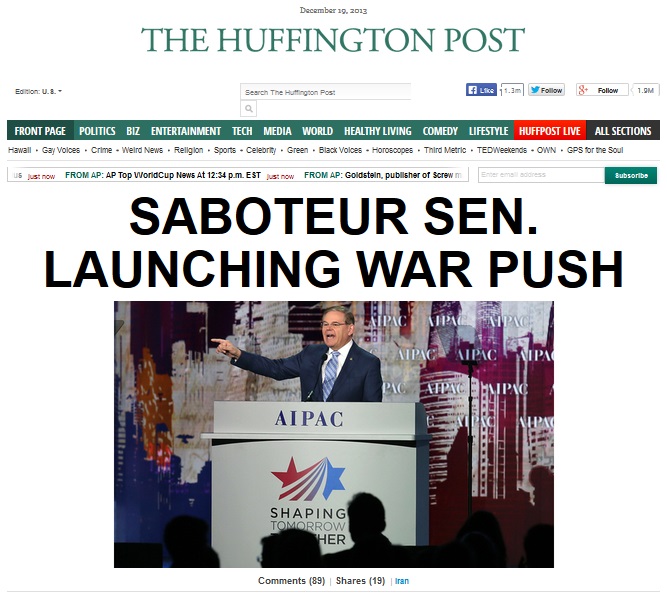 HuffPost based this outrageous premise on what it claimed was a (presumably nonpartisan) "report" by one (presumably nonpartisan) group of "Iran experts."  As exposed by The Algemeiner, however, HuffPost knew, or should have known, that these "experts" (a) were proven to have intimate ties to Iran's mullahs – and (b) sued a blogger who exposed this, only to have their case thrown out of court, more than a year earlier:
Huffington Post Serves as Promoter for Iranian Front Group, by The Algemeiner, December 26, 2013. Excerpt (emphasis added):
From the [HuffPost] article:
Numerous Iran experts have decried the Senate's attempts to impose new sanctions as a possible death blow to the first detente between the U.S. and Iran over its nuclear program.
"This would be a direct violation of the Geneva deal which would cause the collapse of the talks not due to Iranian sabotage, but American foul play," said Trita Parsi, the president of the National Iranian American Council, which advocates better relations between Iran and the West. […]
On Wednesday, the NIAC released a new report examining the roots of Iranian President Hassan Rouhani's recent outreach to the west — and its fragility.
But wait – who is Trita Parsi, and what is the National Iranian American Council (NIAC)?   The Legal Project, a nonprofit that helps defend anti-terrorism researchers from retaliatory lawsuits by radical Islamists, claims Parsi and NIAC have "deep and incontrovertible ties to high-level agents of the Iranian regime," and that this assertion was proved accurate in a September 2012 U.S. federal district court ruling:
The case reached national prominence when Parsi's e-mails (produced during discovery) not only confirmed his ties to the mullahs but also that he has delivered lectures to the CIA, briefed Secretary Hilary Clinton and visited the Obama White House starting in 2009. […]
Furthermore, as court records show, a lawsuit filed by Parsi and the NIAC against a blogger who exposed all this was not only thrown out of court, they were ordered to pay fines for failing to comply with the discovery process.
Even though that ruling occurred more than a year earlier, HuffPost disclosed none of this to its readers; to the contrary, it continued allowing Parsi and others at the NIAC to write editorials, under the presumed auspices of being nonpartisan "Iran experts," including the following lie-filled screeds:
To Netanyahu, Peace Is an Existential Threat (March 2, 2015)
The Summer of War or Peace With Iran (May 13, 2015)
---
.
(4) Anti-Semitism
HuffPost also repeatedly resorted to anti-Semitic bias and incitement in order to help sell the Iran "deal."  Below are but several of these incidents:
4.1: HuffPost editorial: Israel "fantasizes" about getting the U.S. to go to war against Iran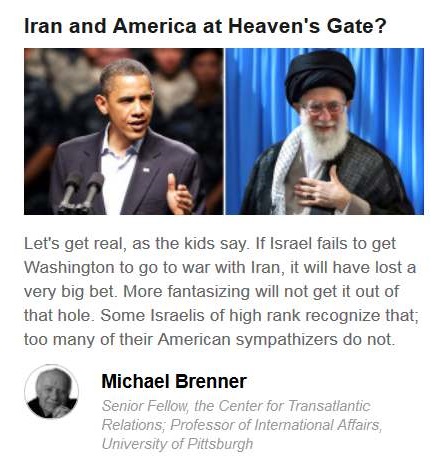 HuffPost posted this editorial on its front page for three straight days (Marcy 16-18, 2015), the last of which it was at the very top of the page.  The writer, Prof. Michael Brenner, employed the classic anti-Semitic libel that Jews (in this case, Israel) "fantasize" about getting nations to go to war for their benefit.  He went on to claim that the U.S. might be justified if it shot down Israeli jets that were deployed to attack Iran's nuclear weapons facilities.  Excerpts:
Iran and America at Heaven's Gate?
If Israel fails to get Washington to go to war with Iran, it will have lost a very big bet. More fantasizing will not get it out of that hole. […] There also is the possibility of Israeli attack aircraft being shot out of the sky by the United States as they overfly Iraq or even approach Iran from a circuitous route via Saudi Arabia. It strikes me that a compelling case can be made for the United States to do just that.
4.2: The Simon Wiesenthal Center and the American Jewish Committee blasted HuffPost's headline that Israel was pushing the U.S. to go to war against Iran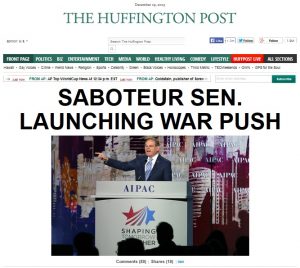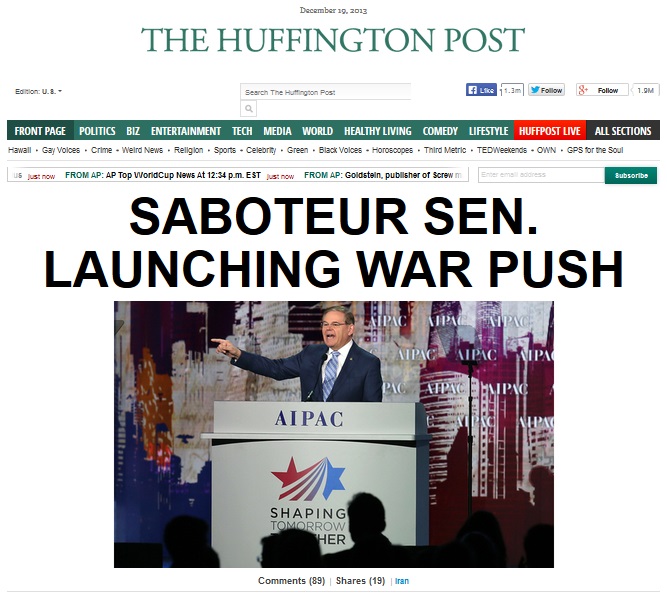 Two of the largest Jewish groups in America, the American Jewish Committee and the Simon Wiesenthal Center, also blasted Huffpost for this splash headline, which, as documented in .  According to The Algemeiner (emphasis added):
Jewish Group 'Appalled' by Huffington Post Article, SWC Says it Paints Jews as Warmongers, The Algemeiner, December 20, 2013. Excerpt:
Both the Simon Wiesenthal Center (SWC) and the American Jewish Committee (AJC) criticized the article, headlined "Saboteur Sen. Launching War Push," which featured a picture of New Jersey's Senator Robert Menendez addressing pro-Israel lobby the America-Israel Public Affairs Committee (AIPAC).
In the article, the publication attacked Senate leaders who backed a bill which calls for new sanctions against Iran in response to the country's nuclear program. The bill threatens "to push the United States toward war with Iran," the paper claimed.
Confident that the choice was a deliberate "editorial decision," Rabbi Abraham Cooper, Associate Dean at the Simon Wiesenthal Center sharply criticized the presentation as reminiscent of anti-Jewish tropes.  "It goes back to the age old canard," he told The Algemeiner, "that certain people have never seen a war that they can't find a way to blame on the Jews."  "Conscious or subconscious it just screams out 'there they go again,' meaning Jews, 'they are bringing the country to war,'" he added.
The AJC said it was "dismayed" and "appalled" by the article, and spoke out in defense of Senator Menendez.  "The Huffington Post has launched a shameful, unjust assault on Senator Menendez," said AJC Executive Director David Harris.  "Why this incendiary attack on a respected and experienced legislator, who has every right to express his viewpoints, without being depicted in such toxic terms?" Harris continued. "Senator Menendez believes, as do many of his Senate colleagues and a majority of the American people, that the best way to reach a diplomatic solution with Iran is through a hard-nosed, clear-eyed approach to a dangerous and wily adversary. So do we."
---
.
(5) HuffPost's silence in the wake of Ben Rhodes's admissions and allegations
It appears that the Washington Free Beacon broke the story of Ben Rhodes's shocking admissions and allegations in the New York Times Magazine interview, via this article, published at 4:59am on May 6.  It was followed a few hours later, in this article by Legal Insurrection, at 8:30am, and in this article by the Daily Mail, at 1:38pm.
---
.
(6) Questions for HuffPost's parent company, Verizon
Questions:
---
.
Bibliography of articles re Ben Rhodes's admissions and allegations

The following articles and analyses are presented in the chronological order in which they were published.
The Aspiring Novelist Who Became Obama's Foreign-Policy Guru: How Ben Rhodes rewrote the rules of diplomacy for the digital age, by David Samuels, The New York Times Magazine, May 5, 2016.
Ben Rhodes, Liar: The man who creates the White House's own reality, by Aaron MacLean, the Washington Free Beacon, May 6, 2016 4:59am EST.
Grand Deception: How Obama and Ben Rhodes Lied Us Into the Iran nuke deal, by David Gerstman, Legal Insurrection, May 6, 2016, 8:30am EST.
White House BRAGS about how it tricked reporters into cheerleading for Obama's Iran nuclear deal by creating a media 'echo chamber', by David Martosko, Daily Mail, May 6, 2016, 13:38pm EST.
Obama's Former Defense Secretary: Yeah, We Lied To The Israelis That We'd Stop Iran From Going Nuclear, by Hank Berrien, The Daily Wire, May 6, 2016.
Of pride, falls — and Obama's foreign policy, by Richard Cohen, The Washington Post, May 9, 2016.
The Obama-Rhodes mind-meld: A foreign policy tale told by an idiot, by J.E. Dyer, Liberty Unyielding, May 11, 2016. Excerpt:
I have four tasks here.  One, to take you briefly through the most important foreign-policy information the Samuels article conveyed.  Two, to show how the Obama-Rhodes mind-meld framed our security priorities exactly backward from what they actually are.  Three, to briefly address some significant changes that have already occurred in the Middle East because of Obama-Rhodes.  And four, to disabuse your stubborn mind of the notion that there is a U.S. "military option" left against the Iranian nuclear program now.
U.S. Secretary of State John Kerry Meets With European Bankers in Iran-Business Push, by Felicia Schwartz and Margot Patrick, Wall St. Journal, May 12, 2016. Excerpt:
Mr. Kerry and other U.S. officials have crisscrossed the globe in recent weeks in an effort to meet with banking and business leaders to promote investment in Iran, a country with which the U.S. has no diplomatic ties. But many European banks have been wary of doing business involving Iran while U.S. sanctions are still in place and a ban remains on dollar-denominated transactions.  "They [the Iranians] have an expectation that the sanctions that are supposed to be lifted are in fact lifted." Mr. Kerry said Thursday.