z.
A supplement to: Save The West's "Coalition for Non-Living Americans"
---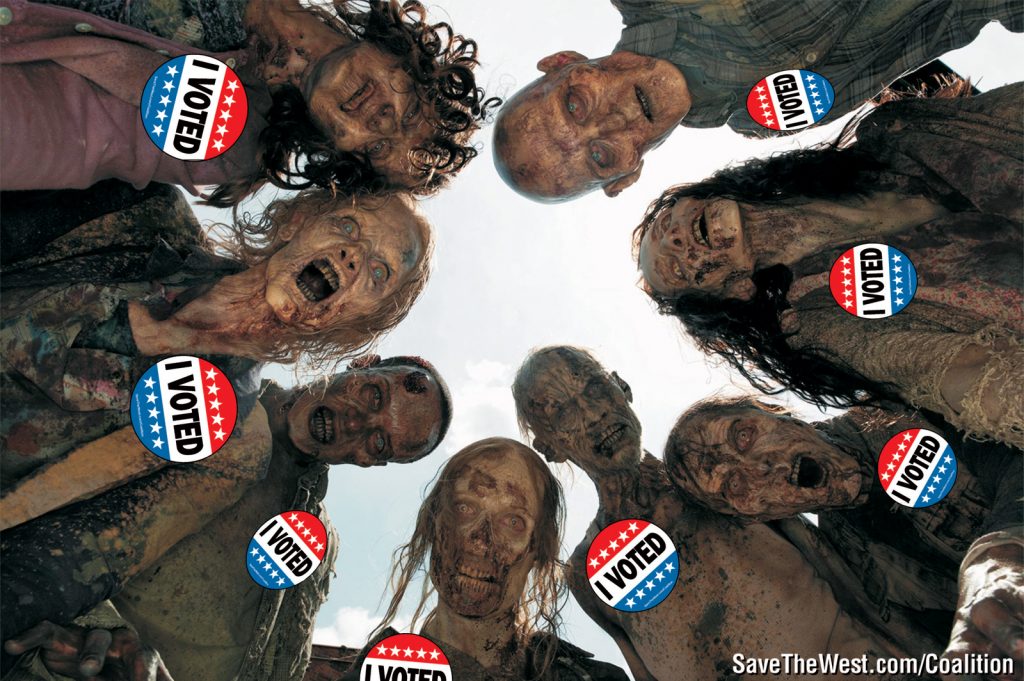 By Jon Sutz, Editor, SaveTheWest.com
According to Pew Research, more than 1.8 million dead Americans are still registered to vote.  And why shouldn't they be permitted to vote?  Haven't they suffered enough?
Thankfully, as documented in an array of recent local news reports (below), certain social justice warriors are working hard to:
Re-register dead Americans who have been wrongfully removed from the voting rolls
Ensure that these dead Americans still cast ballots, for the candidates that these social justice warriors believe they would/should support
These social justice warriors have done terrific work:
South Carolina discovered that nearly 1,000 dead Americans voted in 2012.
In Colorado, hundreds of dead Americans voted year after year, since 2004.
In New Hampshire, Vermont and North Carolina, undercover videos have revealed the ease with which dead Americans can vote.
Most Americans have heard little or nothing about the dozens of cases of social justice warriors being investigated or prosecuted for re-registering non-living Americans to vote. This is mostly due to the major national news media ignoring these stories (except the hateful Faux News Channel, of course!):
Local media sources, however, and certain fringe websites have been reporting on these incidents, clearly in an effort to stir up hatred against non-living Americans. Here are a few recent local video news reports, and beneath them are links to many more, categorized by state. [Note: Also see "Research file: Harassment of other social justice warriors who are trying to ensure as many participate in our democracy as possible," to get a sense of other hateful campaigns directed at unconventional voters.]
VIRGINIA
Meet The Young Virginia Democrat That Registered 19 Dead People To Vote In Virginia, by Tyler Durden, ZeroHedge.com, Oct 1, 2016.
Virginia Young Democrat Caught Registering Dead WWII Veteran to Vote, by Brent Scher, Washington Free Beacon, September 30, 2016.
He fought in World War II. He died in 2014. And he just registered to vote in Va., by Laura Vozzella, Washington Post, September 29, 2016.
Investigation launched after dead people are registered to vote in Harrisonburg, Richmond Times-Dispatch (VA), September 29, 2016.
NEW YORK
Woman, Dead Nine Years, Gets Absentee Ballot, by Scott Brown, WGRZ.com (Buffalo, NY) October 24, 2016.
ILLINOIS
2 Investigators: Chicago Voters Cast Ballots From Beyond The Grave, by Pam Zekman, Chicago.CBSlocal.com, October 27, 2016. Excerpt:
"Susie Sallee was buried in 1998. Yet records show she voted in Chicago 12 years later. Victor Crosswell died in 1994, but records show he's voted six times since then. And then there's Floyd Stevens. Records show he's voted 11 times since his death in 1993.

"It's crazy," Sharon Stevens Anderson, Stevens' daughter, tells CBS 2's Pam Zekman. "I don't see how people can be able to do something like that and get away with it."
CALIFORNIA
VIDEO: Hundreds of dead people found casting ballots in Los Angeles, CBS2 Los Angeles, May 23, 2016. Related story:
CBS2 Investigation Uncovers Votes Being Cast From Grave Year After Year, by David Goldstein, CBS2 Los Angeles, May 23, 2016. Excerpt:

"He took a lot of time choosing his candidates," said Annette Givans of her father, John Cenkner. Cenkner died in Palmdale in 2003. Despite this, records show that he somehow voted from the grave in 2004, 2005, 2006, 2008 and 2010.

But he's not the only one. CBS2 compared millions of voting records from the California Secretary of State's office with death records from the Social Security Administration and found hundreds of so-called dead voters.
COLORADO

Dying To Vote: CBS4 Investigation Finds Woman Charged With Casting Dead Father's Ballot, CBS4.com (Golden, CO), November 7, 2016. Excerpt:
In October prosecutors filed two felony forgery charges against Toni Lee Newbill, charging her with first voting for her father in a 2013 general election and then again casting a ballot for her father in a 2016 Republican primary election. Her father, Ralph Nanninga, died in 2012 in El Paso County at the age of 86.
CBS4 Investigation Finds People Voting Twice, CBS Denver (CO), October 25, 2016.
CBS4 Investigation Reveals Another Dead Voter, Fraud Cases And Gaps, by Brian Maass, CBS4.com (Denver), October 11, 2016.
Colorado Springs resident Sara Sosa, for example, passed away on Oct. 14, 2009, but records indicate she voted each of the next four years. Her late husband showed somewhat less determination, voting just once — so far, anyway — after shuffling off this mortal coil. The secretary of state's office later confirmed that at least 78 dead people were still listed on the voting rolls.
Rita A. Pezzano, who passed a decade ago, was found listed as an active voter. Her daughter-in-law was shocked when we shared the news. "I was about seven months pregnant when she died," said Audrey Marchiano.

"So she has been dead about 10 years now?" asked Investigative Reporter Wendy Saltzman. "Yes," said Marchiano.

Pezzano passed in 2006. But state voting records show the South Philadelphia native still listed as an "Active Voter" who cast ballots in 2008, 2012, 2014, and the 2016 primary election.
OTHER STATES
VIDEO: Undercover video investigation: Dead people receive ballots to vote in NH, VT and NC, Project Veritas.
Dead People Registering? Examples of Voter Fraud in Key Swing States, Fox News Channel, October 21, 2016.
.
.
.