.
By Jon Sutz, Editor, SaveTheWest.com
UPDATE: VIDEO: SaveTheWest.com sent a "Non-Living American" to the Univ. of Virginia to stand up for dead voters
Introductory video (3:00):
---
Contents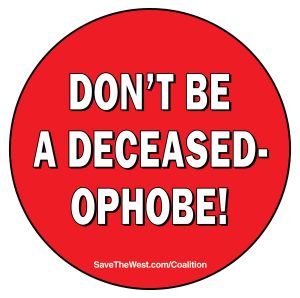 Introduction
SaveTheWest's new campaign to stand up for non-living American voters
How you can help stand up for non-living American voters:
Use our resources to start your own petition drive!
Research file: Harassment of social justice activists who are registering Non-Living Americans to vote
Research file: Harassment of other social justice activists who are trying to ensure as many participate in our democracy as possible (legally or otherwise)
---
By Jon Sutz, Editor, SaveTheWest.com
.
Introduction
America is a nation of inclusion. No matter who you are, or where you're from, so long as you believe in the basic principles articulated in our Declaration of Independence and Constitution, you should have a home within our representative republic. There is nothing that Americans detest more than any kind of institutionalized discrimination against any group, for any reason.
There is one group, however, that is still subjected to vicious, widespread discrimination: dead Americans who still want to participate in our elections.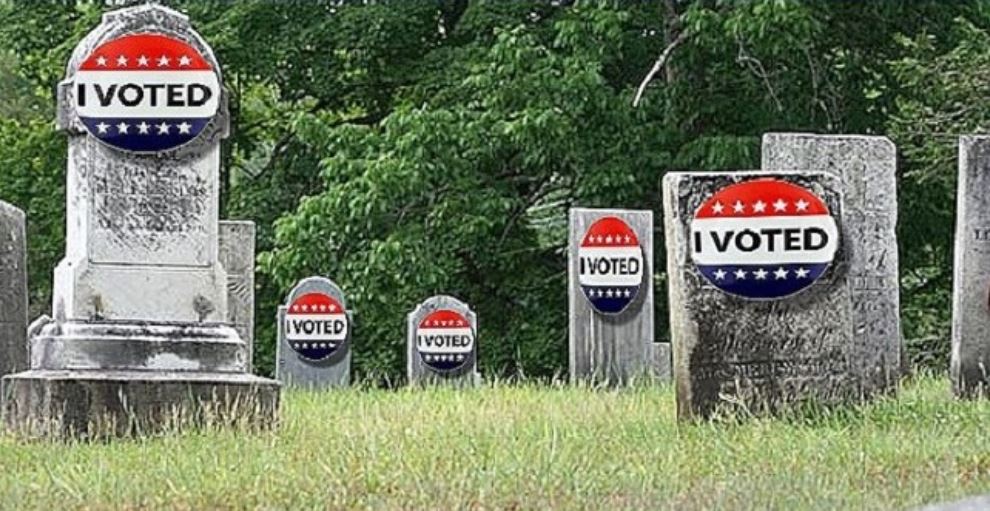 According to Pew Research, more than 1.8 million dead Americans are still registered to vote.  And why shouldn't they be permitted to vote?  Haven't they suffered enough?
Thankfully, as documented in an array of recent local news reports, certain social justice warriors are working hard to:
Re-register dead Americans who have been wrongfully removed from the voting rolls
Ensure that these dead Americans still cast ballots, for the candidates that these social justice warriors believe they would/should support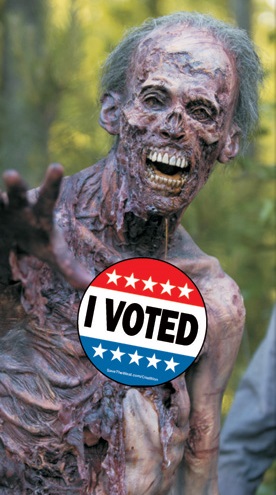 These social justice warriors have done terrific work:
South Carolina discovered that nearly 1,000 dead Americans voted in 2012.
In Colorado, hundreds of dead Americans voted year after year, since 2004.
In New Hampshire, Vermont and North Carolina, undercover videos have revealed the ease with which dead Americans can vote.
Unfortunately, these social justice warriors are being harassed, investigated and prosecuted, due to unjust American laws that claim only living U.S. citizens are eligible to vote in our elections.  See our detailed archive of news articles concerning this miscarriage of justice in:
"Research file: Harassment of social justice warriors who are registering Non-Living Americans to vote"
Also see our broader research file on extremists' complaints about social justice warriors' efforts to help advance our democracy here.
---
.
SaveTheWest's new campaign to stand up for non-living American voters
We at SaveTheWest are outraged at this institutionalized discrimination against dead Americans — or as we like to say, "non-living Americans."
That is why we've launched our own social justice campaign, entitled "The Coalition for Non-Living Americans."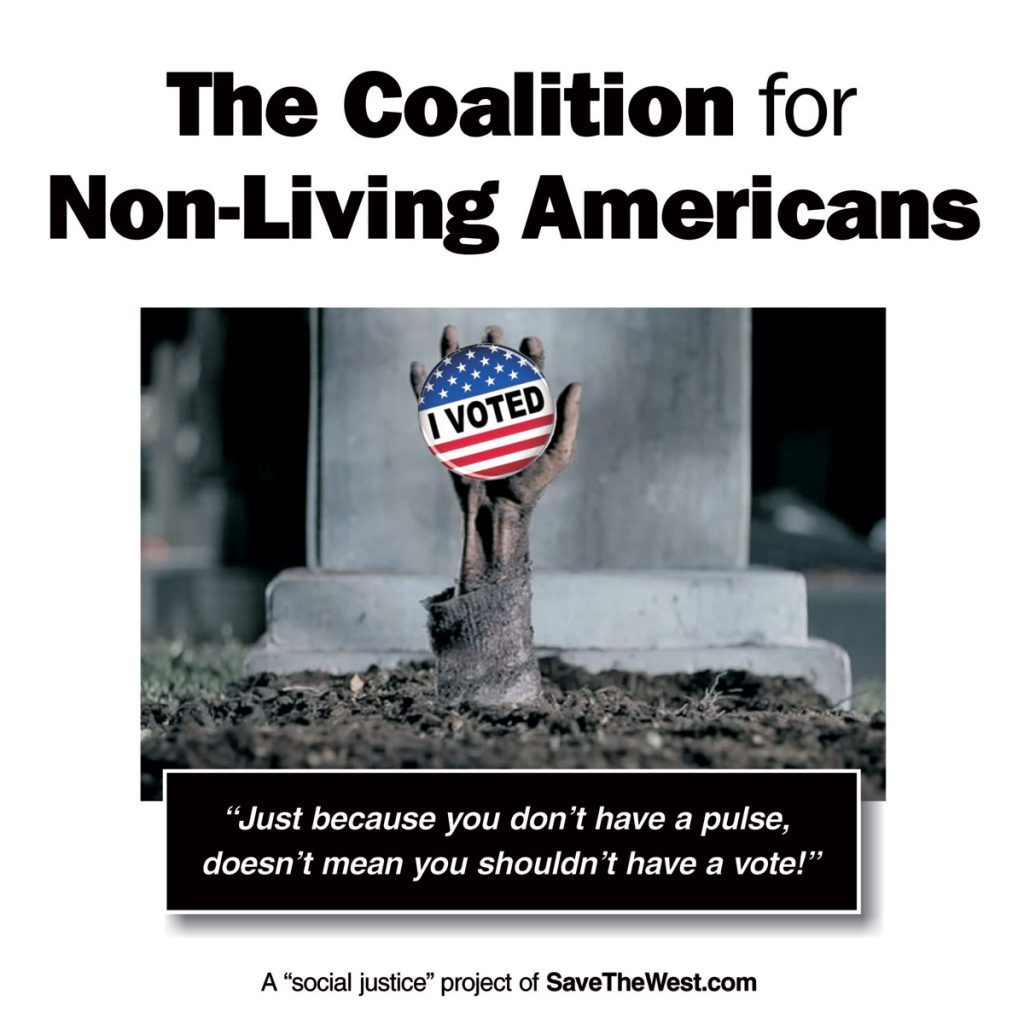 The purpose of our Campaign is to:
(1) Stand up for dead Americans who want to continue participating in our democracy
(2) Gather signatures on a petition (below) that urges mean-spirited, "deceased-ophobic" district attorneys across America to stop harassing and prosecuting the social justice warriors who are re-registering dead Americans to vote, and casting ballots in their names, for the candidate/s that they would/should support
We launched our campaign on October 24, 2016 with a live event in Charlottesville, VA, one of the birthplaces of American democracy, in which a duly-elected Non-Living American, "Emmet Croaker," handed out literature and asked people to sign our petition! (Pictures and videos coming)
---
.
Sign our online petition!
Go to Change.org to sign our online petition, and pass along this link to your friends and family!  In summary, the petition states:
"We, the undersigned, believe:

Law enforcement agencies should stop their mean-spirited investigations and prosecutions of social justice warriors who re-register Non-Living Americans to vote

Anyone who claims Non-Living Americans should not vote (for candidates that social justice warriors believe they would/should support) are bigoted "deceased-ophobes," who are only trying to suppress the rights of these expired people

Anyone on (or under) U.S. soil has the right to participate in our democracy, regardless of their citizenship status, and whether or not they have a pulse"
---
.
Use our resources to start your own petition drive!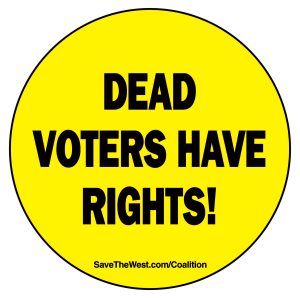 Go to our Resources Page to download all of the resources we've prepared for this campaign, which you can download to create one of your own!
The mask used for "Mr. Croaker"
A sample script for interaction with the general public
---
.
Research file: Harassment of social justice activists who are registering Non-Living Americans to vote
Most Americans have heard little or nothing about the dozens of cases of social justice warriors being investigated or prosecuted for re-registering non-living Americans to vote.  This is mostly due to the major national news media ignoring these stories (except the hateful Faux News Channel, of course!):
Local media sources, however, and certain fringe websites have been reporting on these incidents, clearly in an effort to stir up hatred against non-living Americans.  Here are a few recent local video news reports, and beneath them are links to many more, categorized by state. [Note: Also see "Research file: Harassment of other social justice warriors who are trying to ensure as many participate in our democracy as possible," to get a sense of other hateful campaigns directed at unconventional voters.]
VIRGINIA
Meet The Young Virginia Democrat That Registered 19 Dead People To Vote In Virginia, by Tyler Durden, ZeroHedge.com, Oct 1, 2016.
Virginia Young Democrat Caught Registering Dead WWII Veteran to Vote, by Brent Scher, Washington Free Beacon, September 30, 2016.
He fought in World War II. He died in 2014. And he just registered to vote in Va., by Laura Vozzella, Washington Post, September 29, 2016.
Investigation launched after dead people are registered to vote in Harrisonburg, Richmond Times-Dispatch (VA), September 29, 2016.
NEW YORK
Woman, Dead Nine Years, Gets Absentee Ballot, by Scott Brown, WGRZ.com (Buffalo, NY) October 24, 2016.
ILLINOIS
2 Investigators: Chicago Voters Cast Ballots From Beyond The Grave, by Pam Zekman, Chicago.CBSlocal.com, October 27, 2016. Excerpt:
"Susie Sallee was buried in 1998. Yet records show she voted in Chicago 12 years later. Victor Crosswell died in 1994, but records show he's voted six times since then. And then there's Floyd Stevens. Records show he's voted 11 times since his death in 1993.

"It's crazy," Sharon Stevens Anderson, Stevens' daughter, tells CBS 2's Pam Zekman. "I don't see how people can be able to do something like that and get away with it."
CALIFORNIA
VIDEO: Hundreds of dead people found casting ballots in Los Angeles, CBS2 Los Angeles, May 23, 2016. Related story:
CBS2 Investigation Uncovers Votes Being Cast From Grave Year After Year, by David Goldstein, CBS2 Los Angeles, May 23, 2016. Excerpt:

"He took a lot of time choosing his candidates," said Annette Givans of her father, John Cenkner. Cenkner died in Palmdale in 2003. Despite this, records show that he somehow voted from the grave in 2004, 2005, 2006, 2008 and 2010.

But he's not the only one. CBS2 compared millions of voting records from the California Secretary of State's office with death records from the Social Security Administration and found hundreds of so-called dead voters.
COLORADO

Dying To Vote: CBS4 Investigation Finds Woman Charged With Casting Dead Father's Ballot, CBS4.com (Golden, CO), November 7, 2016. Excerpt:
In October prosecutors filed two felony forgery charges against Toni Lee Newbill, charging her with first voting for her father in a 2013 general election and then again casting a ballot for her father in a 2016 Republican primary election. Her father, Ralph Nanninga, died in 2012 in El Paso County at the age of 86.
CBS4 Investigation Finds People Voting Twice, CBS Denver (CO), October 25, 2016.
CBS4 Investigation Reveals Another Dead Voter, Fraud Cases And Gaps, by Brian Maass, CBS4.com (Denver), October 11, 2016.
Colorado Springs resident Sara Sosa, for example, passed away on Oct. 14, 2009, but records indicate she voted each of the next four years. Her late husband showed somewhat less determination, voting just once — so far, anyway — after shuffling off this mortal coil. The secretary of state's office later confirmed that at least 78 dead people were still listed on the voting rolls.
PENNSYLVANIA
Action News Investigation: Voting from the Grave, by Wendy Saltzman, 6ABC.com (Philadelphia, PA), October 28, 2016. Excerpt:
Rita A. Pezzano, who passed a decade ago, was found listed as an active voter. Her daughter-in-law was shocked when we shared the news. "I was about seven months pregnant when she died," said Audrey Marchiano.

"So she has been dead about 10 years now?" asked Investigative Reporter Wendy Saltzman. "Yes," said Marchiano.

Pezzano passed in 2006. But state voting records show the South Philadelphia native still listed as an "Active Voter" who cast ballots in 2008, 2012, 2014, and the 2016 primary election.
VIDEO: Undercover video investigation: Dead people receive ballots to vote in NH, VT and NC, Project Veritas.
Dead People Registering? Examples of Voter Fraud in Key Swing States, Fox News Channel, October 21, 2016.
---
.
Research file: Harassment of other social justice activists who are trying to ensure as many participate in our democracy as possible (legally or otherwise)

Go here to see SaveTheWest's complete, regularly-updated archive of articles about the mean-spirited extremists who insist only U.S. citizens should be allowed to vote in our elections (and only once each).
A sampling:
Inaccurate, Costly, and Inefficient: Evidence That America's Voter Registration System, Needs an Upgrade, a special report by the Pew Center on the States, February 2012. Excerpts:
More than 1.8 million

non-living Americans

are listed as voters
Nearly 3 million Americans are registered to vote in more than one state
"Approximately 24 million — one of every eight — voter registrations in the United States are no longer valid or are significantly inaccurate."
Project Veritas, part two: Dem activists discuss best practices in committing voter fraud without getting caught, HotAir.com, October 18, 2016. Project Veritas's second video in two days reveals top Democratic operatives admitting they've been engaged in massive, nationwide voting fraud schemes, particularly in states where laws and oversight have been sufficiently weakened. One senior operative claims they've been doing it for fifty years, and nothing is going to stop them.
Update: One of the major donors to the groups revealed in this video series, George Soros, is also revealed to be deeply involved in the voting machine industry; Soros-Connected Company Provides Voting Machines In 16 States, by David Krayden, The Daily Caller, October 18, 2016.
No, voter fraud isn't a myth: 10 cases where it's all too real, by Kelly Riddell, The Washington Times, October 17, 2016.
VIDEO: Illegal Voting: Non-US citizens being allowed to vote in Virginia, Lou Dobbs, Fox News Channel, October 7, 2016.
VIDEO: The Voting Dead & 35,750 Cases Of Double-Voting In North Carolina in 2012, Fox & Friends, Fox News Channel.
Potentially Thousands of Illegal Voters in Pennsylvania: Non-citizens in key battleground state mailed registration cards by officials, by Brendan Kirby, PolitiZette.com, October 11, 2016.
Election Volunteer Files Affidavit With Florida Officials Describing Chilling Account Of Voter Fraud, by John Cardillo, Independent Journal Review, November 4, 2016.  Excerpt:
In the affidavit, a Florida resident and election volunteer, whose name has been redacted for privacy reasons, states that she was working as a volunteer in the Broward County SOE main office in Lauderhill, Florida when she stumbled upon four SOE employees locked in a room with stacks of empty absentee ballots:
I looked through the door window and could clearly see four SOE employees sitting at a table. Each person had a stack of documents next to them on one side and another stack on the other side, and they were all writing something on each document. Eventually an employee opened the door for me, and in a very hurried pace, allowed me in the room and told me to place my ballots on a different table. Once in the room, I could see the four SOE employees sitting at the same table actively filling out election ballots. […]

Each had a stack of blank ballots to the right of them (about an inch high) and a stack of completed ballots to their left. There were perhaps a dozen in each completed stack. I could see that the bubbles on the right stack had not been filled in, while the bubbles on the left stack had been blackened in. I could also see the employees filling in the bubbles as they moved the ballots from right to left. I witnessed this activity for over a minute.
In a follow up conversation after publication, [Broward County, Florida Supervisor of Elections Brenda] Snipes said that what the whistleblower witnessed was actually SOE staff members replicating damaged ballots by copying information from those problem ballots onto fresh ones. The whistleblower did not mention a third stack of ballots which would have been needed if one was transcribing. There was also no mention of any canvassing board monitors being present at the time this was done, which would have been required.
..
.