.
By Jon Sutz, Editor, SaveTheWest.com
Continued from "Who benefits from the lies being spread about the "caravans"?
UPDATE: This page has been updated with a new section: "Fentanyl smuggling: The little-known but potentially catastrophic component of transnational terrorist activity at the U.S. border." Click here.
---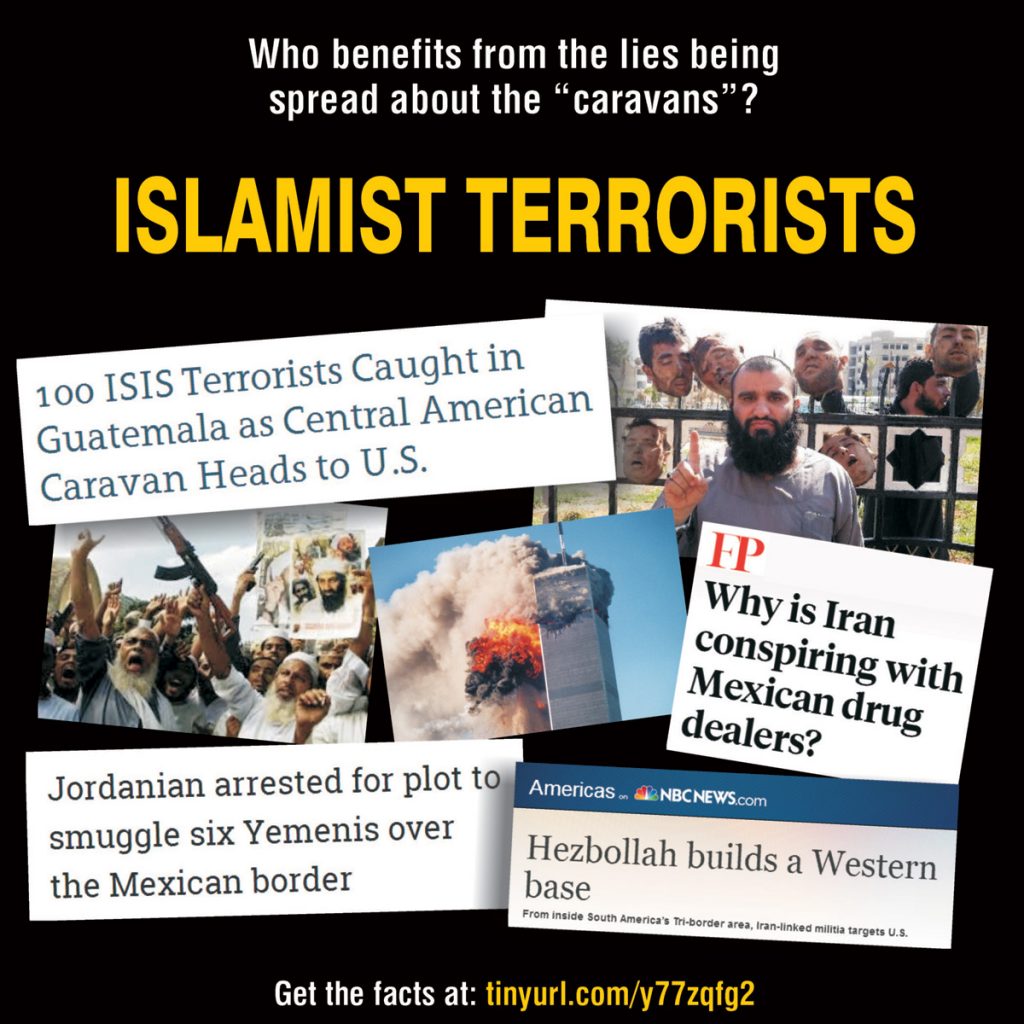 ---
The Center for Immigration Studies produced an excellent introductory report on this issue in August 2018:
Terrorist Infiltration Threat at the Southwest Border; The national security gap in America's immigration enforcement debate, by Todd Bensman, Center for Immigration Studies, August 13, 2018.
The following are case studies containing evidence and credible indications that Islamist (Muslim supremacist) terrorists have been infiltrating Central and South America, from as far away as Iran, Syria, Yemen and Bangladesh, and why:
(1) Hezbollah/IRGC* (Shia Islam extremists: Originates in Iran, Lebanon and beyond; *Iranian Revolutionary Guard Corps)
(2) ISIS-Al Qaeda (Sunni Islam extremists: Syria, Pakistan, Afghanistan, Iraq, Yemen and beyond)

(3) Bangladeshi terrorists and terror-supporters
UPDATE 1 Fentanyl smuggling: The little-known but potentially catastrophic component of transnational terrorist & criminal activity at the U.S. border
Based on this data, it is reasonable to conclude that by swarming our border with up to or more than ten thousand citizens of other nations, some may well be Islamist terrorists, who are intent on engaging in terrorism on U.S. soil, or acting as "sleeper cells," awaiting their mobilization orders.
After reviewing this data, it's worth considering: Why does the mainstream national "news" media refuse to expose it? And worse, as in this incident (more here), why do they explicitly deny that any such evidence exists, thus placing American citizens in danger?
The items in each category are presented in reverse chronological order (most recent at top).
---
(1) Hezbollah/IRGC (Shia Islam extremists: Originates in Iran, Lebanon and beyond; *Iranian Revolutionary Guard Corps)

Suspected Hezbollah Financier Extradited to the U.S., by Emanuele Ottolenghi, Foundation for Defense of Democracies, June 21, 2019. Excerpt:
Paraguayan authorities extradited Nader Mohamad Farhat yesterday to Miami, where he faces criminal charges of money laundering. Farhat's case promises to reveal the intricacies and magnitude of trade-based money laundering in the Tri-Border Area (TBA) of Argentina, Brazil, and Paraguay, including the role played by Lebanese Hezbollah.
A Miami federal court will decide whether Farhat will be tried there or in New York, where he faces similar charges. In the case before the New York court, Farhat is an alleged co-conspirator in a case involving another Paraguayan national of Lebanese origin, Mahmoud Ali Barakat, and three other defendants who are accused of assisting in the laundering of drug monies from inside the U.S.
Court documents refer to Farhat as a "known money launderer for narcotics organizations and other illicit organizations," while media reports allege a possible connection to Hezbollah. According to a Department of Justice press release announcing the indictment of his co-conspirators, Farhat participated in "an international money laundering scheme relying on the complexities of global trade, and the use of … businesses here in New York and in Florida, to launder millions of dollars for transnational drug traffickers and other bad actors." (The cases have since been merged.)
Trump's secretary of state Pompeo says Hezbollah is active in Venezuela; 'The Iranians are impacting the people of Venezuela and throughout South America', by Jon Sharman, The Independent (UK), February 8, 2019.
Hezbollah is active in Venezuela, the US secretary of state has said, as the Trump administration ratchets up pressure on the Latin American nation amid a crippling political and economic crisis.
"People don't recognise that Hezbollah has active cells" in the country, Mike Pompeo told Fox Business. "The Iranians are impacting the people of Venezuela and throughout South America. We have an obligation to take down that risk for America."
The US has long considered the Iranian-backed Lebanese group a terrorist organisation, and sanctions on people in Venezuela linked to Hezbollah have been imposed as far back as the George W Bush administration.
Washington also believes Latin America has served as a base of fund-gathering for the group for some years, including through drugs and money-laundering schemes, according to past reports.
Venezuela's former president Hugo Chavez formed tight links with Iran under Mahmoud Ahmedinejad's leadership.
Venezuela's Maduro Entrenches With Hezbollah, by Ran Meir, Clarion Project, February 4, 2019. Excerpt:
Amid the ongoing crisis between the U.S. and Venezuela, we've learned more of the strong ties between Caracas and the Lebanese-based Hezbollah. The more we dig, the more gold we find – in this case, quite literally.
As soon as President Donald Trump announced his support for opposition leader Juan Guaido, Hezbollah upped its rhetoric in favor of Maduro and condemned what it saw as an attempted coup planned by Washington. America wants to destabilize Venezuela and control its mines, Hezbollah contended, adding that D.C. is intent on punishing any nation that does not agree to U.S. hegemony. A delegation of senior Hezbollah officials just visited the Venezuela embassy in Beirut in a show of solidarity.
Hezbollah's unwavering support is one thing, but what is arguably more concerning is Maduro's backing of the Iranian-funded and trained Hezbollah, internationally recognized as a terror group. Maduro reportedly sent a letter to the terror organization expressing his thanks for Hezbollah's unconditional support.
He sent the note after receiving an offer of any help needed from Hezbollah Secretary-General Hassan Nasrallah. To this end, Hezbollah volunteered military know-how, explosives experts, snipers and soldiers trained in defending strategic locations, the Kuwaiti daily Al-Seyassah reported. Nasrallah further promised he could raise support for Maduro among Shiites living in South America.
This, said Nasrallah, is the least Hezbollah could do, given all that Maduro and former president Hugo Chavez did for Hezbollah and Iran.
Case of terror suspect caught sneaking into U.S. roils immigration debate, by Stephen Dinan, The Washington Times, January 21, 2019. Excerpt:
Zabi-Ullah Hemmat wasn't just one of 415,816 illegal immigrants caught at the southwest border in fiscal 2016. Nor was he just another of the 84 people from Afghanistan apprehended by Border Patrol agents that year.
What made Mr. Hemmat of special interest to authorities is that when he was snared by agents after 11 p.m. on a chilly November night and they ran his name through federal databases, he came back listed on the no-fly terrorist watch-list.
Mr. Hemmat is one of the terrorism suspects caught trying to sneak into the U.S. from Mexico — a category of people that is very much part of the current debate over illegal immigration, with President Trump insisting his border wall would deter people from being able to reach American soil and Democrats saying there's no real danger.
Mr. Hemmat's case suggests both may be wrong.
He was indeed on U.S. terrorism lists, linked to both the Taliban and a plot somewhere in North America, according to Department of Homeland Security documents. But after he was caught, wandering in southern Arizona with two Mexican guides and five other men from Afghanistan and Pakistan, he said he had sneaked in by crawling under an existing border fence near Nogales, Arizona.
Why Hezbollah Is in Argentina, by Shireen Qudosi, Clarion Project, November 18, 2018. Excerpt:
Threat analyses of Middle Eastern terror organizations in Latin American countries are now focusing on why Hezbollah is in Argentina.
On November 15, 2018, two Argentine citizens were arrested in Buenos Aires for their suspected connections to Hezbollah. They were discovered in possession of weapons — including a rifle, shotgun and a number of handguns — as well as "credentials in Arabic and an image of the Hezbollah flag" along with evidence of travel abroad.
Just this summer, Argentina's government initiated a first strike against a Hezbollah fundraising network in the Triple Frontier (the junction between Paraguay, Argentina and Brazil), where one of Hezbollah's cash cow operations engages in drug trafficking and money laundering.
In 2002, the Bush administration identified the Triple Frontier as a hotbed for terrorism finance activities that included Hezbollah. Counter-terrorism experts have identified the Triple Frontier as the most important Hezbollah base outside of Lebanon.
Hezbollah Is Ramping Up South of the US, by Clarion Project, November 15, 2018. Excerpt:
Iran's terror proxy Hezbollah is ramping up south of the US border, as witnessed by arrests of its operatives in Bolivia and Peru.
Information revealed by the State Department's top counter terror official Nathan Sales confirmed the increased presence of Iran and Hezbollah in Latin and South America.
In Bolivia, "large caches of military equipment and explosives" belonging to Hezbollah jihadis were found in the La Paz area. Jihads have also been dispatched to Peru, where prosecutions of operatives by the government is ongoing.
Last year in Paraguay, a number of Hezbollah-linked individuals – some with connections to the U.S. were arrested for money laundering and drug trafficking, according to the State Department. Panama also worked with the U.S. on a number of counter-terror efforts with suspects linked to Hezbollah.
A House panel last spring heard testimony that Iran has "converted and radicalized thousands of Latin Americans" over the years through sending imams to the region and establishing mosques and "cultural centers."
---
Authorities along U.S., Mexico Border Find Tunnel With Rail System, Solar-Powered Lighting Under California, by Benjamin Fearnow, Newsweek, October 10, 2018.
Relevance:
Why is Iran conspiring with Mexican drug dealers?, by José R. Cárdenas, Foreign Policy, October 12, 2011.
Hezbollah's history of tunnel warfare;  Hezbollah have used extensive networks of underground passageways to devastating effect against Israel, by Hashem Osseiran, The National (Abu Dhabi), December 6, 2018.
Israeli military finds 4th Hezbollah tunnel from Lebanon, by the AP, December 19, 2018.
Iranian-Backed 'Sleeper Cell' Militants Hibernating in U.S., Positioned for Attack; Iranian militants poised to attack U.S. homeland, by Adam Kredo, Washington Free Beacon, April 17, 2018.
Iran Has Sleeper Cells in the U.S.—And the Media is Fast Asleep, by CAMERA, April 20, 2018.
The secret backstory of how Obama let Hezbollah off the hook; An ambitious U.S. task force targeting Hezbollah's billion-dollar criminal enterprise ran headlong into the White House's desire for a nuclear deal with Iran, by Josh Meyer, Politico, December 20, 2017.
Dianne Feinstein: Terrorist sleeper cells are in the U.S., by Ben Wolfgang, The Washington Times, January 11, 2015.
Hezbollah's cocaine Jihad; Faced with dwindling Iranian funding, Shiite terror group partners with Mexican drug cartels; uses millions of dollars in drug money to support weapon acquisition habit, by Eldad Beck, YNet, December 29, 2012.
---
Terrorist Infiltration Threat at the Southwest Border; The national security gap in America's immigration enforcement debate, by Todd Bensman, Center for Immigration Studies, August 13, 2018. Excerpt:
On June 24, 2016 — during the waning days of President Barack Obama's administration — Department of Homeland Security Secretary Jeh Johnson sent a three-page memorandum to 10 top law enforcement chiefs responsible for border security. The subject line referenced a terrorism threat at the nation's land borders that had been scarcely acknowledged by the Obama administration during its previous seven years. So far, it also has evaded much mention in national debate over Trump administration immigration policy.
The subject line read: "Cross-Border Movement of Special Interest Aliens".
What followed were orders, unusual in the sense that they demanded the "immediate attention" of the nation's most senior immigration and border security leaders to counter such an obscure terrorism threat.
Secretary Johnson ordered that they form a "multi-DHS Component SIA Joint Action Group" and produce a "consolidated action plan" to take on this newly important threat. He was referring to the smuggling of migrants from Muslim-majority countries, often across the southern land border — a category of smuggled persons likely already known to memo recipients as special interest aliens, or SIAs. Secretary Johnson provided few clues for the apparent urgency, except to state: "As we all appreciate, SIAs may consist of those who are potential national security threats to our homeland. Thus, the need for continued vigilance in this particular area." Elsewhere, the secretary cited "the increased global movement of SIAs."
The unpublicized copy of the memo, obtained by CIS, outlined plan objectives. Intelligence collection and analysis, Secretary Johnson wrote, would drive efforts to "counter the threats posed by the smuggling of SIAs." Coordinated investigations would "bring down organizations involved in the smuggling of SIAs into and within the United States." Border and port of entry operations capacities would "help us identify and interdict SIAs of national security concern who attempt to enter the United States" and "evaluate our border and port of entry security posture to ensure our resources are appropriately aligned to address trends in the migration of SIAs."
Secretary Johnson saw a need to educate the general public about what was about to happen. Public affairs staffs would craft messaging that the new program would "protect the United States and our partners against this potential threat."
---
Hezbollah's Tri-Border Area terror finance comes under fire at last, by Emanuele Ottolenghi, The Meir Amit Intelligence and Terrorism Information Center At the Israeli Intelligence Heritage and Commemoration Center, August 12, 2018. Excerpt (Introduction):
On July 13, Argentina's Financial Intelligence Unit froze assets of 14 Lebanese nationals and residents of the Tri-Border Area of Argentina, Brazil and Paraguay, or TBA. According to the FIU, the targeted individuals were part of a criminal organization linked to Hezbollah and associated with the Barakat clan, a powerful Lebanese Shi'a family whose leader in the TBA, Assad Ahmad Barakat, was sanctioned by the U.S. Department of Treasury in 2004. The network transferred large quantities of cash across the TBA to the Argentinian side in Puerto Iguazu, using the local casino, just yards passed Argentinian customs at the border crossings, to launder the money.
The assets freeze is the culmination of months of investigations, in cooperation with the U.S. Department of Treasury's FinCen, which on July 16 praised the FIU for its action against Hezbollah. Argentina's move follows closely the arrest of two Lebanese nationals suspected of ties to Hezbollah, on May 17 and June 25, respectively, on the Paraguayan side of the TBA, by Paraguayan authorities. These recent events highlight both the continuing importance of the TBA to Hezbollah's terror finance and a renewed willingness by regional powers to confront Hezbollah's local networks. U.S. cooperation in all instances proved critical. To successfully continue to disrupt Hezbollah's illicit revenue streams in the TBA the United States needs to step up its engagement with regional powers, thus ensuring that investigations, arrests, asset freezes and extraditions continue.
---
Iran In Latin America: Identifying The Problem and How We Need To Confront It, by Luis Fleischman, London Center for Policy Analysis, Spring 2018. Excerpt:
Hezbollah and Iran's Islamic Revolutionary GuardsCorps (IRGC) have also established a presence in the region, training "soldiers of the revolution" in Venezuelan camps, and even helping to design and build the ALBA school, a military training camp in Bolivia. The school's main purpose is to ideologically indoctrinate soldiers and strengthen the bonds between the armed forces and the new Latin American revolutions. The revolution promoted a civic-military alliance, a situation that has enabled the regime to survive. Venezuela's own Vice President, Tarek Al Aissami, has been a key liaison between Venezuela and Iran.
For its part, Iran needed Venezuela to expand its presence in Latin America. According to the late Argentinean prosecutor Alberto Nisman, Iran has a presence in 12 countries in the region including Argentina, Brazil, Chile, Colombia, Guyana, Paraguay, Trinidad and Tobago, Suriname, and Uruguay. Iran has sought to increase political alliances in the region for which Venezuela and its allies provided a great opportunity. It also sought a strategic position in the region to increase deterring capabilities against the U.S. Additionally, Iran has aspired to reach out to the Muslim community in Latin America. Indeed, Iran has established a number of networks in the region with mosques and even a TV channel (HispanTV) in Spanish.  (HispanTV has given wide coverage to groups that promote anti-Semitic conspiracy theories). Iran also sought to use Latin American countries, particularly Venezuelan banks, to curb the effect of international sanctions.
Moreover,Venezuela issued passports to Iranians and Hezbollah members to facilitate their free travel around the region and the world. Likewise, several Caribbean countries that allied with Chavez established dangerous liaisons with Iran. Guyana signed an agreement with Iran in which Iran would map Guyana's mineral resources, including uranium. Dominica signed an agreement with Iran that enabled citizens of Iran, parts of the Middle East and Central Asia to obtain a second citizenship and a passport. The islands of St. Kitts and Nevis have also sold passports to Iranians.
---
Iran Has Sleeper Cells in the U.S.—And the Media is Fast Asleep, by CAMERA, April 20, 2018. Excerpt:
Michael Pregent, an adjunct fellow at the Hudson Institute, a Washington D.C.-based think tank, and a former intelligence adviser to U.S. Army Gen. David Petraeus, told the U.S. Congress that Hezbollah was "as good or better at explosive devices than ISIS," "better at assassinations and developing assassination cells," and "better at targeting." Indeed, as CAMERA has noted, former U.S. Deputy Secretary of State Richard Armitage referred to Hezbollah as the "A team" of terror groups.
Although the majority of analysts testified that Iranian proxies like Hezbollah pose a threat to the U.S. homeland, many news outlets failed to report their testimony. A Lexis-Nexis search showed that The Washington Post, The Baltimore Sun, USA Today, among others, did not report the analyst's remarks. By contrast, The Washington Free Beacon provided a detailed report.
The failure of journalists to cover the story is striking considering the gravity of the testimony. Emanuele Ottolenghi, a senior fellow at the Foundation for the Defense of Democracies and author of The Pasdaran: Inside Iran's Islamic Revolutionary Guard Corps, testified:
"A survey of cases prosecuted against Hezbollah operatives in the past two decades shows that the terror group remains a threat to the security of the U.S. homeland and the integrity of its financial system. Iran and Hezbollah sought to carry out high casualty attacks against U.S. targets multiple times. Additionally, they built networks they used to procure weapons, sell drugs, and conduct illicit financial activities inside the United States."
---
Iranian-Backed 'Sleeper Cell' Militants Hibernating in U.S., Positioned for Attack; Iranian militants poised to attack U.S. homeland, by Adam Kredo, Washington Free Beacon, April 17, 2018. Excerpt:
Iranian-backed militants are operating across the United States mostly unfettered, raising concerns in Congress and among regional experts that these "sleeper cell" agents are poised to launch a large-scale attack on the American homeland, according to testimony before lawmakers.
Iranian agents tied to the terror group Hezbollah have already been discovered in the United States plotting attacks, giving rise to fears that Tehran could order a strike inside America should tensions between the Trump administration and Islamic Republic reach a boiling point.
Intelligence officials and former White House officials confirmed to Congress on Tuesday that such an attack is not only plausible, but relatively easy for Iran to carry out at a time when the Trump administration is considering abandoning the landmark nuclear deal and reapplying sanctions on Tehran.
---
The secret backstory of how Obama let Hezbollah off the hook; An ambitious U.S. task force targeting Hezbollah's billion-dollar criminal enterprise ran headlong into the White House's desire for a nuclear deal with Iran, by Josh Meyer, Politico, December 20, 2017. Excerpt:
In its determination to secure a nuclear deal with Iran, the Obama administration derailed an ambitious law enforcement campaign targeting drug trafficking by the Iranian-backed terrorist group Hezbollah, even as it was funneling cocaine into the United States, according to a POLITICO investigation.
The campaign, dubbed Project Cassandra, was launched in 2008 after the Drug Enforcement Administration amassed evidence that Hezbollah had transformed itself from a Middle East-focused military and political organization into an international crime syndicate that some investigators believed was collecting $1 billion a year from drug and weapons trafficking, money laundering and other criminal activities.
Over the next eight years, agents working out of a top-secret DEA facility in Chantilly, Virginia, used wiretaps, undercover operations and informants to map Hezbollah's illicit networks, with the help of 30 U.S. and foreign security agencies.
They followed cocaine shipments, some from Latin America to West Africa and on to Europe and the Middle East, and others through Venezuela and Mexico to the United States. They tracked the river of dirty cash as it was laundered by, among other tactics, buying American used cars and shipping them to Africa. And with the help of some key cooperating witnesses, the agents traced the conspiracy, they believed, to the innermost circle of Hezbollah and its state sponsors in Iran.
---
Venezuela may have given passports to people with ties to terrorism, by Scott Zamost, Drew Griffin, Kay Guerrero and Rafael Romo, CNN, February 14, 2017. Excerpt:
CNN and CNN en Español teamed up in a year-long joint investigation that uncovered serious irregularities in the issuing of Venezuelan passports and visas, including allegations that passports were given to people with ties to terrorism. The investigation involved reviewing thousands of documents, and conducting interviews in the U.S., Spain, Venezuela and the United Kingdom.
One confidential intelligence document obtained by CNN links Venezuela's new Vice President Tareck El Aissami to 173 Venezuelan passports and ID's that were issued to individuals from the Middle East, including people connected to the terrorist group Hezbollah.
The accusation that the country was issuing passports to people who are not Venezuelan first surfaced in the early 2000s when Hugo Chavez was the country's president, interviews and records show.
A Venezuelan passport permits entry into more than 130 countries without a visa, including 26 countries in the European Union, according to a ranking by Henley and Partners. A visa is required to enter the United States.
---
A suspected terrorist and drug trafficker just became Venezuela's vice president, by Linette Lopez, Business Insider, Jan. 5, 2017. Excerpt:
Venezuelan President Nicolas Maduro, the successor to the late socialist President Hugo Chavez, announced on Wednesday that former minister Tareck El Aissami would become vice president of the country.
That means that, in a country of complete and utter chaos — where people are starving, healthcare is nonexistent, electricity is scarce, and vigilante justice is becoming a norm— a suspected terrorist is one heartbeat away from the highest office in the land.
El Aissami is a known entity in the world of US intelligence. He is allegedly a part of Venezuela's state drug-trafficking network and has ties to Iran, Syria, and Lebanese terrorist group Hezbollah.
---
"Military age men" at San Diego's southern border; "Credible threat" posed by unknown Afghans and Pakistanis, by Marty Graham, San Diego Reader, January 5, 2016. Excerpt:
Among the several dozen Pakistani and Afghan men who have entered the U.S. illegally, coming into San Diego from Tijuana, two were found to have ties to terrorist groups, according to a letter sent by U.S. Rep. Duncan Hunter to the Department of Homeland Security.
Muhammad Azeem and Muktar Ahmad, both in their 20s, surrendered to U.S. Border Patrol agents in September, according to Immigration and Customs Enforcement. One was listed on the Terrorist Screening Database for "associations with a known or suspected terrorist. The other was a positive match for derogatory information in an alternative database," according to Hunter's letter.
Azeem and Ahmad are among dozens of men — described by Border Patrol agents as "military age and carrying U.S. cash" who began entering the U.S. through a Tijuana-based human-smuggling pipeline in September.
Pakistanis and Afghans crossing the border illegally in the San Diego sector are pretty unusual, according to Border Patrol statistics. In 2013, U.S. Customs and Border Protection detained fewer than 400 Pakistanis throughout the entire United States — at the ports of entry, airports, and along the border between ports.
---
Dianne Feinstein: Terrorist sleeper cells are in the U.S., by Ben Wolfgang, The Washington Times, January 11, 2015. Excerpt:
A Senate leader said Sunday she thinks terrorist sleeper cells are in the U.S. — a claim sure to spark even greater fears of a strike on the homeland as the White House launches new efforts to confront growing Islamist extremism around the globe.
Sen. Dianne Feinstein, California Democrat and her party's ranking member on the Senate Select Committee on Intelligence, flatly stated that she believes terrorist cells are hiding in Europe and the U.S., waiting to be activated and carry out attacks similar to the ones that claimed 17 lives in France last week.
"I think there are sleeper cells not only in France but certainly in other countries and, yes, in our own," she told CNN. "This calls for vigilance. … Hopefully, we can be more active in terms of doing those things which enable us to find terrorists, see who they're communicating with and to track that."
Mrs. Feinstein and Obama administration officials did not elaborate on how many suspected terrorists are in the country, nor did they discuss details of any terrorist plot.
---
South of the Border, a Threat from Hezbollah, by Matthew Levitt, Journal of International Security Affairs, Washington Institute, Spring 2013. Excerpt:
A detailed look at the group's robust criminal and support networks in Latin America, including its close relations with drug cartels.
In December 2012, Paraguayan authorities detained Wassim el Abd Fadel, a suspected Hezbollah member with Paraguayan citizenship, and charged him with human trafficking, money laundering, and narco-trafficking. International authorities had connected Fadel to Nelida Raquel Cardozo Taboada, a Paraguayan national arrested in France the same month with 1.1 kilograms of cocaine in her stomach. Cardozo Taboada had claimed that Fadel and his wife hired her as a drug mule, prompting an Interpol investigation into Fadel's finances. According to Paraguayan police, Fadel deposited the proceeds of narco-trafficking and pirated music and movies into Turkish and Syrian bank accounts linked to Hezbollah.
The Fadel arrest cast new light, and fresh international attention, on a long-running phenomenon. Over the past decade, policymakers have been concerned about Hezbollah activities in Latin America, particularly its relations with drug cartels along the U.S.-Mexico border and efforts to fundraise, recruit operatives, and launder money. The organization maintains a robust support network in the region — drawn from the large Shi'a and Lebanese expatriate communities on the continent — to serve as logisticians in its criminal operations. And today, faced with dwindling support from once-reliable patrons in Iran and Syria, Hezbollah increasingly has relied on a range of criminal activities, from counterfeiting schemes to trafficking weapons and narcotics, to shore up its financial reserves and stock its arsenals.
---
The Iran, Hezbollah, Venezuela Axis; Iran laundering billions through Venezuela, former senior official says, by Adam Kredo, Washington Free Beacon, March 22, 2013. Excerpt:
Iran has illegally laundered billions of dollars through the Venezuelan financial sector and is currently stashing "hundreds of millions" of dollars in "virtually every Venezuelan bank today," according to a former senior State Department official.
"It's a huge blind spot in those trying to implement sanctions" on Iran, Roger Noriega, a former United States ambassador and assistant secretary of state for western hemisphere affairs, told the Washington Free Beacon.
Venezuela served as Iran's closest Western ally under the late President Hugo Chavez, who allowed the rogue regime to establish a military and financial presence at the highest levels of the Venezuelan government.
Iran's foothold in the country is expected to grow exponentially under the rule of Chavez's likely successor, Vice President Nicolas Maduro.
Noriega and other experts warned House lawmakers at a Foreign Affairs Committee hearing on Wednesday that Iran's terrorist proxy Hezbollah is gaining power in Venezuela.
Hezbollah, which carries out terrorist attacks on Iran's behalf, has helped Tehran access Venezuela's sophisticated financial sector, experts said.
---
Hezbollah's cocaine Jihad; Faced with dwindling Iranian funding, Shiite terror group partners with Mexican drug cartels; uses millions of dollars in drug money to support weapon acquisition habit, by Eldad Beck, YNet, December 29, 2012. Excerpt:
US intelligence indicates that Mexico is home to some 200,000 Syrian and Lebanese immigrants – most of them illegal – who were able to cross the border via an extensive web of contacts with drug cartels, both in Mexico and in other countries in South America.
These cartel contacts smuggle illegal immigrants – including individuals affiliated with Iran, Hezbollah, al-Qaeda and other radical Islamist groups – into Mexico, placing them a virtual stone's-throw away from the United States.
Western intelligence agencies have been able to gather ample evidence suggesting that the drug cartels in Mexico – which are the de facto rulers of the northern districts bordering the US – are in cahoots with Islamic terror organizations, which are eager to execute attacks against American, Israeli, Jewish and western targets; but most of all, the Islamic terror groups are eager to make money, so they can fund their nefarious aspirations.
---
Iran Has Sleeper Cells in U.S. Ready to Attack, by Meira Svirsky, Clarion Project, February 22, 2012. Excerpt:
Iran has sleeper cells throughout the United States and the West that will unleash suicide bombings should Iranian nuclear facilities be attacked.
The leaders of the Islamic regime have long prepared for a confrontation with the United States. Now, with tensions over Iran's nuclear program, U.S. Navy assets taking position in the Persian Gulf, Israel threatening strikes against Iranian nuclear sites and the decision by the regime in Tehran to pursue its goal of obtaining nuclear weapons, the Iranians are making it clear to America that U.S. military bases around the world and sites inside the U.S. will be attacked if Iranian nuclear facilities are attacked. […]
With my background as a CIA spy in the Revolutionary Guards, I can attest to how the Guards successfully use mosques, Islamic cultural centers, Islamic student associations, alliances with other Islamic groups such as the Muslim Brotherhood, and Muslims from Afghani and Pakistani groups to infiltrate the West and infect its society.
The Iranian Quds Forces along with Hezbollah cells have a large presence in Latin America, especially in Venezuela, and through collaboration with drug cartels, they get into Mexico and from there into the United States.
In order to understand their motives, one must understand their ideology, which is best described in articles by Alireza Forghani, the former governor of Kish Province and an analyst and a strategy specialist in Khamenei's camp. I recently exposed one piece, carried on every major Iranian media outlet and within the Revolutionary Guards, that detailed Iran's religious duty to destroy Israel and kill all Jews. Forghani now promises an Iranian response to any attack by America on the world stage.
---
Why is Iran conspiring with Mexican drug dealers?, by José R. Cárdenas, Foreign Policy, October 12, 2011. Excerpt:
Much of official Washington has been stunned by the Justice Department announcement this week that an Iranian-American, acting on behalf of the elite Quds Force of Iran's Islamic Revolutionary Guards Corps, has been arrested for allegedly conspiring with an individual he believed was tied to a violent Mexican drug cartel to assassinate the Saudi ambassador to the United States and carry out other possible terrorist activities.
Secretary of State Hillary Clinton, for one, remarked, "The idea that [Iran] would attempt to go to a Mexican drug cartel to solicit murder-for-hire to kill the Saudi ambassador, nobody could make that up, right?"
But as outlandish as it may seem, it can also be seen as the fruits of Iran's steady expansion into Latin America and attempts to make common cause with transnational criminal operations in its global conflict with the United States.
---
Hezbollah in Mexico, by Anna Mahjar-Barducci, Gatestone Institute, July 15, 2011. Excerpt:
In June, a computer hacker group, Luiz Security, commonly abbreviated as LuizSec, targeted the Arizona Department of Public Safety (AZDPS). LuizSec has claimed responsibility for several high profile attacks; this time, however, the 440 megabytes AZDPS documents displayed a bulletin mentioning the presence of Hezbollah militants operating in smuggling corridors on the U.S. border with Mexico.
The document, from the Tucson Police Department, is dated September 20, 2010. At the time, just few months earlier, the Kuwaiti daily newspaper Al-Seyassah published an article saying that operatives of the Lebanese terrorist group Hezbollah were employing Mexican nationals to set up a network in Latin America to target Israeli and Western interests. According to the newspaper, the Hezbollah group's alleged leader, Ali "Jameel" Nasr, a 30-year-old Mexican national of Lebanese descent, was arrested in the Mexican city of Tijuana in July 2010. The Kuwaiti daily also mentioned that for a period before his arrest, Nasr was under surveillance by Mexican authorities. He was also reported to be travelling frequently to Lebanon to receive instructions from Hezbollah, and making trips around Latin America, including a two-month stay in Venezuela in 2008.
As reported in 2010 by Fox News, however, U.S. and Mexican officials did not (or did not want to) confirm that a Hezbollah leader had been arrested in Mexico. "Police officials in Tijuana told FoxNews.com that they have no information pertaining to Nasr […]. U.S. State Department officials said they could not confirm Nasr's arrest, but would be unable to do so if the arrest occurred in Mexico. […] The Department of Homeland Security said it does not have 'any credible information' that terrorist groups are operating along America's Southwest border," wrote FoxNews.com.
---
Hezbollah builds a Western base; From inside South America's Tri-border area, Iran-linked militia targets U.S., by Pablo Gato and Robert Windrem, Telemundo and MSNBC.com, NBC News, May 9, 2007. Excerpt:
CIUDAD DEL ESTE, Paraguay — The Iranian-backed Hezbollah militia has taken root in South America, fostering a well-financed force of Islamist radicals boiling with hatred for the United States and ready to die to prove it, according to militia members, U.S. officials and police agencies across the continent.
From its Western base in a remote region divided by the borders of Paraguay, Brazil and Argentina known as the Tri-border, or the Triple Frontier, Hezbollah has mined the frustrations of many Muslims among about 25,000 Arab residents whose families immigrated mainly from Lebanon in two waves, after the 1948 Arab-Israeli war and after the 1985 Lebanese civil war.
An investigation by Telemundo and NBC News has uncovered details of an extensive smuggling network run by Hezbollah, a Shiite Muslim group founded in Lebanon in 1982 that the United States has labeled an international terrorist organization. The operation funnels large sums of money to militia leaders in the Middle East and finances training camps, propaganda operations and bomb attacks in South America, according to U.S. and South American officials.
U.S. officials fear that poorly patrolled borders and rampant corruption in the Tri-border region could make it easy for Hezbollah terrorists to infiltrate the southern U.S. border. From the largely lawless region, it is easy for potential terrorists, without detection, to book passage to the United States through Brazil and then Mexico simply by posing as tourists.
---
And from a report by two British military veterans, "Killing Americans and their Allies: Iran's Continuing War against the U.S. and the West," citing U.S. government sources:
Repeated Congressional testimony from senior American security and defense officials has revealed Hizbullah cells are present in the U.S. They are known to be engaging in surveillance, fund-raising and acquisition of military technology. Notable examples include:

In 2002, two men in North Carolina were tried and convicted for providing material support to Hizbullah through racketeering and conspiracy to commit money laundering by channeling profits from cigarette smuggling to purchase military equipment for Hizbullah.[42]

In 2006, former FBI Director Robert Mueller confirmed that Hizbullah supporters attempted to cross the Mexican border into the U.S. Although the perpetrators were caught by the FBI, the cross-border attempt demonstrates Hizbullah's willingness to insert operatives inside the U.S.[43]

In 2007, Texas Homeland Security Director Tom McCraw claimed that additional terrorists affiliated with Hamas and Hizbullah had been captured trying to cross the Mexican border.[44]

In 2007, the U.S. Department of Treasury declared that Goodwill Charitable Organization Inc. in Dearborn, Michigan, was a fundraising front for Hizbullah, closed the organization's offices and froze its assets in U.S. financial institutions.[45]
---
(2) ISIS and Al Qaeda (Sunni Islam extremists: Syria, Pakistan, Afghanistan, Iraq, Yemen and beyond)

Related news:
Canada's Welcome Mat for Jihadis Poses Threat to US, by Clarion Project, November 18, 2018.
Radical Muslim Group Operates Commune in California, by Clarion Intelligence Network, November 11, 2018
---
100 ISIS Terrorists Caught in Guatemala as Central American Caravan Heads to U.S., by Judicial Watch, October 18, 2018. Excerpt:
In a startling revelation, Guatemala's president announced in the country's largest newspaper that nearly 100 ISIS terrorists have been apprehended in the impoverished Central American nation. Why should Americans care about this? A caravan of Central American migrants is making its way north. Let's not forget that Guatemala is one of the countries that bombarded the U.S. with illegal immigrant minors under Barack Obama's open border free-for-all. They came in droves from Honduras, El Salvador and Guatemala through the Mexican border and for years Uncle Sam rolled out the welcome mat offering housing, food, medical treatment and a free education
A terrorist could have easily slipped in considering the minors, coined Unaccompanied Alien Children (UAC), were not properly vetted and some turned out to be violent gangbangers who went on to commit heinous crimes in their adopted land of opportunity. In fact, the nation's most violent street gang, Mara Salvatrucha (MS-13), was energized by the barrage of UACs. The Texas Department of Public Safety even issued a report documenting how the MS-13 emerged as a top tier gang in the state thanks to the influx of illegal alien gang members that came with the UACs. At the time more than 60,000 UACs—many with criminal histories—had stormed into the U.S. in a matter of months. Tens of thousands more eventually made it north.
Guatemala has long been known as a major smuggling corridor for foreigners from African and Asian countries making their way into the U.S. Last year Guatemala's largest paper, Prensa Libra, published an in-depth piece on the inner workings of an international human smuggling network that moves migrants from Afghanistan, Pakistan, India, Nepal and Bangladesh to the U.S. Individuals are sent to Dubai in the United Arab Emirates then flown to Brazil before heading to Colombia. Once in South America, the migrants are transported to Panama before moving on to Costa Rica then a central point on Guatemala. One Spanish news report refers to Guatemala as a human smuggling paradise because it's so easy to get fake passports. A few years ago, the head of Guatemala's passport division got arrested for selling fake passports to a group of Colombians, according to a government announcement.
Arab Living in Mexico Smuggles 6 Yemenis into U.S. Via Southern Border,  by Judicial Watch, August 2, 2018. Excerpt:
Years after a Judicial Watch investigation uncovered that Islamic terrorists are entering the United States through the Mexican border federal authorities have arrested a Jordanian man for smuggling six citizens of Yemen—an Al Qaeda hotbed—into the U.S. through Mexico. The smuggler, 31-year-old Moayad Heider Mohammad Aldairi, conspired with others to sneak the six Yemeni nationals across the Texas border for a fee, according to a statement issued this week by the Department of Justice (DOJ).
Aldairi is a legal resident of Mexico, the feds reveal in their arrest warrant affidavit. From July 2017 to December 2017 he conspired with unnamed "others" to smuggle the Special Interest Aliens (SIA) into the U.S. through Eagle Pass, Texas. Sometime between October 31, 2017 and December 12, 2017 the six citizens of Yemen crossed illegally into the U.S. from Mexico, the federal document says, adding that the SIA's were detained and interviewed by investigators from the Department of Homeland Security (DHS). "Each of them paid Aldairi varying amounts to be smuggled into the United States from Mexico," the warrant affidavit states, adding that all six Yemenis positively identified Aldairi from a photo lineup as the person who brought them into the country. Yemen is a major base for Islamic militants that is deemed a high security threat by the State Department and the 2009 Christmas Day airline bomber proudly trained there.
This is hardly an isolated case. Foreigners from nations with terrorist ties have been slipping into the U.S. via Mexico for years and Judicial Watch has exposed several plots as part of an ongoing investigation into the critical national security threats that grip the region. In one operation exposed by Judicial Watch, Mexican drug cartels smuggled nationals of terrorist countries into a small Texas rural town near El Paso Texas. To elude the Border Patrol, they used remote farm roads to reach stash areas in Acala, a rural crossroads located around 54 miles from El Paso. Judicial Watch also uncovered State Department records confirming that "Arab extremists" are entering the U.S. through Mexico with the assistance of smuggling network "cells." Among them was a top Al Qaeda operative wanted by the FBI, identified via a cable from the American consulate in Ciudad Juárez as Adnan G. El Shurkrjumah.
---
Mexican drug cartels helping ISIS?, Fox Business Network, November 15, 2016.
---
NUCLEAR WASTED Fears mount Mexican drug lords will help ISIS smuggle NUKE into the US hidden inside bales of marijuana; Experts say the powerful drug can 'shield' many of the signs of radiation, by Jon Lockett, The Sun (UK), February 23, 2017. Excerpt:
SECURITY experts fear Mexican drugs lords will help ISIS smuggle a nuke into the US hidden inside bales of MARIJUANA.
The outlandish theory was raised by leading Republican Trent Franks who believes his country's 'leaky' borders are a huge security risk.
"We sometimes used to make the point that if someone wanted to smuggle a dangerous weapon into America, even a nuclear weapon, how would they do it?" he said.
"The suggestion is, maybe we'll hide it in a bale of marijuana. There are national security implications here for a porous border.
"As a group of nations, we need to understand that America is the world's flagship of freedom.
"If we don't have a secure border, that hurts everyone in the long run."
David Kay of the International Atomic Energy Agency explained why the idea is plausible during an interview on PBS's Frontline. "I've often said, my preferred method for delivering a nuclear device is, I would hide it in a bale of marijuana, contract it out to the drug lords and move it," he said.
---
(3) Bangladeshi terrorists and terror-supporters
Although not as well-known as other Islamist terror hotspots, Bangladesh has been home to terrorists from numerous gangs, including  Jamaat-ul Mujahideen Bangladesh, Al Qaeda and others.
The following is the opening of a primer on Bangladeshi Islamist terror groups, and their infiltration into the highest levels of government, and global outreach, by the International Crisis Group.
From Countering Jihadist Militancy in Bangladesh, International Crisis Group, February 28, 2018. Excerpt:
As Bangladesh's political polarisation reaches historic highs and local jihadist groups forge links with transnational movements, conditions are ripe for new forms of militancy that could threaten the country's security and religious tolerance. Two groups, Jamaat-ul Mujahideen Bangladesh (JMB) and Ansarul Islam, dominate today's jihadist landscape; a faction of the former appears to have consolidated links to the Islamic State (ISIS) while the latter is affiliated with al-Qaeda's South Asian branch. Both have perpetrated a string of attacks over the past few years, some targeting secular activists, others Bangladeshi minorities. The ruling Awami League has politicised the threat. Its crackdowns on political rivals sap resources from efforts to disrupt jihadist activities. Instead, it should invest in reinforcing the capability of the security forces and judiciary and build political consensus on how to tackle the threat.
The country's recent history of jihadism dates to the late 1990s, when veterans of the anti-Soviet struggle in Afghanistan returned to Bangladesh. A first wave of violence, involving two groups, the Harkat-ul Jihad al-Islami Bangladesh and the JMB, peaked on 17 August 2005, when the latter group synchronised bomb blasts in 63 of the country's 64 districts. Successive governments subsequently took action against the JMB's leadership, but the group has revived itself, albeit in a new form. Another group, Ansarul Islam (or Ansar), has also emerged, while a JMB splinter – dubbed the "neo-Jamaat-ul Mujahideen" by law enforcement agencies – calls itself the Islamic State-Bangladesh and has funnelled fighters into Iraq and Syria.
Many Bangladeshi males also harbor starkly different, anti-freedom, anti-Western norms — particularly towards women and children. A few examples:
Refugee acquitted of rape 'as he has different cultural norms' – His female victim attempted suicide, Voice of Europe, November 22, 2018.
Muslim refugee jailed after he thought 'raping a 10-year-old boy was okay', Daily Mail Australia, August 31, 2016.
Rohingya Fleeing Myanmar Describe Military Tactic Of Systematic Rape, National Public Radio (NPR), April 13, 2017.
It is only against this backdrop that one can consider the implications of Bangladeshi infiltration of Central and South America. It is unclear how many of these Bangladeshi nationals interdicted at the U.S. border, as documented in the following links, are (a) peaceful, (b) confirmed or suspected terrorists, or (c) whose background, affiliations and intentions are unknown at this time. Given the rush of tens of thousands of "migrants" towards the U.S. border at one time, however, most of whom are single males of military age, we believe it is logical to assume that at least some are affiliated with, or supportive of Bangladeshi terrorist gangs.

---
Case studies
A South Asian Threat in America, by Sam Westrop,  Middle Eastern Forum, March 7, 2019. Excerpt:
Few Americans have heard of Jamaat-e-Islami. But in South Asia, it is notorious. In 1971, Jamaati paramilitary groups slaughtered tens of thousands of Bangladeshis during its War of Liberation from Pakistan. Its terrorist ties today extend from Asia to America.
A new resolution introduced in the House by Rep. Jim Banks (R-Ind.) demands an end to U.S. government funding for Jamaat's U.S. proxies and calls for a criminal investigation into links between a prominent American Jamaati charity and one of Pakistan's most prominent terrorist movements.
Founded in British India in 1941 by the prominent Islamist theorist Abul Ala Maududi, Jamaat is active across the Indian subcontinent and has been closely involved with terror.
In 2014, Jane's Terrorism and Insurgency Centre from IHS Markit named Jamaat's student wing in Bangladesh, Islami Chhatra Shibir, the third-most violent non-state armed group in the world. In 2017, the U.S. government designated the head of a Jamaat affiliate in Pakistan and Kashmir a "global terrorist." And over the past few months, Jamaat gained international attention after its supporters rallied for the killing of Asia Bibi, a Christian woman accused of blasphemy.
Despite never achieving significant political power or electoral success in South Asia, Jamaat exerts a high level of influence over Muslim communities in the West.
Bangladeshis Joined Migrant Caravan In Guatemala, Univision Correspondent Reports, by Benny Johnson, Daily Caller, October 22, 2018. Excerpt:
A Spanish language reporter who has spent weeks embedded with the migrant caravan said in a Friday report that people from Bangladesh had joined the mass of people trying to cross from Guatemala into Mexico.
Univision correspondent Francisco Santa Anna reported from the bridge separating Guatemala and Mexico. The bridge has been packed with thousands of migrants demanding access to Mexico, with the ultimate goal of crossing the border of the United States illegally. The caravan has now swelled to many thousands.
The Bangladeshis, he said, were detained in an immigration facility, though it's not clear what happened to them after their detention. […]
According to the essay "Political Islam and Islamist Terrorism in Bangladesh: What You Need to Know":
Al-Qaeda in the Indian Subcontinent (AQIS) and the Islamic State (IS) have increased their activity in Bangladesh in recent years. IS has taken responsibility for attacks on foreigners, homosexuals, Shia, Ahmadis, Sufis, and other religious minorities, among other groups. Islamist militants have targeted secular writers and bloggers in particular, with an online "hit list." Dozens of Bangladeshis, including persons of Bangladeshi extraction in the United Kingdom, have gone to fight with the Islamic State, and in April 2016, the organization's English-language magazine, Dabiq, offered a tribute to a Bangladeshi militant who died in Syria.
More than 600 Bangladeshi nationals caught trying to cross into U.S. from Mexico, by Fox San Antonio, September 11, 2018. Excerpt:
More than 600 Bangladeshi nationals have been captured while trying to illegally cross into Texas from Mexico, according to new numbers released by the Laredo Sector Border Patrol.
The agency confirmed two more groups of people from Bangladesh were apprehended on Monday, including one group of four people who were captured after swimming across the Rio Grande.
That brings the total number of Bangladeshi nationals caught trying to cross into the United States at 630 since the start of the year. That is just in the Laredo area alone.
Federal authorities say that is a 300 percent increase from last year.
Border Patrol sees a rise in Bangladeshi Nationals arrested this year, by KGNS (Laredo, TX), July 30, 2018.
LAREDO,Texas – Laredo Sector Border Patrol agents arrested three illegal aliens from the country of Bangladesh.
Two adults and one juvenile were apprehended after illegally crossing the Rio Grande River near downtown Laredo, Texas.
The Laredo Sector continues to have the highest number of Bangladeshi Nationals arrested nationwide.
Since the start of the 2018 fiscal year, the Laredo Sector has apprehended 473 Bangladeshi Nationals.
All persons apprehended by the United States Border Patrol undergo criminal history checks utilizing multiple databases including the use of biometrics to ensure those with a criminal history are positively identified regardless of their immigration status.
Laredo Sector Border Patrol Agents Arrest Nine More Bangladeshi Nationals, U.S. Customs & Border Patrol, June 1, 2018. Excerpt:
LAREDO, Texas – On May 31, 2018, Laredo Sector Border Patrol Agents arrested nine illegal aliens from the country of Bangladesh.  The subjects were encountered after illegally crossing the Rio Grande River in south Laredo.  The Laredo Sector Border Patrol continues to have the highest apprehension of Bangladeshi Nationals compared to other Border Patrol Sectors.  Currently, the Laredo Sector Border Patrol has apprehended 274 Bangladeshi Nationals since the start of fiscal year 2018.
Laredo Sector Border Patrol Agents Arrest Nine Bangladeshi Nationals, U.S. Customs & Border Patrol, April 24, 2018. Excerpt:
LAREDO, Texas – On April 22, 2018 and April 23, 2018, Border Patrol agents in Laredo, Texas arrested nine illegal aliens from the country of Bangladesh during two events.  The subjects were encountered after illegally crossing the Rio Grande River in south Laredo.  The Laredo Sector Border Patrol continues to have the highest apprehension of Bangladeshi Nationals compared to other Border Patrol Sectors.  Currently, the Laredo Sector Border Patrol has apprehended 200 Bangladeshi Nationals since the start of fiscal year 2018.
"It goes to show that our agents are arresting people from all over the world on a daily basis. Their intentions for entering the country illegally can only be determined after they have been arrested," said Laredo Sector Assistant Chief Patrol Agent Gabriel Acosta.
'White women are good only for people like me to use as trash', by Gabriella Swerling, Andrew Norfolk, The Times (UK), August 10 2017.
Note: This article focuses on Bangladeshi terror, rape and drug smuggling gangs. It is behind a paywall, but one can obtain a one-month trial after registering with the site.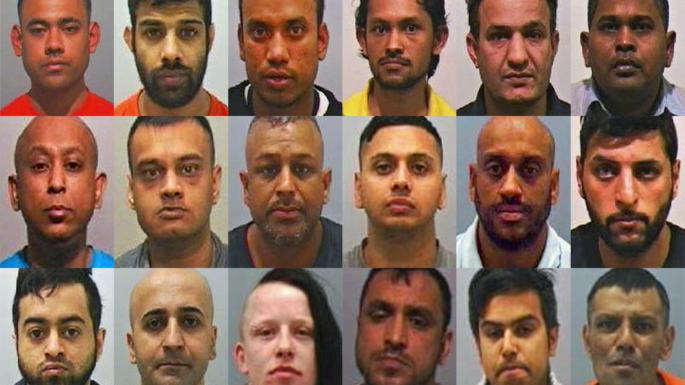 Excerpt:
Sometimes, she felt like a baton in a relay race, passed from man to man for her drugged body to be used as each saw fit. The girl described being collected from a children's home and taken to parties at flats and houses where men, up to seven at a time, awaited their sport. They fed her cocaine and mephedrone, she said, then queued to take their turn. She was 13.
Her story was one among many bleak accounts of lost lives in the back streets of Newcastle upon Tyne that were shared with juries in trials that formed part of the northeast's largest criminal inquiry into sexual exploitation.
Del Rio Sector Border Patrol Agents Arrest 10 Illegal Aliens from Bangladesh, U.S. Customs & Border Patrol, August 21, 2018. Excerpt:
DEL RIO, Texas – U.S. Border Patrol agents assigned to the Eagle Pass Station arrested 10 illegal aliens from Bangladesh. 
"Our Border Patrol agents face unique challenges every day and may encounter persons from different regions of the world. I commend them for their vigilance and commitment to safeguard our nation's borders," said Del Rio Sector Chief Patrol Agent Felix Chavez.
In the early morning of Aug. 20, agents apprehended 10 people after the subjects made illegal entry into the United States. All subjects were transported to the Eagle Pass South Border Patrol Station and processed per U.S. Customs and Border Protection guidelines.
Apprehensions of illegal immigrants from Bangladesh spiking in Texas, by by Anna Giaritelli, Washington Examiner, July 12, 2018. Excerpt:
The number of Bangladeshi nationals apprehended after illegally crossing from Mexico into Laredo, Texas, has grown dramatically over the past two years from just one person in fiscal year 2016 to more than 400 so far this year, a trend one border official attributed to poverty in Bangladesh.
Eight more Bangladeshi citizens were taken into custody by federal agents patrolling the border on Sunday, bringing this year's total to 400, a Border Patrol spokesman for the Laredo Sector in south-central Texas told the Washington Examiner.
Through roughly the first six months of fiscal year 2018, 183 Bangladeshis were apprehended by Laredo agents, more than the total number apprehended in all of 2017. Apprehensions more than doubled from 183 between April and July, even though apprehensions usually drop during the summer months.
Bangladesh police identifies 4,031 Islamic militants banned by the government, by Sumon Corraya, Asia News (Italy), April 6, 2018. Excerpt:
Dhaka – Bangladesh's police anti-terrorism unit released its latest report on the fight against Islamic terrorism covering the past two years.  It identifies 4,031 Islamic militants: 3,022 are currently in detention and 1,346 are out on bail.
The militants belong to five Islamic groups banned by the government, namely Harkat-ul Jihad, Hisbut Tahari, Ansurulla Bangla Team, Jamaat-ul-Mujahideen, and New Jamaat-ul-Mujahideen.
The report says that in two years 70 terrorists were killed in shootouts, including those who carried out the attack against the Holey Artisan Bakery Café in Dhaka, in which 20 people were killed, including nine Italians. After the attack, the government went after militants across the country.
The authorities also announced that the security forces killed all the leaders of the five terrorist organisations in military operations. However, among the militants released on bail, 219 have fled and are trying to organise new terrorist activities.
"Fighting extremism is our mission," said Shariful Islam, additional Inspector General of Police and head of the anti-terrorism unit, speaking to journalists.
"We are really working to remove all forms of militant activity from Bangladesh," he explained. "We have taken the problem seriously after the Gulshan café attack."
 "The extremists have harmed Bangladesh's image by attacking foreigners," he lamented. However, "Our operations have won us admiration."
---
UPDATE: Fentanyl smuggling: The little-known but potentially catastrophic component of transnational terrorist activity at the U.S. border

An astute reader alerted us to the fact that this report did not address one of the most potentially deadly aspects of transnational terrorist activity at the U.S. border: the smuggling of fentanyl, a super-deadly synthetic opiate, a few granules of which can kill an adult. Islamist terrorist gangs are reportedly intent on using fentanyl to kill Americas via mass-dispersal devices. One arrest, in May 2018, contained enough fentanyl to kill 26 million Americans. Here is a primer:
Before reviewing the compilation of articles below regarding fentanyl smuggling into America, however, this article from Foreign Policy frames the issue in a much broader and even more chilling context:
Why is Iran conspiring with Mexican drug dealers?, by José R. Cárdenas, Foreign Policy, October 12, 2011.
Recent articles documenting this phenomenon; items in bold are of interdictions at or near the U.S. southern border:
DEA announces 4 arrests in fentanyl, meth ring, by FOX2now.com (St. Louis, MO), November 30, 2018. [Note: Perpetrators identified as Eric White and Derrick Mitchell, and are connected to the September 20, 2018 arrest of Ruben Lopez and Jonathan Aguilar, below.]

CBP Officers at the Port of Lukeville Arrest Fentanyl Smuggler, U.S. Customs & Border Patrol, October 9, 2018.
2 St. Charles men accused of having enough fentanyl to kill '1.5 million people', by KMOV4 (St. Louis, MO), September 20, 2018. [Note: Perpetrators identified as Ruben Lopez and Jonathan Aguilar]
CBP seizes fentanyl, heroin and meth at border, by KGUN (Tucson, AZ), August 22, 2018.
Woman arrested at KC bus station had '1.5 million lethal doses' of fentanyl, feds say, by Kansas City Star, August 22, 2018.  [Note: Perpetrator identified as Evelyn C. Sanchez.]
San Luis CBP Officers Seize More Than 87 Pounds of Methamphetamine, Heroin, and Fentanyl pills, U.S. Customs & Border Patrol, August 6, 2018.
Border Patrol seizes largest-ever stash of fentanyl pills at a U.S.-Mexico port; U.S. teen charged, San Diego Union-Tribune (CA), August 2, 2018.
Feds: $1.7 million of Chinese fentanyl seized at Philly port, by Philly Voice (PA), July 2, 2018.
Record fentanyl bust in Nebraska finds enough doses to kill an estimated 26 million people, CNN, May 25, 2018. [Note: Perpetrators identified as Felipe Genao-Minaya and Nelson Nunez.]
Police: 8 pounds of fentanyl found in Haverhill apartment; Four charged with trafficking, by The Eagle-Tribune (MA), March 23, 2018. [Note: Perpetrators identified as Arismendy Santana, Wilman Diaz, Milagro Santana and Yesenia Colon]
Fentanyl bust nets enough drugs to wipe out population of Ohio, by Fox News, December 6, 2017.
---
.
.
.