.
By Jon Sutz, Editor, SaveTheWest.com
Continued from "Who benefits from the lies being spread about the "caravans"?
UPDATE: This page has been updated with a new section: "Fentanyl smuggling: The little-known but potentially catastrophic component of transnational criminal & terrorist activity at the U.S. border." Click here.

---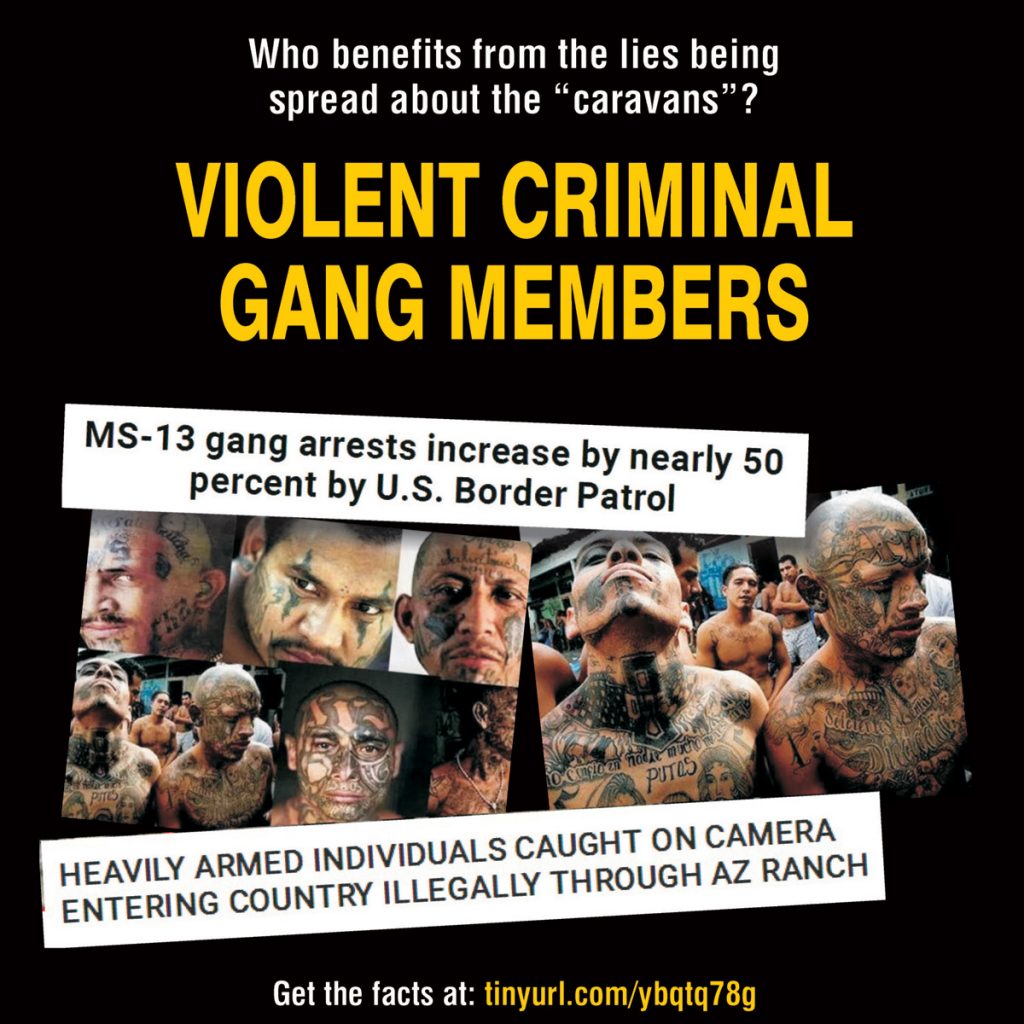 ---
This page contains examples of the evidence and credible indications of how violent criminal gang members have been infiltrating the U.S. southern border.
Based on this data, it is reasonable to conclude that by swarming our border with up to or more than ten thousand citizens of other nations, some may well be members of these gangs, and are intent on engaging in violent gang activity on U.S. soil.
After reviewing this data, it's worth considering: Why does the mainstream national "news" media refuse to expose it? And worse, why do many of the most influential ones explicitly deny that any such evidence exists, thus placing American citizens in danger? See:
The following case studies are presented in reverse chronological order (most recent at top).
---
UPDATE: Fentanyl smuggling: The little-known but potentially catastrophic component of transnational criminal & terrorist activity at the U.S. border

An astute reader alerted us to the fact that this report did not address one of the most  potentially deadly aspects of transnational criminal and terrorist activity at the U.S. border: the smuggling of fentanyl, a super-deadly synthetic opiate, a few granules of which can kill an adult.  Islamist terrorist gangs are reportedly intent on using fentanyl to kill Americas via mass-dispersal devices. One arrest, in May 2018, contained enough fentanyl to kill 26 million Americans. Here is a primer:
Recent articles documenting this phenomenon:
CBP Officers at the Port of Lukeville Arrest Fentanyl Smuggler, U.S. Customs & Border Patrol, October 9, 2018.
CBP seizes fentanyl, heroin and meth at border, by KGUN (Tucson, AZ), August 22, 2018.
San Luis CBP Officers Seize More Than 87 Pounds of Methamphetamine, Heroin, and Fentanyl pills, U.S. Customs & Border Patrol, August 6, 2018.
Border Patrol seizes largest-ever stash of fentanyl pills at a U.S.-Mexico port; U.S. teen charged, San Diego Union-Tribune (CA), August 2, 2018.
Feds: $1.7 million of Chinese fentanyl seized at Philly port, by Philly Voice (PA), July 2, 2018.
Record fentanyl bust in Nebraska finds enough doses to kill an estimated 26 million people, CNN, May 25, 2018.
---
Case studies
MS-13 killers come to NJ to hide from law, state report says, by Sergio Bichao, NJ1015.com, December 20, 2018. Excerpt:
Ruthless killers are coming to New Jersey to hide from the long arm of the law, according to an independent state report released this month. But they're not always successful.
The New Jersey Commission of Investigation report on organized crime says the North American street gang MS-13 "remains a persistent threat" but credits local police cooperation with federal Immigration and Customs Enforcement for a slew of arrests that have slowed the growth of the gang and its homicide numbers in recent years. […]
But the commission's report notes that MS-13 is particularly ruthless, employing senseless violence — including using machetes to hack, dismember and sometimes behead rivals or random victims — to instill fear in their communities. The report also notes that the gang is getting better at sneaking into the country and blending in, saying that a "common tactic used by MS-13 members" is to "deny any affiliation with the gang and instead cast themselves as victims."
The state report was released the same month that the state Attorney General's Office issued new guidelines severely restricting local law enforcement cooperation with civil immigration enforcement by federal agents. The policy was criticized by ICE.
Border Patrol Arrests MS-13 Member Who Traveled with Caravan, by Mairead McArdle, National Review, November 28, 2018.Excerpt:
U.S. Border Patrol agents have arrested a member of the infamous Salvadoran MS-13 gang who admitted to authorities that he traveled with a caravan of Central American migrants who were hoping to qualify for asylum in America.
Agents arrested Jose Villalobos-Jobel, 29, shortly after 6 p.m. on Saturday east of the Calexico Port of Entry on the U.S. side of the border, Customs and Border Protection said in a statement Wednesday.
During questioning at the El Centro station, the Honduran citizen confessed that he is an active member of MS-13 and had intended to enter the country illegally after traveling to the U.S. with the caravan of thousands of other migrants. He is in custody pending his deportation back to Honduras.
FOOT SOLDIERS: Inside the terrifying Honduran gangs feared to be infiltrating migrant caravans as their bloody violence drives thousands into America; A police officer and his sons are one of many families driven to join the migrant caravan by the gangs who are terrorising their city, by Hana Carter, The Sun (UK), November 21, 2018. Excerpt:
SHOCKING images offer a glimpse inside the terrifying Honduran gangs feared to be infiltrating migrant caravans – and the misery they cause.
Donald Trump controversially insisted the US-bound groups are filled with the merciless mobsters, and sent nearly 6,000 troops to the border to keep them from entering. But one former cop told how he had no other choice but to join one of the caravans and flee after his sons were held at gunpoint by the brutal killers.
Known only as Ivan, he said he had moved homes so many times to escape the violence in his home of San Pedro Sula, Honduras – but it was impossible to get away. And when his young sons Yostin, 15 and Julio, 13, were threatened with death if the didn't join a local gang, he decided enough was enough and fled to America.
The terrified family joined the vast group of people travelling from the violence-ridden city after hiding out at friend's houses.
Border Patrol Arrests Sex Offender with Gang Affiliations, U.S. Customs & Border Patrol, November 19, 2018. Excerpt:
CALEXICO, Calif. – Border Patrol agents assigned to El Centro Sector arrested a convicted sex offender and gang member Sunday afternoon.
The incident occurred at approximately 4:15 p.m., after agents assigned to the Calexico Station arrested a man near the Calexico Port of Entry for illegally crossing the international border.  Agents determined the man was a citizen of Mexico illegally present in the United States.
Border Patrol agents conducted record checks, which revealed that 34-year-old, Antonio Villasenor Nunez, had a previous criminal record.  In 2005, Villasenor was convicted for sexual battery and was sentenced to 60 days in prison.  In 2007, Villasenor was convicted of vehicle theft and sentenced to six months in prison.  In 2009, Villasenor was convicted of false identification to peace officers and was sentenced to 20 days in prison.  In 2012, Villasenor was convicted of robbery and was sentenced to two years in prison.
Additionally, Villasenor previously removed from the United States 2007 by an immigration judge. 
Rio Grande Valley Border Patrol Arrests Gang Members, U.S. Customs & Border Patrol, November 16, 2018. Excerpt:
EDINBURG, Texas – U.S. Border Patrol agents in the Rio Grande Valley arrested two gang members over the course of the past week.
Sunday morning, Rio Grande City agents arrested a Salvadoran national near Roma. During processing, records checks revealed the man is an 18th Street Gang member.
Wednesday afternoon, McAllen agents apprehend a group of 39 illegal aliens near Hidalgo. During processing, the Guatemalan male admitted to being a member of the 18th Street Gang.
The Border Patrol is processing the subjects accordingly.
Drug cartel likely behind 100 kidnappings from migrant caravan, by Lia Eustachewich, NY Post, November 6, 2018.
About 100 migrants, including children, have been kidnapped during their long trek to the US — presumably by the dangerous drug cartel Los Zetas, according to a new report.
The migrants weren't among the thousands who arrived in Mexico City on Monday, Arturo Peimbert, the ombudsman for the human rights commission in Oaxaca, told HuffPost Mexico.
Peimbert said the group was kidnapped in Puebla state while trying to reach the capital from Veracruz.
He said the federal government has put "strong pressure" on transportation companies to not pick up migrants along the way — which forced them to walk through an unsafe area known as "the largest grave in the country, where hundreds of people have disappeared," according to a translation by the UK's Independent.
Ed: Question: How are U.S. law enforcement officers supposed to determine who is with the Los Zetas cartel, and who is not? And why would anyone kidnap reportedly impoverished peasants, marching 1,000 miles to the U.S. border, if there is no one to pay ransom?
Homeland Security says at least 270 criminals are part of caravan; Women and children being used as 'human shields' to thwart police, by Stephen Dinan, The Washington Times, November 1, 2018. Excerpt:
At least 270 people traveling among the thousands in the new migrant caravans have criminal records, Homeland Security said Thursday, putting numbers to President Trump's claims last month.
U.S. officials also said the caravan could begin to arrive in a few days, though it could also take weeks, depending on how they travel the length of Mexico and whether they make any more long stops along the way.
Mexican government officials, whose police have already clashed with some members of the caravan, described some participants as "very violent." Meanwhile foreign governments tell the U.S. that perhaps 50 percent of the caravan is made up of single adults, complicating the narrative of thousands of women and children fleeing their homes.
Homeland Security said the intelligence chief in Guatemala, through which the caravans cross en route from Honduras north to Mexico, said the men are pushing women and children to the front the mass of people to use them as "human shields" against the police and military who tried to block their progress.
Mexico Deports Caravan Migrants Wanted for Murder, Drug Trafficking, by Ryan Saavedra, Daily Wire, October 31, 2018. Excerpt:
Mexican law enforcement officials deported two migrants traveling in the caravan that is headed for the U.S. border as they are reportedly fugitives wanted for their roles in a triple murder and drug trafficking.
"The arrest took place as part of a joint effort between Mexico's Federal Police and the National Migration Institute (INM) in conjunction with Interpol, Mexico's Secretariat of the Interior said," journalists Brandon Darby and Ildefonso Ortiz reported. "The two men were part of the migrant caravan from Honduras and requested permission to travel through Mexico."
Mexican authorities — in coordination with Interpol and the Honduran National Police — arrested and deported Adin Josué "N," 21, and Juan Carlos "N," 47, who are respectively accused of drug trafficking and being involved in murdering three people.
The deportations of both men come as Mexican officials have warned about the caravan, saying recently that "migrants attacked its agents with rocks, glass bottles and fireworks when they broke through a gate on the Mexican end but were pushed back, and some allegedly carried guns and firebombs," according to the Daily Mail. […]
On Sunday, a migrant traveling in the caravan admitted to a reporter that he fled his home country of Honduras after he "got in trouble" for "attempted murder."
Another migrant admitted to a reporter last week that there were "criminals everywhere" in the caravan, saying, "It's criminals in here. It is."
Mexican Ambassador to U.S.: 'There are People That Have Criminal Records' in Migrant Caravan; "I can understand why the president and other people here are concerned about what is going on," by Mary Chastain, Legal Insurrection, November 21, 2018.
"Elaborately Planned" Caravan Brings Human Traffickers & Violent Gangbangers to Guatemala, by Judicial Watch, October 24, 2018.
WATCH: Migrant Admits 'Criminals Are Everywhere' In Caravan, by Ryan Saavedra, Daily Wire, October 23, 2018.
DHS 'Confirms' Criminals Inside Caravan, by Saagar Enjeti, Daily Caller, October 23, 2018.
MS-13 gang arrests increase by nearly 50 percent by U.S. Border Patrol, by Jeremy Spencer, AllOnGeorgia, October 1, 2018.
---
VIDEO: Heavily Armed Individuals Caught On Camera Entering Country Illegally Through AZ Ranch, by John Wellington, Daily Caller, September 12, 2018. Excerpt:
Video footage from a ranch in Arizona shows thousands of illegal aliens marching into the United States uninterrupted because there is no border wall, nor border patrol, to stop them.
---
Border Patrol Arrests Eight Gang Members and Five Sexual Predators in the RIo Grande Valley, by U.S. Customs and Border Protection, September 11, 2018. Excerpt:
EDINBURG, Texas – U.S. Border Patrol agents in the Rio Grande Valley identified eight gang members of the Mara Salvatrucha and 18th Street gangs as well as five sexual predators.
Last Wednesday, agents assigned to the Falfurrias station apprehended a Salvadoran national near Encino, Texas, whose record checks revealed he is a Mara Salvatrucha (MS-13) gang member.
Later that day, Weslaco agents apprehended a Salvadoran national near Donna, Texas, whose record checks revealed he is an MS-13 gang member.
On Thursday, Rio Grande City agents apprehended a Mexican national. His record checks revealed a previous arrest by the Appling County, Georgia Sheriff's Office and a charge for sex exploitation of a minor. The man received a conviction and sentenced to 10 years confinement.
---
Border Patrol agent shot at while sitting in patrol car near border, by Alene Tchekmedyian, Los Angeles Times, September 9, 2018.
MS-13 gang member arrested after he re-entered US illegally, Border Patrol says, by Nicole Darrah, Fox News, August 28, 2018.
Special-needs 13-year-old girl was beheaded by illegal alien, after she witnessed grandmother murdered, in suspected drug trafficking conflict – June 2018.
This story revealed the grisly nature of the murders
This story revealed that one of the defendants is an illegal alien.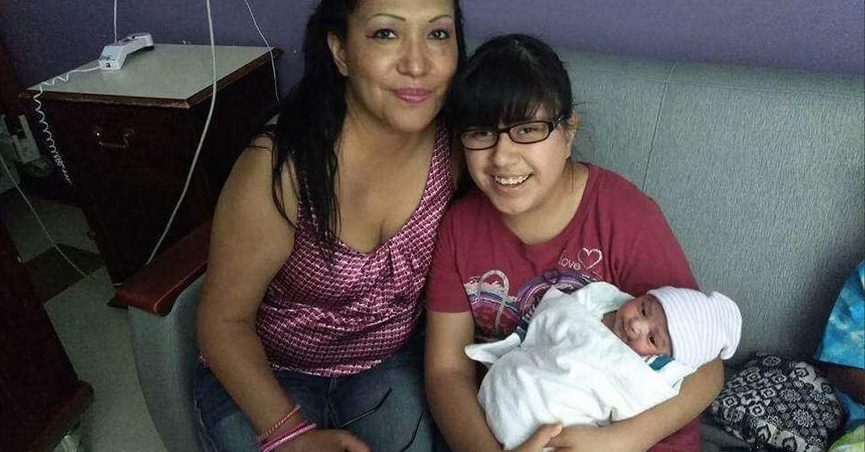 Drugs, Gangbangers, Convicts Enter U.S. Via Mexico as Media Focuses on Shelter Accommodations, Judicial Watch, June 26, 2018.
Drugs, Gangbangers, Convicts Enter U.S. Via Mexico as Media Focuses on Shelter Accommodations, by Judicial Watch, June 26, 2018.
MS-13 apprehensions at the border skyrocket; More than 4 times as many members caught this fiscal year, by Jacob Rascon, Click2Houston, May 23, 2018.
---
Abbott calls cross-border activity disturbing and dangerous, by Aaron Nelsen, San Antonio Express-News (TX), April 12, 2018. Excerpt:
The cross-border activity poses serious threat to communities across Texas and the United States, Abbott said during a visit with troops and U.S. Border Patrol agents in the Rio Grande Valley.
"Stunningly and disturbingly there has been an increase of more than 200 of MS-13 coming across the border," Abbott said. "It's our responsibility on behalf of our fellow Americans that we stop those MS-13 gang members." […]
The governor also said MS-13 gang members and heroin seizures had increased more than 200 percent, but Abbott didn't provide context for the claim.
"What the real facts show, if you look at all the years going back decades, you will see the rise that we are dealing with right now is at a substantially high level," Abbott said.
---
MS-13 gang member with AK-47 arrested in Wimauma, by Heather Monahan, WFLA (FL), February 19, 2018. Excerpt:
Deputies were called to the area of Lenfred Drive and Palmetto Road in Wimauma around 6 p.m. Sunday for a report of an armed person seen in the area.
Neighbors told responding deputies they saw a man standing in the street with a long gun, yelling at passing cars to stop. They also said he was jumping in front of cars to try to make them stop.
When deputies started searching the area, they found 21-year-old Raul Garcia Jr. wearing black shorts and no shirt, carrying a black and brown rifle in his hands. The sheriff's office says Garcia ran into nearby woods when deputies told him to stop and drop the rifle.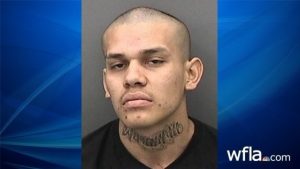 ---
U.S. Border Patrol Encountering More Gang Members Crossing Border, by KRGV.com (TX), December 12, 2017.
---
Obama admin knew gang members were part of illegal immigrant surge: Whistleblower, by Stephen Dinan, Washington Times, May 24, 2017.
The Obama administration knowingly let in at least 16 admitted MS-13 gang members who arrived at the U.S. as illegal immigrant teenagers in 2014, a top senator said Wednesday, citing internal documents that showed the teens were shipped to juvenile homes throughout the country.
Sen. Ron Johnson, chairman of the Senate Homeland Security Committee, said a whistleblower turned over Customs and Border Protection documents from 2014 detailing the 16 people who were caught crossing the border.
"CBP apprehended them, knew they were MS-13 gang members, and they processed and disbursed them into our communities," Mr. Johnson, Wisconsin Republican, said.
---
MS-13 gang member deported 4 times stabbed 2 women, abused child, cops say, by Fox News, March 23, 2017.
---
10 MS-13 Gang Members in NY Indicted For Murder Are Illegal Aliens, by Michael W. Chapman, CNS News, March 8, 2017. Excerpt:
Thirteen members of the notorious gang MS-13 were charged on March 2 by the U.S. Attorney's Office, Eastern District of New York, with 41 crimes, including racketeering, seven murders, attempted murders, assaults, arson, and other illegal acts and, according to prosecutors, 10 of the 13 suspects are illegal aliens.
---
Two gang members in U.S. illegally are accused of kidnapping 3 girls, killing 1 in a satanic ritual, by Los Angeles Times, March 3, 2017.
Anti-cop violence spreads as illegal immigrant gang member slugs deputy sitting in car, by Stephen Dinan, Washington Times, November 6, 2015
Rio Grande Valley Agents arrest 4 sex offenders, 4 gang members and seize nearly 2 tons of marijuana over the weekend, by U.S. Customs and Border Protection, April 27, 2015.
---
.
.
.