.
By Jon Sutz, Editor, SaveTheWest.com
Continued from "Who benefits from the lies being spread about the "caravans"?
---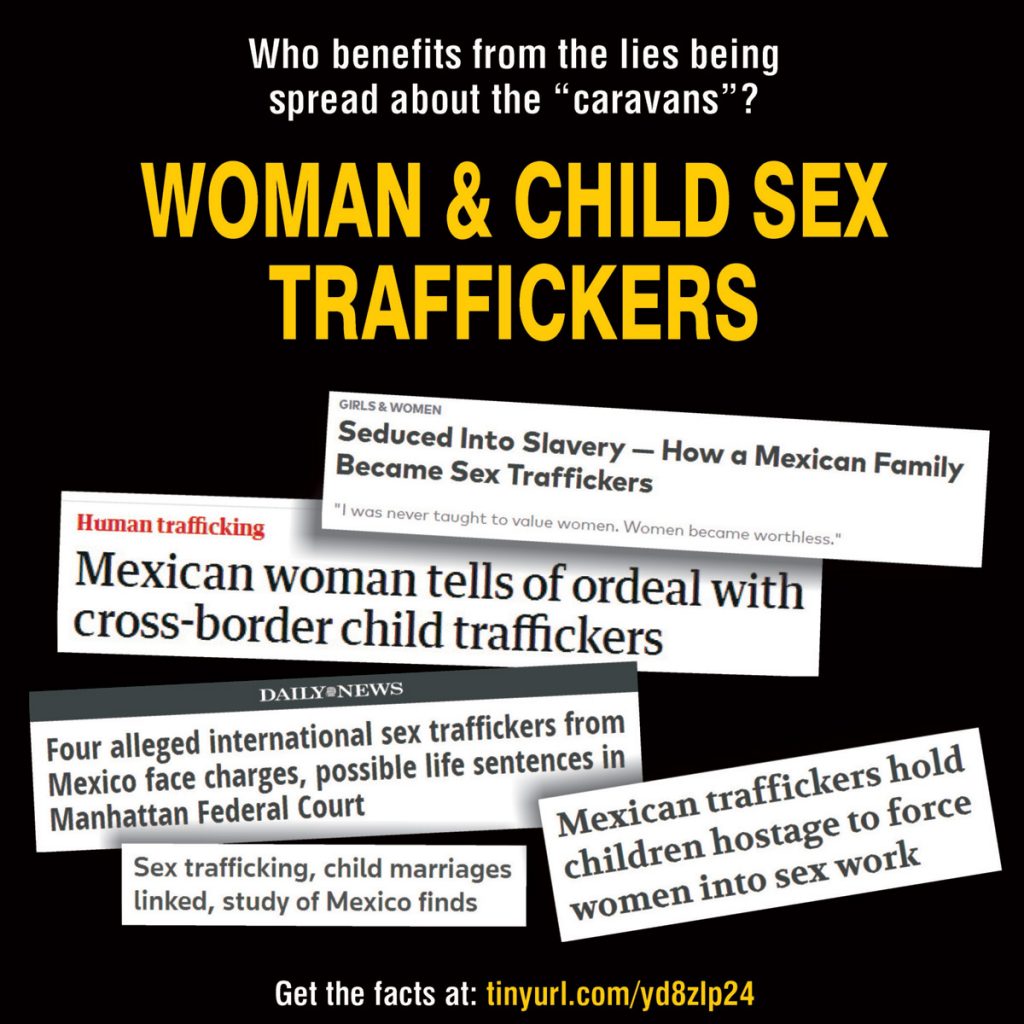 ---
The following are case studies containing evidence and credible indications that female and child sex traffickers have been attempting to infiltrate the U.S. from Central and South America.
For those who are unfamiliar with the term "trafficking," it means small or large gangs, run almost exclusively by males, who force women and girls into prostitution, and seek to bring their veritable slaves across the U.S. border, to enter this much more lucrative "market."
All of the following items are in the public domain, accessible to anyone who searches for information about this grim topic. Most of it is written in plain English.
The following 3-minute CBS video, from 2014, provides a grim introduction to the prolific Central and South American sex trafficking industry — much of which focuses on children:
Given the vast contents of this page, it is reasonable to ask: how is it that so many of the biggest "news" organizations in America — as well as our most prominent national political figures, Hollywood celebrities and "social justice" activists — falsely claim that there is no reason for concern for who is sneaking into America, or will be demanding asylum?
Further, are they really unaware that:
According numerous credible sources, between 80 and 100% of women and girls are raped on their way to the U.S. border?
Many of these girls' families provide them with birth control, to prevent them from getting pregnant after being raped once, twice or more times along the way?
These females are being raped by males who are also on their way to the U.S. border, and who will attempt to enter our country either illegally or legally?
Here are but a few sources of credible information on this phenomenon:
Border Agent: Girls Entering US Illegally Given Birth Control, Plan B – CBS Los Angeles
Female immigrants sneaking into US 'know they're going to be raped' – Daily Mail Online
Women crossing the U.S. border face sexual assault with little protection – PBS NewsHour
Price of Admission; Along the border, sexual assault has become routine – Tucson Weekly
Are the U.S. and Mexico doing enough to prevent the rape of migrant women? | WJLA(Washington, DC)
Fleeing to Mexico for Safety: The Perilous Journey for Migrant Women – United Nations University
Why would these "news" organizations and others falsely claim that only racists, xenophobes and/or neo-Nazis express concern that some of the people within the "caravans" may pose a threat to U.S. national security, or should be rejected? Do they really believe the lies they peddle — or are they just hoping that we don't find out the reality?
The following items are presented in reverse chronological order (most recent at top).
---
DNA tests reveal 30% of suspected fraudulent migrant families were unrelated, by Anna Giaritelli, Washington Examiner,  May 18, 2019. Excerpt:
Some of the migrant families arrested at the southern border weren't actually families.
In a pilot program, approximately 30% of rapid DNA tests of immigrant adults who were suspected of arriving at the southern border with children who weren't theirs revealed the adults were not related to the children, an official involved in the system's temporary rollout who asked to be anonymous in order to speak freely told the Washington Examiner Friday.
"There's been some concern about, 'Are they stepfathers or adopted fathers?'" the official said. "Those were not the case. In these cases, they are misrepresented as family members."
In some incidents where Immigration and Customs Enforcement told the adults they would have to take a cheek swab to verify a relationship with a minor, several admitted the child was not related and did not take the DNA test, which was designed by a U.S. company.
---
Yuma: Three suspected human smugglers arrested, 25 Guatemalans surrender, by Sarah Covey, KGUN9 (AZ), February 21, 2019. Excerpt:
U.S. Customs and Border Patrol have arrested three suspected human smugglers and also detained a group of 25 Guatemalans in the Yuma sector on Tuesday, February 21.
Per a CBP press release , the Special Operations Unit, with the help of Yuma Sector's camera operators, located and apprehended the three suspects as they were with six other individuals from Mexico. BP agents also recovered a loaded pistol from the scene.
After their arrest, it was determined that all nine persons were not legal citizens of the United States, and that one of the three suspects was carrying two loaded magazines in his pocket.
Guatemalan Authorities Rescue Group of Minors from Human Smugglers in Caravan, by Judicial Watch, October 25, 2018. Excerpt:
Judicial Watch has obtained exclusive information and photos from Guatemalan authorities revealing that they have recovered seven unaccompanied minors from human smugglers working inside the caravan. The children have been taken into custody and they are being provided with food, water and medical attention, according to a high-level Guatemalan government official. The smugglers have been arrested and the broader investigation into criminal activity in the caravan is ongoing.
A Judicial Watch team, headed by Director of Investigations Chris Farrell, spent several days on the Guatemala-Honduras border covering the illegal alien caravan, which originated in the northern Honduran city of San Pedro Sula. The team filed a number of exclusive reports and videos and met with Guatemalan President Jimmy Morales and other top government officials.
"Judicial Watch has been at the forefront of this top news story, reporting exclusive information from inside that no other news organization is reporting," said Judicial Watch President Tom Fitton. "Chris Farrell and Irene Garcia put themselves in harm's way to get this material, and Judicial Watch supporters nationwide are highly grateful for their sacrifices."
Read more about human trafficking in the caravan here. See Judicial Watch's exclusive interview with a caravan member, a 40-year-old Honduran who previously lived in the United States for decades before getting deported, here.
See Judicial Watch's exclusive reporting about the large numbers of migrants from various countries–including Brazil and even as far as China & India– traveling through Central America en route to the United States here. Read more about this exclusive story here.
Sex trafficking and sexual exploitation are collateral damage of Mexico's neoliberal fantasy, by María Encarnación López, London School of Economics, September 26th, 2018. Excerpt:
After the illicit trade in drugs and weapons, sex trafficking is the third most profitable industry in the world. After drug trafficking, it is also the second most lucrative industry in Mexico, which has become the highest-ranked country in the Americas in terms of female trafficking for sexual exploitation, as well as the world's main propagator of child pornography online.
Paedophiles of all nationalities travel to major tourist cities, drawn by a vast array of websites distributing pictures and videos of sexually exploited Mexican children. The extent of this business, endorsed by cartels and corrupt institutions, has seen Mexico dubbed the "Latin American Thailand".
While the security agenda of President-elect Andrés Manuel López Obrador (AMLO) does target the institutional corruption and impunity that enable crime in Mexico, there is little recognition that poverty and structural violence continue to push thousands of defenceless women and children into the global business of human trafficking for sexual exploitation.
Mexican traffickers hold children hostage to force women into sex work, by Anastasia Moloney, Thomson Reuters Foundation, September 7, 2018. Excerpt:
BOGOTA, Sept 6 (Thomson Reuters Foundation) – Human traffickers in Mexico often hold the children of women sold into the sex trade hostage in order to force the mothers to keep working, campaigners said.
Traffickers prey on young and impoverished mothers, sometimes posing as a victims' boyfriend, and even marrying and having children with her, according to experts.
When women forced into prostitution do not earn their weekly quota, disobey rules or try to escape, traffickers threaten to keep or harm their children, they said. […]

In parts of the central Mexican states of Puebla and Tlaxcala, sex trafficking is usually a family-run business, and the children of victims become property of local gangs, according to Ulloa.
"There's, like, the godfather, the head of the family, then the whole family below him plays a role, some in looking after the children," Ulloa said. […]
In Tlaxcala, sex trafficking is often a crime passed down through generations and regarded as a "cultural tradition", according to Jorge Sosa, a lawyer and anti-trafficking campaigner in Puebla.
"It's accepted in families that children prepare and aspire to become pimps," he said.
"Children even feel proud of saying that when they grow up they want to be pimps."
Illegal Alien Who Brought His 'Daughter' to the U.S. Charged With Raping Her, Other Sex Felonies, by Katie Pavlich, Town Hall, August 8, 2018. Excerpt:
An illegal alien from Guatemala who claimed he was traveling to the U.S. with his "daughter" in April has been arrested just months later for multiple felonies, including repeated rape and other sexual abuse of the young child.
"On April 16, 2018 Ramon Pedro entered the United States through the Ysleta Port of Entry in Texas where he was accompanied by his alleged daughter. On the same date, U.S. Customs and Border Protection arrested him and his alleged daughter. They were subsequently released on alternatives to detention," a Department of Homeland Security official said in a statement.
Pedro crossed the border illegally and did not claim asylum.
"On July 26, 2018, Ramon Pedro and his alleged daughter were hospitalized at the Fresno Community Regional Hospital for Tuberculosis (TB) screening. At this time, medical staff discovered that Pedro's alleged daughter was being sexually assaulted and the local police were notified. Then it was determined that Pedro and the daughter are not related at all. In fact, the victim's mother told her daughter to accompany Pedro to the United States and he would secure her employment," the official continued. "On July 27, 2018, the Huron Police Department arrested him for multiple felony offenses for rape, oral copulation, forcible sexual penetration, and endangering/causing injury to a child. He is currently detained in Fresno County Jail on a $310,000 bond."
HSI El Paso, Border Patrol agents arrest 18 alien smugglers, 117 illegal aliens; seize cash, vehicles, drugs, by U.S. Immigration & Customs Enforcement, July 13, 2018. Excerpt:
EL PASO, Texas — Special agents with U.S. Immigration and Customs Enforcement's (ICE) Homeland Security Investigations (HSI) and agents with U.S. Border Patrol arrested 18 alien smugglers and seized cash, vehicles and more than 1,000 lbs. of marijuana last month in a joint effort.
Special agents assigned to HSI El Paso's human smuggling group and Border Patrol agents, who are part of HSI's Border Enforcement Security Task Force (BEST), worked together to identify, locate and arrest smugglers operating alien smuggling organizations in southern New Mexico and the El Paso area.
The following two U.S. citizens are among the alien smugglers who were arrested and charged with alien smuggling:
Elias Serrano, 42, with prior convictions for aggravated stalking, kidnapping, possessing a deadly weapon and possessing marijuana with intent to distribute; and
Jesus Briseno, 25, with prior convictions for escape from custody, possessing marijuana, assault/causing injury to family member, and driving while intoxicated.
Additionally, agents arrested 117 illegal aliens, which included the following criminal aliens:
a 34-year-old Guatemalan with an outstanding warrant out of Florida for driving under the influence, and also charged with illegally re-entering the U.S. after deportation;
a 30-year-old Mexican with ties to a Mexican drug cartel was arrested for fraud and misuse of visas; and
a 32-year-old Mexican with convictions for child endangerment and driving while intoxicated, was arrested for illegally re-entering the U.S. after deportation.
HHS Performing DNA Tests To Confirm Relationships Of Separated Families At Border, by Kerry Pickett, Daily Caller, July 5, 2018. Excerpt:
Department of Health and Human Services officials Thursday confirmed the department is using DNA testing to verify familial relationships when reuniting parents and children separated at the border.
"Because of the compressed time frame, the process of using documentation is not going to be completed within the time frame allowed by the court decision for the great majority of these children," Jonathan White, deputy director for children's programs at the Office of Refugee Resettlement, told The Hill.
White continued, "For this reason, the decision has been made to use the faster process of DNA verification to confirm that biological relationship."
Family Research Council president Tony Perkins first learned about the possibility that DNA testing would be an option two weeks ago when he said Attorney General Jeff Sessions mentioned the issue to him before his interview with the AG. RELATED: Tony Perkins: Sessions Talking To Lawmakers About Using DNA Tests To Verify Parents Of Immigrant Children
"They are looking at how to use DNA tests in the field to verify they are parents and not traffickers. The reality is if American parents put their kids through what these immigrant parents have done to their kids — they would be charged with child abuse," Perkins said.
WATCH: Neighbors Protest ICE As It Investigates Child Sex Trafficking Ring; Protesters wrote 'Oakland PD is a disgrace' in chalk on the ground, as ICE agents busted up a child prostitution ring in their neighborhood, by Juliana Knot, The Federalist, July 5, 2018. Excerpt:
Video of neighbors protesting as U.S. Immigration and Customs Enforcement (ICE) agents investigate a child sex trafficking ring in their neighborhood has resurfaced, as politicians and activists call for the agency to be abolished.
A local CBS news station reported on the incident, which took place in West Oakland, California, last year. ICE began conducting the raid in the morning, waking up neighbors who saw ICE and Department of Homeland Security vehicles on the street.
Assuming the agents were arresting illegal immigrants, people began protesting outside of the house.
Neighbor Hadar Cohen woke up to her roommate crying, saying she didn't know what to do. The two of them and other housemates went outside to find agents on their street. Cohen, who was holding a "No person is illegal" sign, said that agents weren't telling the neighbors what was going on.
---
Migrants, young and old, are not always related. Border Patrol says fear of child trafficking forces separations, by Molly Hennessy-Fiske, Los Angeles Times, May 8, 2018. Excerpt:
Border Patrol agents found the man walking a little boy up a dirt road north of the Rio Grande near Mission, Texas, with eight other Central American migrants.
The pair wore matching blue-striped polo shirts.
Ely Fernandez explained that he was a taxi driver who had fled San Pedro Sula, a notoriously dangerous city in northern Honduras. Fernandez, 43, said a gang had threatened to kill him for not paying money they wanted to extort from him.
He had crossed the border illegally in March hoping to join his wife in Louisiana, and the boy, he told agents, was their 5-year-old son, Bryan.
When's the boy's birthday? an agent asked. Jan. 21, Fernandez said, but he couldn't remember the year — a red flag for agents.
Since October, more than 700 migrant children have been taken from adults claiming to be their parents, including more than 100 children under age 4. U.S. officials said they were trying to protect children who may be victims of trafficking or exploitation, but migrant advocates argue it's the latest attempt by the Trump administration to stop migrant families from seeking asylum. […]

He said agents "often rely on a child's verbal and nonverbal cues to assist in determining a bona fide claim of parentage or legal guardianship," including "the child's familiarity and/or interaction with the adult, the child referring to the adult by his/her first name, and the child's apprehensiveness toward the adult." […]
Border Patrol officials have said they may require migrants to undergo DNA testing as part of a pilot program in the Rio Grande Valley that later could be expanded.
"We believe that a lot of these kids are not necessarily part of a family and they're being trafficked and exploited," Antonio "Tony" Trindade, the Border Patrol's associate chief of enforcement systems, told a crowd at the annual Border Security expo in San Antonio in February.
Four alleged international sex traffickers from Mexico face charges, possible life sentences in Manhattan Federal Court, by James Fanelli, NY Daily News, May 4, 2018. Excerpt:
Four Mexican members of a family-run international sex-trafficking ring face charges in a far-reaching operation that preyed on women and girls, federal prosecutors said Friday.
Efrain Granados-Corona, Emilio Rojas-Romero, Alan Romero-Granados and Pedro Rojas-Romero appeared in Manhattan Federal Court on Thursday to face sex-trafficking charges that, if they're convicted, could put them behind bars for the rest of their lives.
The four were extradited from Mexico, authorities said. They are accused of exploiting victims in Mexico and United States between 2000 and 2016.
Prosecutors said they forced their victims to service johns between 20 to 40 times a day after luring and coercing them with false promises and threats.
"Sex trafficking is a heinous crime that violates both the rule of law and the most basic standards of human dignity," U.S. Attorney Geoffrey Berman said in a statement.
"These defendants allegedly deprived women and girls of their freedom, and forced them into prostitution against their will."
Seduced Into Slavery — How a Mexican Family Became Sex Traffickers; "I was never taught to value women. Women became worthless," by Anastasia Moloney, Global Citizen (Reuters), November 30, 2017. Excerpt:
MEXICO CITY, Nov 30 (Thomson Reuters Foundation) – Mario Garfias never thought twice when he pulled out his baseball bat, nicknamed Panchito, to beat the women and teenage girls that he used as prostitutes in Mexico City's red light district of La Merced.
Together with his younger brother Enrique and mother Esperanza, Garfias was a sex trafficker. For nearly eight years, the trio inflicted terror over young women and girls – who the brothers referred to as "merchandise".
If the girls, some as young as 16, did not earn their daily quota or disobeyed rules, they faced Panchito.
"I'd say it was time to see Panchito. I'd hit them with it," said Mario Garfias, who headed the sex trafficking ring.
"Obviously never in the face because I'd send them to work. But I'd hit them across the back, legs and buttocks," said Garfias, who like his brother and mother, spent nearly 12 years in prison for his crimes.
Dart pistols were also used against women, while one woman was once tied to a chair with fireworks placed around her genitals, the brothers said.
Two years after the family's release from prison, their stories offer a rare insight into the methods of sex traffickers – how they lure their victims and the violence they use to control them.
Human trafficking survivor: I was raped 43,200 times, by Rafael Romo, CNN, September 20, 2017. Excerpt:
Mexico City (CNN)Karla Jacinto is sitting in a serene garden. She looks at the ordinary sights of flowers and can hear people beyond the garden walls, walking and talking in Mexico City.
She looks straight into my eyes, her voice cracking slightly, as she tells me the number she wants me to remember — 43,200.
By her own estimate, 43,200 is the number of times she was raped after falling into the hands of human traffickers.
She says up to 30 men a day, seven days a week, for the best part of four years — 43,200.
Her story highlights the brutal realities of human trafficking in Mexico and the United States, an underworld that has destroyed the lives of tens of thousands of Mexican girls like Karla.
Human trafficking has become a trade so lucrative and prevalent, that it knows no borders and links towns in central Mexico with cities like Atlanta and New York.
U.S. and Mexican officials both point to a town in central Mexico that for years has been a major source of human trafficking rings and a place where victims are taken before being eventually forced into prostitution. The town is called Tenancingo.
Sex trafficking, child marriages linked, study of Mexico finds, by Sebastien Malo, Reuters, May 11, 2017. Excerpt:
NEW YORK (Thomson Reuters Foundation) – Girls being trafficked for sex in northern Mexico often have been forced into exploitation as under-age child brides by their husbands, a study showed on Thursday.
Three out of four girls trafficked in the region were married at a young age, mostly before age 16, according to Mexican and U.S. researchers in a yet-unpublished study.
Human trafficking is believed to be the fastest-growing criminal industry in Mexico, and three-quarters of its victims are sexually exploited women and girls, according to Women United Against Trafficking, an activist group.
Under a 2012 anti-trafficking law, those convicted of the crime can spend up to 30 years in prison.
Nevertheless, nearly 380,000 people are believed to be enslaved in Mexico, according to the 2016 Global Slavery Index published by rights group Walk Free Foundation.
My seven years as a sex slave in Mexican drug cartels, by Oscar Balderas, VICE News, August 11, 2016. Excerpt:
Daniela remembers being driven blindfolded through the desert in northern Mexico, thinking she was going to her death. She recalls being told to get out of the van, uncover her eyes, and follow her armed captors into a large house and down into the cellar. She was obliged to watch what was going on, and tried to blank out her mind.
It didn't work. She still remembers the scene — about five young women bound to pillars, surrounded by men who had paid a lot of money not just to rape them, but to torture and perhaps kill them as well.
Daniela is not her real name. She insists on a pseudonym, because she may have escaped, but the reach of her former captors is long. What she saw that day was just one of many horrific experiences she went through in seven years as a sex slave, first under the control of the Zetas cartel and then the Gulf cartel. It ended with her escape last year and her return to her family in Nicaragua, where the nightmare had begun.
"I saw lots of people die, and die in horrible ways," she says, drinking hot chocolate and eating pizza in a Mexico City cafe. "I want to talk because people have to know what is happening on the border to the girls who are disappeared, and with lots of the girls who are working in the sex trade in narco areas."
One man's mission to rescue child sex-trafficking victims, By Elaine Quijano, CBS News, October 15, 2014. Excerpt:
Last weekend, police broke up a major sex-trafficking ring in Colombia, which has become a destination for tourists looking for sex with boys and girls.
The police had help from an American who went undercover to rescue the children.
Tim Ballard has one mission: to track down child traffickers. Four months ago Colombian authorities asked him to investigate a tip that children were being sold there as sex slaves.
"Within a half hour this individual walks up to me asking me what I'm here for, what I want and within minutes he tells me that I have kids here as young as 11 years old," Ballard says.
A former Homeland Security agent, Ballard now heads up Operation Underground Railroad, a non-profit group that rescues trafficked kids. After that first meeting, the Colombians asked him to put together a sting.
Operation Underground Railroad spent months planning — renting a house, rigging it with hidden cameras to document the crime, coordinating with Colombian authorities and negotiating with the traffickers.
"How they find these kids is they lure them in by pretending to have a modeling agency," Ballard explains. "They target them at nine- or 10-years-old and they were telling us that at about 11, they're ready for sex. They're ready to be sold."
Mexican woman tells of ordeal with cross-border child traffickers; In interview with Channel 4 News, young woman says babies and young children are 'sold to order' to US nationals, by Nick Martin in Ciudad Juárez, The Guardian (UK), January 11, 2010. Excerpt:
A young Mexican woman who escaped from human traffickers has told US special agents how she witnessed babies and children being "sold to order" to US citizens.
America's Department of Homeland Security in Washington says the girl, known only as Maria, had "significant ~information" and possessed a "remarkable memory" of her experiences inside the gang.
In an interview with Channel 4 News, to be broadcast tonight, the teenager tells of a cross-border trade in babies and young children, where Mexican and US gangs worked together to supply a demand in the United States.
As a result of the interview, US officials and Mexican authorities have begun an investigation into the alleged trafficking.
Maria says she was 16 when she was lured into the gang by a man on the streets of the Mexican border town of Ciudad Juárez.
Since the 1990s, thousands of women have disappeared from the town. Hundreds of bodies bearing signs of rape and sexual mutilation have been dumped on waste ground in the city; thousands more have never returned.
In 2009, 55 teenage girls vanished in the town, which has been gripped by violence as two drug cartels fight a lethal turf war over cocaine smuggling routes into the US.
Maria, who was in hiding when she talked to Channel 4 News, said she had been given presents and promised a job in an office by the gang member but was instead drugged and raped and sold to men.
---
.
.
.