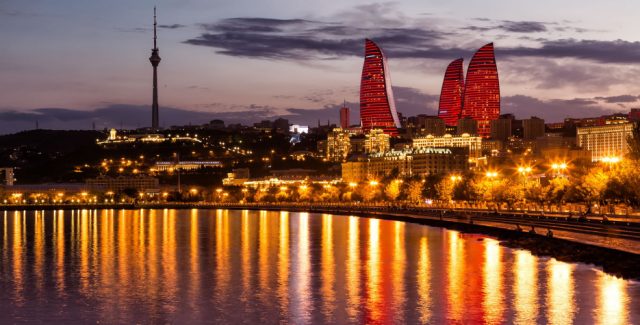 By Rachel Avraham
Rachel Avraham, the CEO of the Dona Gracia Center for Diplomacy who visited Azerbaijan three times, recently stated: "Azerbaijan is an amazing and whimsical country for Americans to visit as it blends something reminiscent of Ali Baba and the Forty Thieves with life in the 21st century.  Located along the ancient Silk Road, it connects the east and the west, modern and ancient cultures, creating a unique cultural blend that keeps the tourist always yearning to come back to experience more. Indeed, Azerbaijan is a country with a history dating back to antiquity, yet it chooses to express its identity with a modern flare that makes it an enjoyable and pleasurable place to visit."
Indeed, Azerbaijan is one of those small former USSR countries, where the Eurovision Song Contest in 2012 and Formula 1 Grand Prix, that started in 2016, caused the capital city of Baku to have a place on the world map. A country on the banks of the Caspian Sea has invested its oil revenues into modern tourism infrastructure in Baku and the rest of the country. American travelers can discover the magnificent architecture built in Baku during the late 19th century, early 20th century oil boom. Azerbaijan can be one of the exclusive destinations for Americans because of the fusion of west and east, a unique blend of Eastern and Western architecture, delicious authentic food, nine climatic zones, high level safety, home to the only healing naphthalene oil, German heritage from the 19th century, a legacy of Islam, Christianity, Judaism, and Zoroastrianism, old traditional carpet schools, salt caves and oil baths, and especially hospitable and friendly local people.
The United States recognized the independence of Azerbaijan on December 25, 1991 when President George H.W. Bush announced the decision in an address to the nation regarding the dissolution of the Soviet Union, and diplomatic relations were foramlized on February 28, 1992. The Embassy of Azerbaijan in the United States and the U.S. Embassy in Azerbaijan have been functioning since March 6, 1992, and March 16, 1992, respectively. The Consulate General of Azerbaijan in Los Angeles was opened on August 9, 2005. Since 2010, Azerbaijan has an Honorary Consulate operating in Santa Fe, New Mexico.
Together, the two countries have been working to stimulate European energy security, to enlarge bilateral trade and investment, and to combat terrorism and transnational threats.  The United States is dedicated to promoting economic diversification in Azerbaijan, and actively promotes regional stability, peace, and prosperity.
In a letter to Azerbaijani President Ilham Aliyev on the occasion of the Republic Day of Azerbaijan – the first democratic statehood in the entire Muslim East on May 28, 1918 – US President Donald Trump expressed his support for Azerbaijan's independence, and praised Azerbaijan's efforts in developing bilateral ties and cooperation. He said in his letter "The United States and Azerbaijan have cooperated for nearly 30 years to strengthen international security, diversify European energy routes and sources, and build a brighter future for the people of our two great nations",  according to a statement posted on Azerbaijan's presidential website.
Azerbaijanis perform ancient ceremonies for guests showing warmth, friendliness, and excellent hospitality. Azerbaijan, the Land of Fire, combines the historical, mysterious and exotic with hospitable locals who can never do enough to help a tourist. The government recently made it easier to visit Azerbaijan by introducing an eVisa.
This architectural combination of ancient and modern, East and West suitably signifies Azerbaijan's gorgeous history and culture.  A visit to Baku should also be in the cards for architecture enthusiasts. Azerbaijan is very affordable. The recent e-Visa has made the formalities faster, easier, and cheaper. Tourists of 100 nationalities can apply for the Azerbaijan tourist visa. The ease of getting a visa combined with affordability make it easy to visit Azerbaijan.
The culture in Azerbaijan makes people open and welcoming. They give the best hospitality possible. Younger Azerbaijanis speak some English and are almost always happy to help. Russian and Turkish are also widely spoken by the majority of people from all ages. There are many cases where locals helped tourists with great will. The Caucasus Mountains expanse across parts of northern Azerbaijan created a variety of historical and cultural villages.  More than a third of the world's mud volcanoes are along the Absheron Peninsula. The world's largest is 700 meters in diameter and 10 kilometers high.
Azerbaijan has a great infrastructure for tourism, with five-star hotels hosting some major international events and festivals. Azerbaijan hosted The European Song Contest (Eurovision), The first European Olympic Games, UEFA European Football Championship games, the International Baku International Jazz Festival, Grand Prix Formula 1, International Mstislav Rostropovich Festival, the Gabala musical festival, and much more.
Dana Barnett, chair of the Dona Gracia Center for Diplomacy, an NGO based in Israel, who has recently visited Azerbaijan with a group of international experts emphasizes that people should visit Azerbaijan because it is lovely country, a great destination, and highly interesting historically, politically, and culturally. Also, I found it really astonishing that Azerbaijan is Muslim majority country and it is so exciting to see that such a Muslim country is so open and nice, friendly to others,f and not extremist.
Azerbaijanis people are tolerant to all nations and religions. Thus, a settlement of a large numbers of Jewish citizens was organized without fear of discrimination, retribution, or clashes with neighboring towns and states. Today, seven synagogues have been preserved. They are all built of bricks, and the larger ones are decorated with onion domes.
Annual leave is generally taken to correspond with the academic calendar. American families make the most of spring, summer, and winter school and college breaks to go abroad.

The architecture in Azerbaijan is varied. The Walled City of Baku combines elements of medieval and traditional Islamic Azerbaijan styles. Zoroastrianism, one of the oldest religions, originated in Azerbaijan. Ateshgah, a fire temple in the Baku suburbs, was once a significant site. Fire is still an essential part of Azerbaijani identity and culture with the 2012 Flame Towers in Baku paying respect to their heritage. Carpet knitting in Azerbaijan dates back to antiquity. Family tradition and techniques pass from one generation. The world-famous architect Zaha Hadid designed this outstanding, ultramodern building, which is now the nation's cultural center.
American Irina Tsukerman, President of Scarab Rising, Inc. and a geopolitical analyst who visited Azerbaijan several times, shared her opinion:
"Americans would enjoy a relatively inexpensive new place for tourism which will give them the best of the worlds on Europe and Asia; they will enjoy discovering new foods, music, and artists, and for those inclined towards sports and environment, they can explore nature, hike, and go to the mountains as Azerbaijan offers a diverse landscape. For the history buffs, there is much to uncover and explore, from unique religious and cultural history, to the more recent events concerning the liberation of Karabakh and post-Soviet heritage.
"Those more inclined towards business travel will find themselves with ample opportunities in the energy fields, whether oil and gas, or renewables, hi tech, agriculture, and much else. Finally, those who enjoy meeting new people and discovering new societies will find a very tolerant, diverse environment and will have an opportunity to talk to people from different religious and ethnic background and learn about how their unique roles contributed to an integrated, cohesive society. And those looking for investments into human capital will find a society that values education and humanitarian cooperation, and will be happy to cooperate on many projects both internally and in terms of regional affairs and integration."
Moreover, most of Azerbaijani cities are alive with New Year celebration activities, specially Baku, with the Solidarity Day of World Azerbaijanis. The first New Year tree is set up and celebrations take places with The Father Frost and all around the country. Tourists can be a part of the extravagant celebration by indulging in some of the fantastic New Year events in Baku and enjoy New Year Fireworks, participate at street concerts, public festivities, and visit New Year Market (similar to Christmas Market) in the heart of Baku. They will have a sense of feeling what it is like to be in one of the most beautiful European cities with local characteristics.
Located in the north-east of Azerbaijan, Guba is a great place to experience the Caucasus Mountains. Timeless mountain villages are populated by diverse peoples and offer great hiking and ecotourism opportunities. Azerbaijan is also a home to around 24,000 Jews. A number of measures are being taken in Azerbaijan to preserve the historical Jewish heritage and to develop the tourism potential of this heritage. One of these was the creation of a tourist route known as the "Jewish heritage in Azerbaijan".  They are also taking steps to develop and improve tourist routes in the northern part of the country in the Red Village – The Jerusalem of Caucasus.
Naftalan is the center of health tourism in Azerbaijan as the city is home to the only healing naphthalene oil fields in the world and attracts thousands of health-seekers. The oil extracted here looks similar to conventional industrial oils but, thanks to its unique chemical composition, has exceptional therapeutic qualities and is used in the treatment of over 70 diseases. For many visitors, the famous Naftalan oil treatment, primarily in the form of oil baths, is the main reason to visit, however this modern city boasts a rich history as well, with peaceful parks and wonderful resorts that provide fun and relaxation for the whole family. Naftalan oil can be found in the works of Nizami Ganjavi, as well as the travel notes of the famous traveler Marco Polo. The beginning of the industrial production of Naftalan oil coincides with the arrival of a German engineer and chemist Jaeger, who came to these areas with a desire to extract oil, who noticed the way the locals use this resource and began to produce medicated ointment.
Finally, Joyce Williams, Esq. Founder of the Armooh-Williams Foundation from USA,  has recently visited Azerbaijan, and described why Americans Should Visit Azerbaijan: "Trade, history, and memories are one of the reasons. Emerging from years of Soviet occupation and conflict with Armenia, Azerbaijan is a country striving for a new identity that informs of its past and yet gives hope to its citizens. "