Prospective post titles:
Why does Facebook enable Palestinians to incite & glorify terrorism, but ban users who don't?
Why does Facebook violate its own rules to enable Palestinian terrorism incitement?
Why has Facebook enabled the Palestinian terror machine for years?
Why has Facebook enabled Palestinian terrorism supporters to maintain a page for years?
---
Summary
On September 5, 2016, Facebook allowed a 30-minute video to be uploaded and shared by a notorious terrorism-supporting "news" network, that graphically depicts Palestinian terrorists murdering Jewish civilians, followed by Palestinian children and leaders justifying and celebrating such attacks.  Worse:
Although Facebook ultimately took down the video, it allowed the user that uploaded it — a Palestinian website that is well-known for posting incitement and "snuff" films — to remain active, as it has since March 2011.  Thanks to this complicity, the offending user's follower base has grown by 34.5% in just the last eleven months, to nearly 5.2 million Facebook users, thanks in part to the hundreds of videos that it has uploaded onto its page — one of which has been viewed more than 230,000 times.
Within the past several weeks, Facebook permanently banned a respected Muslim reformer, and a counter-terrorism scholar, for posting text criticisms of antagonists, which Facebook claimed violated its "community standards."  Yet it has enacted no punishment whatsoever against the aforementioned terrorism-supporting website.
This disparity in practices goes to the heart of a major lawsuit that was recently filed against Facebook, by the Jewish victims and relatives of Palestinian terrorist attacks, alleging that it is knowingly and willfully enabling those who encourage, justify, glorify and participate in such attacks.
---
Screencaps of the video
On the afternoon of September 7, 2016, SaveTheWest.com became aware of this Palestinian terrorism "snuff" video, which was uploaded and posted on September 5, 2016 by the Al Quds News Network ("AQNN"; http://www.qudsn.ps/) at this URL:
https://www.facebook.com/QudsN/videos/1254085988001633/
We took the following screencaps of the video on September 7.
(1) The video opens with a Palestinian terrorist spotting an auto being driven by actors who dressed as Jews:
---
(2) The Palestinian terrorist radios ahead to other terrorists, who open fire on the auto with machine guns and hand grenades:
---
(3) As the Jews crawl out of their bullet-riddled vehicle, bloody and severely wounded, one of the Palestinian terrorists slowly walks into the scene from the right, with the muzzle of his machine gun pointing at the driver's head. The victim slowly looks up at the terrorist, and the last thing he sees is the muzzle flash of the machine gun as bullets tear into his head.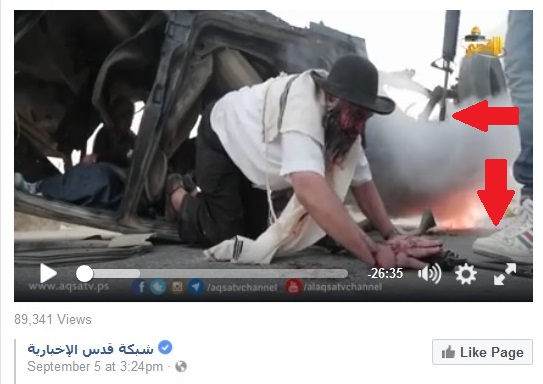 The video then transitions to Palestinian children and adults celebrating and justifying this murder, and the entire anti-Semitic, genocidal belief structure that drives their relentless terrorism against Jews.
---
Facebook removed the video — but has allowed the user to remain active, and to post other anti-Semitic, terror-inciting videos

SaveTheWest and others filed complaints with Facebook about this video.  By 7:15pm on September 7, Facebook had removed the video:
Facebook, however, has allowed the AQNN page to remain active. The following screencap was taken at 9:59pm on September 9, more than 48 hours after Facebook removed the video: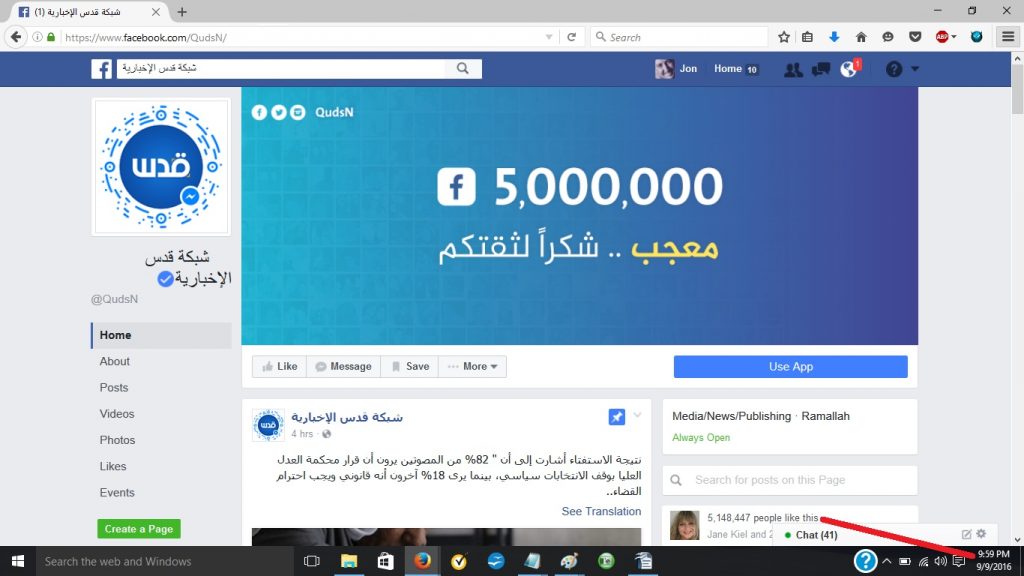 Facebook's courtesy has enabled the AQNN to continue spreading anti-Semitic, terror-inciting videos, including this one — which has been viewed 234,999 times:
(1) The video opens with a person (presumably a terrorist) moving through one of Hamas's notorious "terror-tunnels," to an apocalyptic, threatening soundtrack: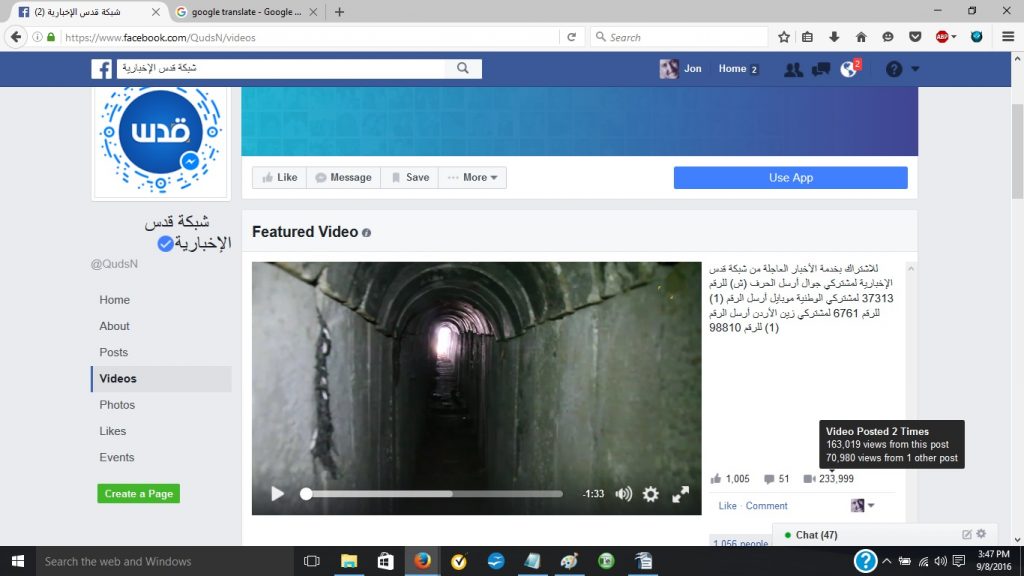 (2) The video concludes just as the presumed terrorist is about to emerge from the tunnel, perhaps beneath an Israeli kindergarten, or home, upon which he and his fellow terrorists will unleash untold carnage: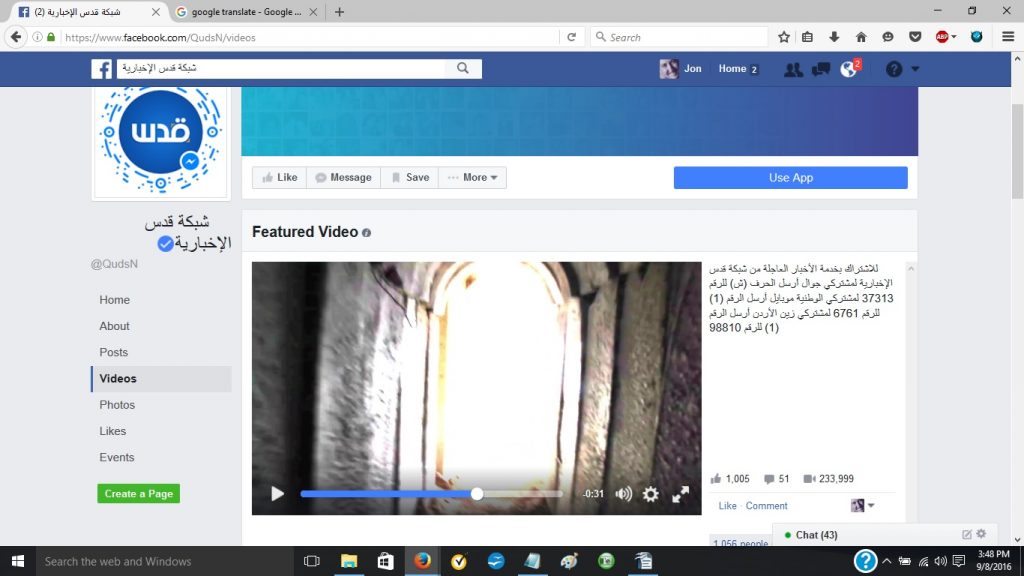 Clicking on the "Videos" link on the AQNN page reveals that Facebook has allowed this notorious site to maintain hundreds of other videos it has uploaded (this video was taken on September 9):
---
Facebook's "Community Standards" clearly state that it prohibits such content, and will permanently ban any user that posts it
As described in a March 2015 article in the New York Times, Facebook recently updated its Community Standards, to help both its moderators and the general public to understand its policies on prohibited content and groups.  Here is the salient portion of its Community Standards (screencap); emphasis added:
Dangerous Organizations: What types of organizations we prohibit on Facebook.

We don't allow any organizations that are engaged in the following to have a presence on Facebook:

* Terrorist activity, or

* Organized criminal activity.

We also remove content that expresses support for groups that are involved in the violent or criminal behavior mentioned above. Supporting or praising leaders of those same organizations, or condoning their violent activities, is not allowed.

We welcome broad discussion and social commentary on these general subjects, but ask that people show sensitivity towards victims of violence and discrimination.
By those standards, Facebook should have immediately, and permanently banned the AQNN from its site, instead of merely removing this latest "snuff" film, then leaving it active.  This point was emphasized by Monika Bickert, Facebook's Head of Global Policy Management, in this February 2016 video, in which she explains the social media giant's efforts to prevent its pages from being used to in any way support terrorism:
---
Yet Facebook has allowed the notorious terror-supporting user that uploaded this "snuff video," and others like it, to remain active for five and a half years

The AQNN established its Facebook page on March 25, 2011: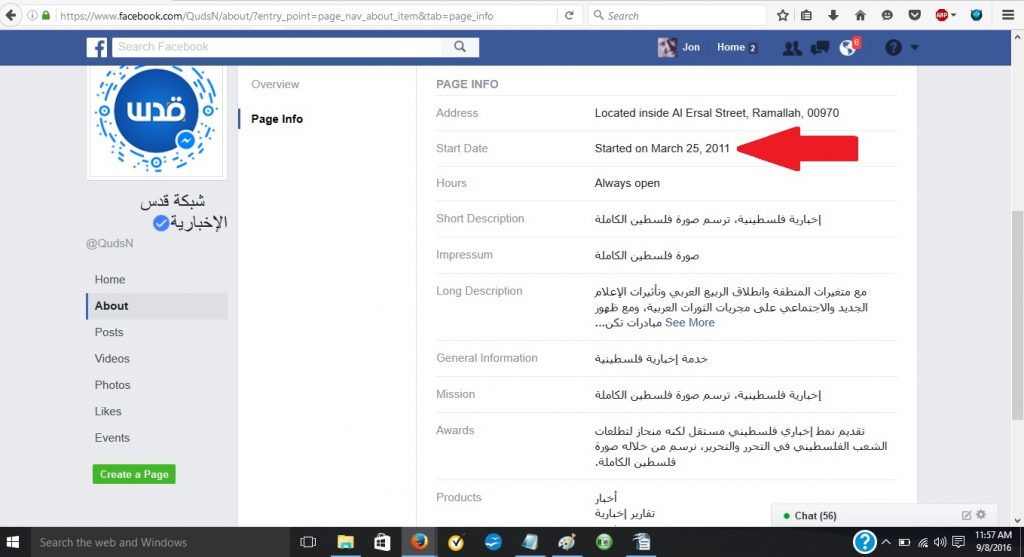 In the five and a half years since, Facebook has allowed the AQNN to build up a following of more than 5,000,000 followers ("likes"), an achievement about which it openly boasts in its cover photo.  Here is a screencap of the AQNN page at 11:49am on September 8: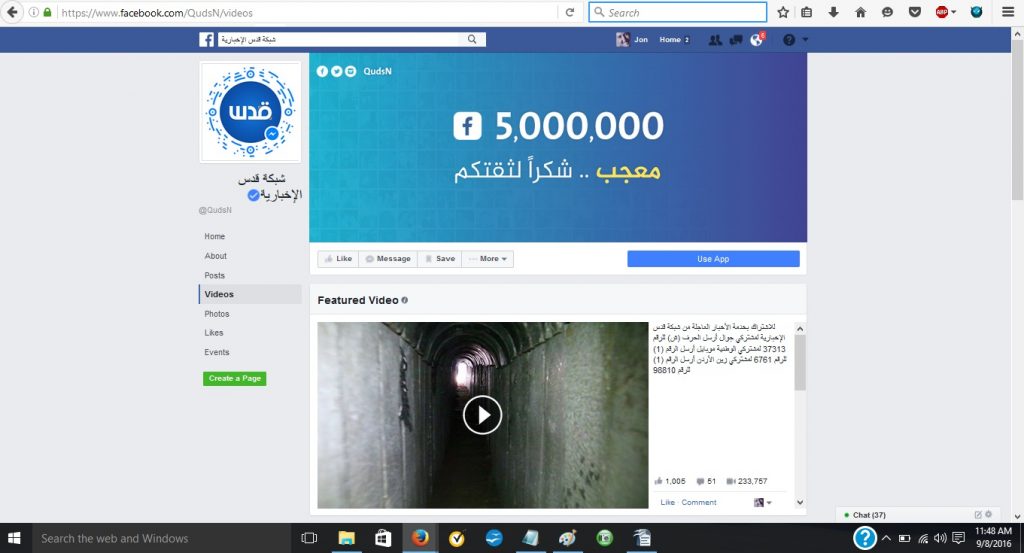 According an October 26, 2015 article in the Christian Science Monitor, the AQNN is well-known for the "snuff" videos, but had only 3.8 million followers at that time:
Just three years old, Quds News boasts a Facebook page with 3.8 million likes and a Twitter account with 269,000 followers. It's that type of social-media footprint along with so-called "snuff" footage of attacks that has raised allegations from Israelis that Palestinian social media is helping to fuel a repeating cycle of violence.
These approximate metrics were reiterated by an October 27, 2015 article in the Times of Israel:
Some 3.7 million Palestinians follow the Quds News Network, believed to be affiliated with Islamic Jihad, on the social media platform
Yet as of September 8, the AQNN follower base had grown to 5,146,398: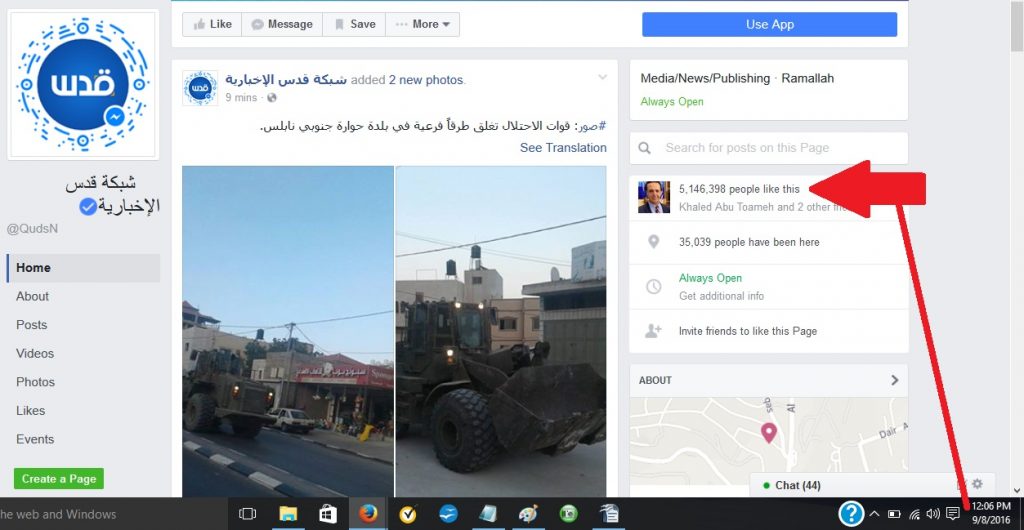 This means that in a span of only eleven months, thanks to Facebook's facilitation, the following for this notorious page has grown by 34.5%, or 1.35 million — a phenomenal growth rate for any social media platform, let alone one that habitually posts anti-Semitic hate, incitement and "snuff" videos.
---
Recently, Facebook permanently banned two notable public figures who merely expressed opinions about radical Islamism
In contrast to Facebook's continuing tolerance of the AQNN's clear, repeated violations of its Community Standards — which may have led, or will lead to the murder of Jews — it recently imposed permanent bans on several notable public figures who used words to express opinions about radical Islamism.
Shireen Qudosi
Qudosi is a devout American Muslim, advocate for reform of Islam, and the editor of The Qudosi Chronicles, which is described as:
"The only Muslim publication that offers a truly objective look at Islam in the 21st century. We don't take sides nor do we blindly promote religion or politics. We take a bold and truthful look at how Islam is evolving and what role its followers play in this growth. We recognize the good but also highlight the negative effects of Islam and what questionable initiatives are set forth by its followers, including but not limited to Islamism."
Numerous U.S. and international TV and radio news programs and publications have included Qudosi in their features about Muslim reformers, terrorism and national security.
In late August 2016, Qudosi got into an off-Facebook written exchange with another prominent Muslim, who was employing time-tested, libelous intimidation tactics in an apparent effort to convince her to stop criticizing the Hamas-affiliated Council on American Islamic Relations (CAIR).  Qudosi then posted screencaps of their exchange on her Facebook page — none of which contained threats, vulgarity, or any the content that Facebook claims it prohibits.
Yet on August 24, 2016, according to a detailed article Qudosi wrote about her experience:
Facebook had slapped me on the wrist with a 24-hour ban for sharing my post and screen shots of the conversation. The block grew to 48 hours, and by the end of the second day I was banned from Facebook.
Soon after, she appeared on Fox Business Network's Varney & Co. to discuss the matter – after which Facebook restored Qudosi's account.
Dr. Jonathan Spyer
(From here) Spyer earned a Ph.D. in International Relations from the London School of Economics and a Master's Degree in Middle East Politics from the School of Oriental and African Studies in London. His writings about the violence in Syria, and the broader threat of radical Islam, has been featured in The Wall Street Journal, The Guardian, the Weekly Standard, and elsewhere.
According to Spyer, whose Facebook page had amassed thousands of followers:
The last posting which I made on my profile related to recent events in Europe.  I wrote that I considered the wave of terror attacks in Germany and France to indicate that a 'low level Islamist insurgency' was now taking place in those countries. A few hours after placing this posting, my account was 'disabled.'

I wrote to the appropriate Facebook address asking for clarification on this. A few days later, on July 29, I received an email from someone called 'Justin' saying (STW added emphasis):

"We have reviewed your account, and have determined that it is contrary to the Declaration of Rights and Responsibilities of Facebook. Due to the violation of these terms, we have permanently deleted your account.

"One of the main priorities of Facebook is the safety of Facebook users. Credible threats to harm others, support for violent organizations or extreme graphic content are not allowed on Facebook."

I am placing this post here so that readers will be aware of the apparent parameters of free speech at Facebook.  I have never expressed support for 'violent organizations' on my page, other than support for the armed forces of the state of which I am a citizen, Israel, and perhaps also a general support for the Kurdish-led, western-backed forces fighting the Sunni jihadis of the Islamic State in Syria and Iraq.
We had never heard of Facebook's "Declaration of Rights and Responsibilities," so we looked it up (here), and surmise that its justification for banning Dr. Spyer was an alleged violation of Section 3, which defines the activities in which users must not engage, including (emphasis added):
(7) You will not post content that: is hate speech, threatening, or pornographic; incites violence; or contains nudity or graphic or gratuitous violence.

(9) You will not use Facebook to do anything unlawful, misleading, malicious, or discriminatory.
The Daily Caller covered the story here.
Soon after, Facebook reinstated Dr. Spyer's account.
---
More examples of Facebook facilitating and protecting Palestinian terrorism supporters to incite, justify and glorify anti-Semitic murder
On September 6, 2016, Israeli Prime Minister Benajamin Netanyahu posted on Twitter a screencap of a Facebook post by Fatah, the notorious Palestinian terrorism-inciting political party, that hailed the Palestinian terrorists who murdered eleven Jewish athletes at the 1972 Munich Olympics had perpetrated "a heroic operation":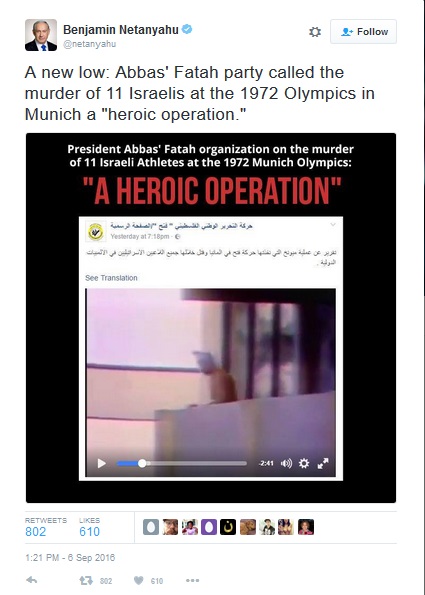 For those who don't know, Fatah is a Palestinian political organization that is headed by Mahmoud Abbas.  Under Abbas's rule, for more than a decade, Fatah has been using Western aid money to indoctrinate children to want to murder Jews, and to incite, glorify and financially reward terrorism against Israel.
Although Facebook ultimately removed the post to which Netanyahu objected, it left Fatah's page active.
A few days later, Fatah posted yet another
Facebook removed the video and post
As of September 9, 2016 Facebook has allowed Fatah's official Facebook page to remain active.
https://www.facebook.com/QudsN/
https://www.facebook.com/QudsN/videos
Also see:
Why does Twitter enable Hamas to spread its propaganda? [UPDATED]
---
Bibliography
Facebook Clarifies Rules on What It Bans and Why, The New York Times, March 16, 2015.
Palestinian uprising: Upstart website feeds youth the news they want: Quds News Network's mix of breaking news and lots of video appeals to a generation of Palestinians inspired by the idea of a new uprising against Israel, by Joshua Mitnick, Christian Science Monitor, October 26, 2015.
20,000 Israelis sue Facebook for ignoring Palestinian incitement: Class-action suit filed in Brooklyn requires social network to immediately remove all posts 'containing incitement to murder Jews', Times of Israel, October 27, 2015.
Mideast:'citizen journalists' behind success of Al-Quds News; Most followed network in West Bank, by Michele Monni, ANSAmed, November 2, 2015.
Un-Facebooked, by Dr. Jonathan Spyer, JonathanSpyer.com, August 12, 2016.
Facebook Bans Respected Journalist For Mentioning The Threat Of Islam, by Jonah Bennett, The Daily Caller, August 18, 2016.
Facebook Banned Me for Criticizing Islamists, But I Got the Last Laugh, by Shireen Qudosi, CounterJihad.com, September 2, 2016.
Under 18 U.S. Code § 2339B, it is a violation of federal law to provide "material support or resources to designated foreign terrorist organizations."