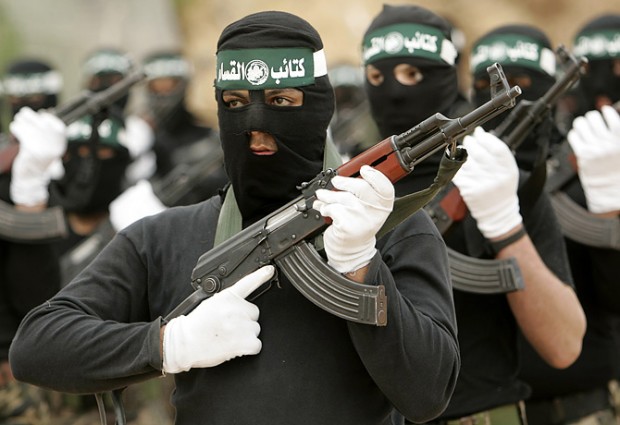 By Jon Sutz, Editor, SaveTheWest.com
---
Preface
Since SaveTheWest published this report, on November 15, 2015, things have gotten far worse at Twitter, in terms of its willingness to enable Hamas, a designated foreign terrorist organization.  As documented in the Updates, with one, brief interruption, Twitter has allowed Hamas to continue Hamas to post to its heart's content.
Further, as documented in our new report, Twitter has also been allowing certain users — especially those who are notorious for inciting mass hatred and violence — to violate its terms of service at will, so long as they target Jews, Israel, the LGBT community, conservatives, the Trump family, and white people.
---
Why does Twitter enable Hamas to spread its propaganda?
Why has Twitter enabled Hamas, the notorious, anti-Semitic terrorist gang, to have and maintain a page since 2012?
Facts:
(1) Since 1997, Hamas has been designated as a Foreign Terrorist Organization by the U.S. government.
(2) Under 18 U.S. Code § 2339B, it is a violation of federal law to provide "material support or resources to designated foreign terrorist organizations."
(3) Yet since December 2012, Twitter has allowed Hamas (specifically its terrorist wing, the Al Qassams Brigade) to maintain a page, which it uses to spread its propaganda throughout the world: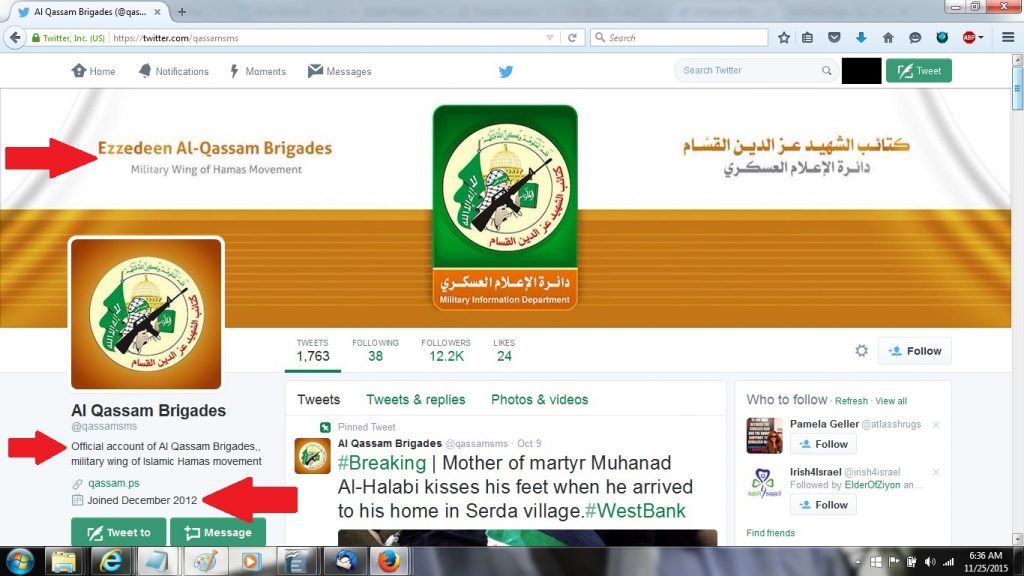 ---
Five examples of the terror-incitement and lies that Twitter has allowed Hamas to post
Here are a few examples of Hamas's calls for continuation of the most recent reign of Palestinian terrorism ("The Third Intifada"), which, as of Dec. 7, has killed 22 Jews and injured 215, 21 seriously.
(1) Nov. 25, 2015: "Hamas calls for escalation against occupation, declares tomorrow a day of anger against Zionist occupation.#ThirdIntifada #alaqsaunderattack"

(2) Nov. 24, 2015: "A Palestinian fighting occupation and aggression on his land by all means available is NEVER a terrorist."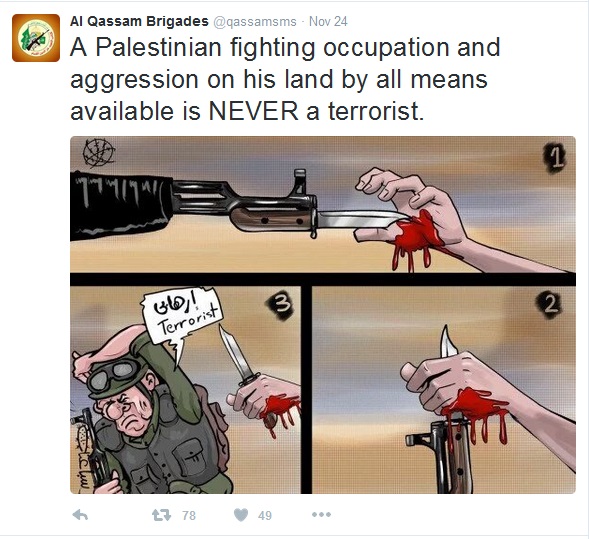 Twitter also either knows, or should know, that Hamas and other Islamist terror gangs use deceptive, shocking imagery and inflammatory headlines, in order to incite Muslims to hate and attack Jews.  Here are a  few recent examples of how Hamas has done this on Twitter, only because Twitter has allowed it to do so:
(3) Nov. 21, 2015: "Head of the northern settlements council runs over & kills Palestinian lady at Hwarra junction in #Nablus city."
Just one little detail that Hamas left out – the reason the driver ran over that Palestinian "lady" was because she was in the process of stabbing a Jew.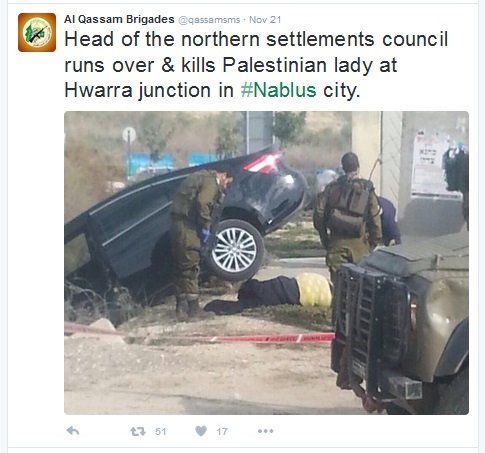 (4) Nov. 10, 2015: "Zionist occupation forces kidnap two Palestinian minors after assaulting them in occupied #Jerusalem. #SaveChildren"
Just one tiny detail that Hamas forgot to mention: these two "children," ages 11 and 14, had just stabbed an Israeli security guard, and resisted arrest.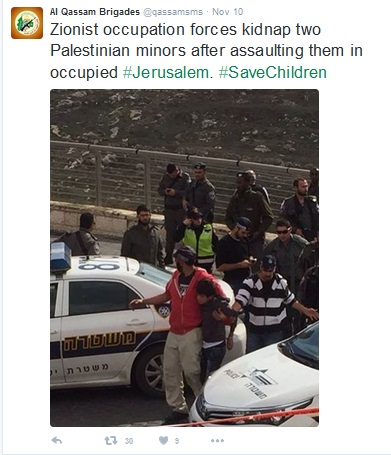 (5) Nov. 20, 2015: "Hamas praises the Tel Avivi[sic] operation conducted by Raed Masalmeh, led to killing two Zionist settles on Thursday."
What was this Palestinian's "operation"?  He burst into a synagogue as prayers were being conducted, and stabbed two Jews to death.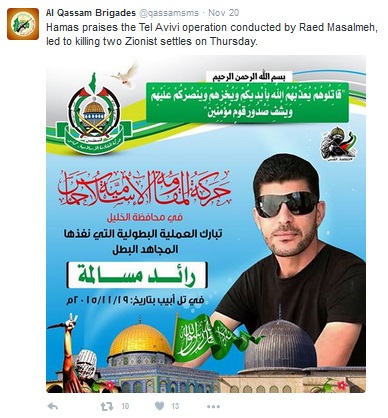 ---
If you'd like to make your voice known on this matter to Twitter's leadership:
Jack Dorsey, CEO (bio)
Omid Kordestani, Executive Chairman (bio)
Twitter, Inc.
1355 Market St Ste 900
San Francisco, CA, 94103 United States
415-222-9670
Write to Twitter's Board of Directors here.
Please be polite, concise and to the point.
---
UPDATES
Since this report was first published November 15, 2015…
December 5, 2015: Facebook removed a jihadist's post; Will Twitter follow suit? In the wake of the San Bernadino jihadist massacre, Facebook announced it had taken down one of the murderers' posts, in which she pledged allegiance to ISIS, because the social media company's policy is "to remove posts that 'support or glorify' terrorism."  Does Twitter have a similar policy – and if not, why not?  If you think it should, and that it should apply to the terrorist group Hamas, please go to the bottom of this page for information about how to make your voice known to Twitter's management.
---
April 2, 2016: Twitter shut down Hamas's page, and the terrorist group protested.  Five months after this SaveTheWest report was published, on April 2, 2016, Twitter shut down Hamas's page, with no comment. Hamas, however, accused Twitter of "showing a clear bias to the Israeli occupation where it should [adopt a] neutral position toward both sides."
Without missing a beat, Hamas reverted back to an account (https://twitter.com/HamasInfoEn) it set up in March 2015, and on which, as of June 23, 2018, it has allowed the terror gang to make 3,245 posts, and accumulate 76,300 followers: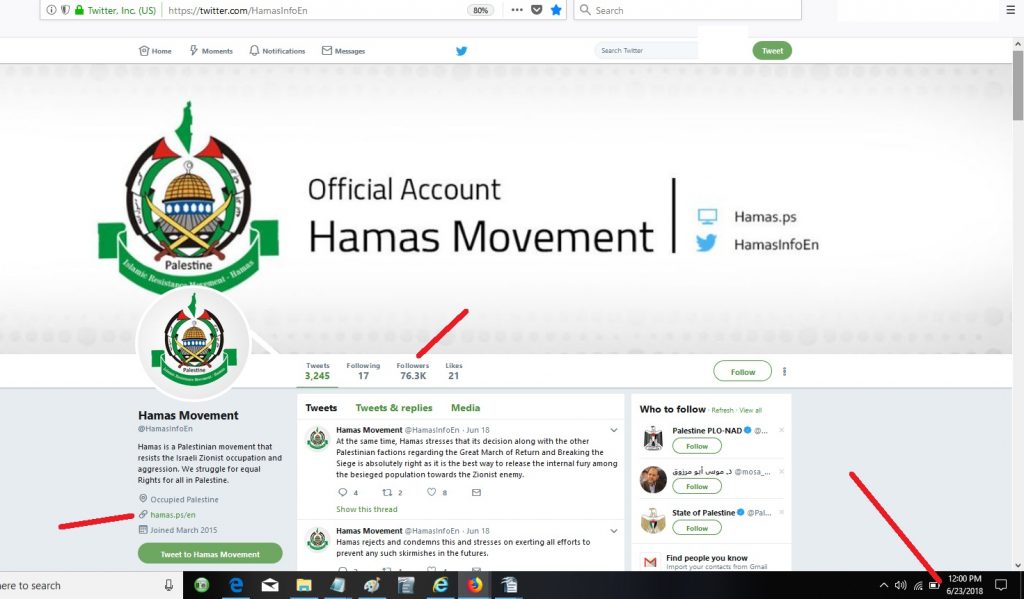 ---