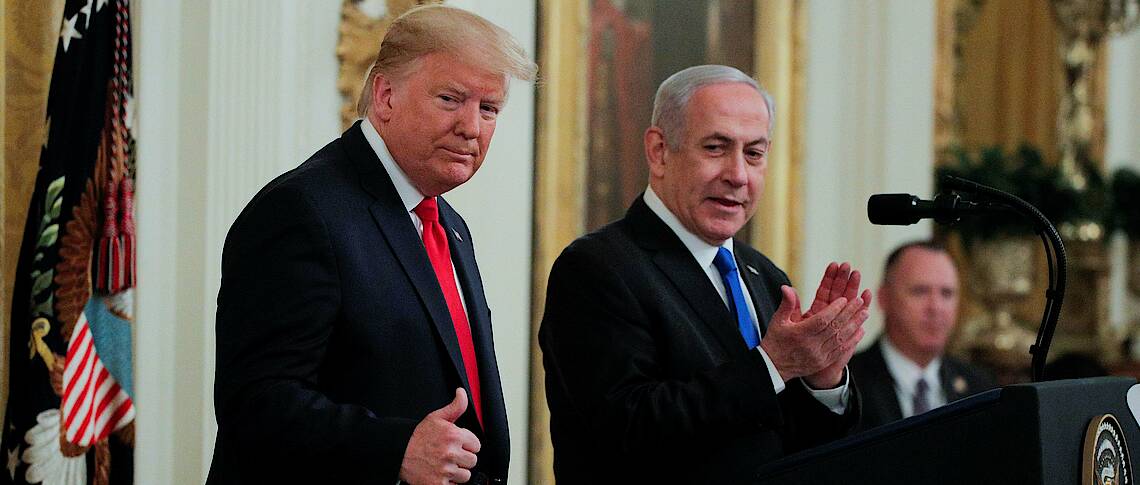 .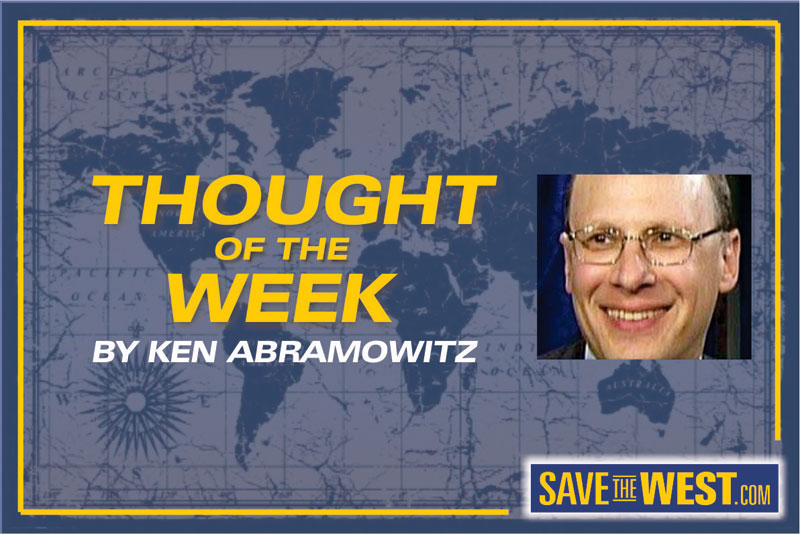 By Ken Abramowitz and Jon Sutz
Ken Abramowitz is the President and Founder of SaveTheWest. Jon Sutz is SaveTheWest's consulting editor and videographer.

See the sources for this article and more research in the Additional Reading section.
---
Update, February 1: Palestinian Authority ruler Mahmoud Abbas announced he is cutting off all ties with the U.S. and Israel, in the wake of President Trump's submission of this plan for his consideration.
With much fanfare, and after three years of diligent work, President Trump announced his long- awaited "Deal of the Century," his vision for "a comprehensive peace agreement between Israel and the Palestinians," officially named the "Peace to Prosperity" plan (hereafter referred to as the "Plan"). Read the document here:
Peace to Prosperity | The White House
Here is President Trump's speech regarding The Plan, in the White House, and comments by Israeli Prime Minister Benjamin Netanyahu (47 minutes):
The Plan is rational and logical in that it:
Genuinely seeks a compromise solution to meet the stated needs of Israel and the Palestinian Authority (PA)
Seeks to rally both Arab and European support. It envisions 4 years of direct negotiations between the 2 key adversaries
The Plan's six key positives are very apparent:
(1) The U.S. government is now on record as immediately accepting Israeli sovereignty over 30% of Judea-Samaria (J-S), aka "The West Bank," including eastern Jerusalem.
(2) It agrees that the Israeli Defense Forces (IDF) must remain in control of security in J-S.
(3) No Jewish or Arab communities would be uprooted.
(4) No "right of return" to Israel is granted for any Arab refugee.
(5) The PA is expected to renounce both physical and cultural terror.
(6) Both the PA and Hamas are expected to disarm.
However, the Plan also has five clear negatives:
(1) Israel must give up 50% of Area C in J-S, which it was granted in the Oslo Accords, and agreed to by the PA.
(2) A building freeze is proposed for 15 Jewish communities that the plan does not include in the proposed Jewish State's territory.
(3) Despite Israel's sovereignty over all of Jerusalem, Hamas (the Muslim Brotherhood) would maintain de facto control of UNWRA schools in eastern Jerusalem, which are notorious for inciting hate, and glorifying terrorists who murder the most Jews.
(4) The Plan irrationally envisions Israeli land swaps near Gaza, and in the "Northern Triangle" of Israel.
(5) The eventual PA state (or entity) would be left vulnerable to the influence of external Islamist terrorist entities, including primarily Iran, Hamas, and ISIS (unless all three are neutralized or destroyed by the U.S.).
Further, no matter what the PA agrees to now, the Plan does not address the fact that for decades, PA leaders, and the imams and media personalities they hire and control, have:
Appalling. pic.twitter.com/M9Os8gQ8UH

— 316 Exposure Media (@316Exposure) January 30, 2020
Rejected every proposed peace deal, or to negotiate a compromise, over the past 73 years: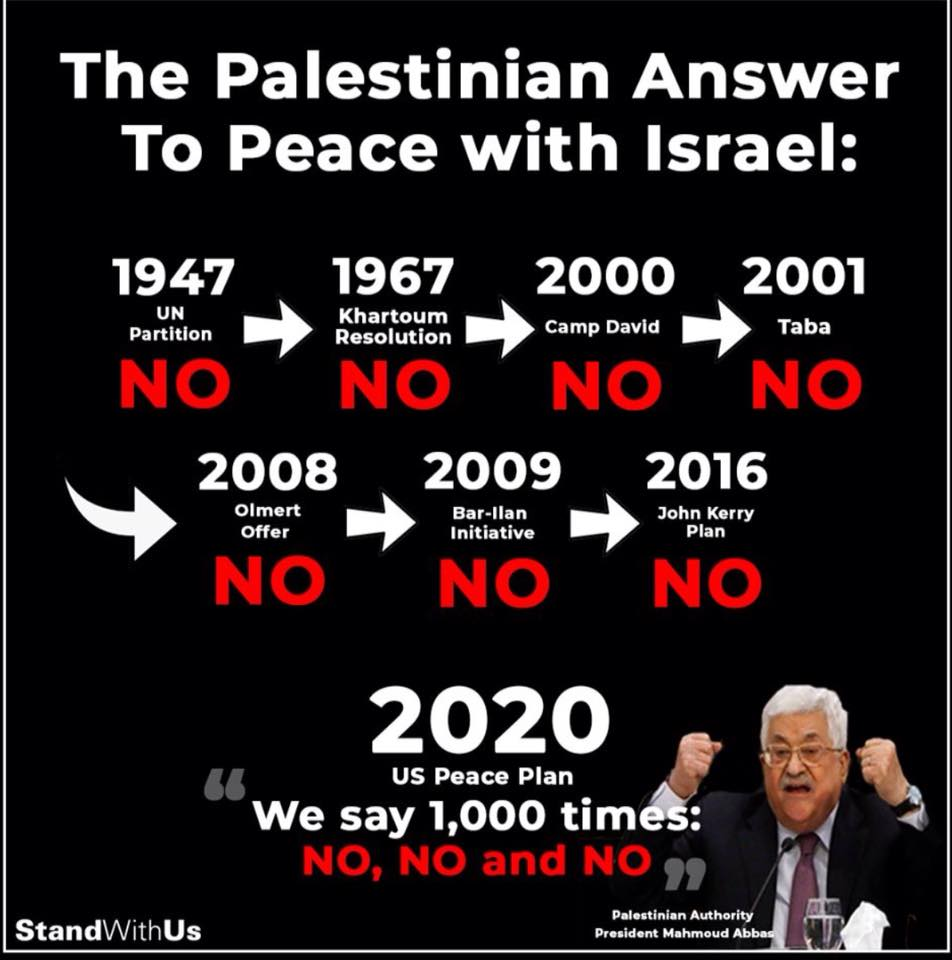 Graphic courtesy StandWithUs
Then, there's PA president Mahmoud Abbas's consistent refusals to accept any Jewish state of Israel, ever — while also saying he will never allow any "filthy Jew" anywhere in the future, Muslim-only state of Palestine, and especially Jerusalem.
---
Conclusion
The Plan is a positive for Israel mainly because it enables the Jewish nation to take legal control over 150 communities in J-S.
If the past is any indication, however, the proposed 4 years for the PA to negotiate with Israel and "achieve the criteria for statehood," will prove as futile as in previous plans. Until and unless the PA's leaders completely reverse course, philosophically, and acknowledge that Israel is a legitimate Jewish nation, which is entitled to secure borders and to employ appropriate defensive measures, there cannot and never will be a sustainable peace agreement — least of all one imposed or framed by an external entity.
---
Palestinian Authority cuts ties with Israel and U.S. – AP
Peace to Prosperity – The White House
Watch: Trump unveils Middle East peace plan with Netanyahu – CNBC
Fatah: "We won't relinquish a grain of soil… from the [Mediterranean] Sea to the [Jordan] River" | PMW Analysis
Large majority of Palestinians say the conflict should continue even AFTER they get a state ~ Elder Of Ziyon
Map of Areas A, B, and C after Oslo II – ResearchGate
PLO diplomat admits, in English, that Palestinians never wanted to live side by side with Israel (video) ~ Elder Of Ziyon
Palestinians Use Deception for Greater Acceptance – The Investigative Project on Terrorism
Three rockets fired from Gaza, newborn hurt in rush to shelter – The Times of Israel
PA Chairman Abbas: All of Israel is an "occupation" – PMW Bulletins
PA TV: All of Israel is "Palestine" "from the [Mediterranean] Sea to the [Jordan] River" – Video, "Palestine" replaces Israel | PMW
What Palestinians Want — in Their Own Words — When They Say 'From the River to the Sea' – Algemeiner
VIDEO: Why Isn't There a Palestinian State? – PragerU
Only 5% of Palestinians and 6% of Lebanese accept gay relationships – Jerusalem Post
i24NEWS – LGBTQ community violently targeted by Palestinian Authority police
For Gay Palestinians, Tel Aviv Is Mecca – Forward.com
Analysis of the Plan:
Trump's Middle East peace plan: 'Deal of the century' is huge gamble – BBC News
Trumps vision: knocking the Palestinian cause off its perch – David Collier
Palestinians face shrinking options with Trump peace plan – Laura Kelly, The Hill
Qanta Ahmed: Trump's Israeli-Palestinian peace plan deserves Arab League support – Fox News
The Palestinians' bluff has been called. Over to you, world – MelaniePhillips.com
The results of PA indoctrination of two generations of children — which now extends to Western college and high school students:
Palestinian education teaches kids to anticipate the end of Israel – PMW Analysis
Muslims chant about killing Jews outside Jerusalem's Temple Mount – The Times of Israel
WATCH: Democratic Socialists Chant 'From The River To The Sea, Palestine Will Be Free' | The Daily Wire
SJP protesters chant 'From the river to the sea Palestine will be free' during Hen Mazzig speech – Monitoring Antisemitism Worldwide
Fresh anti-Israel protest roils LGBTQ conference – The Times of Israel
Abbas: I will never recognize Israel as a Jewish State – YouTube
Abbas: We won't allow Jews' "filthy feet" | PMW Analysis
.
.
.